As much as we'd love to believe that the recent rain and dark clouds would bring a reprieve from the scorching heat, it seems the weather has different plans. However, with the weekend approaching and an additional surge of heat in the mornings, heading to the beach remains an enticing option. While the intensity of the heat may feel overwhelming, several easy strategies help you stay cool and conquer the sweltering summer days.
Vietnam's 3,260km coastline offers a wealth of beach destinations, attracting millions of visitors annually, from north to south. Luckily, Ho Chi Minh City is conveniently situated near some of the finest beaches in the country, offering an ideal escape from the oppressive heat.
From Vung Tau's stunning landscape and well-developed tourism to Can Gio's clam farms and unique monkey island, there's a beach destination for everyone. Whether you're in the mood for a quick day trip or want to stay for the weekend, these beaches will leave you feeling relaxed and rejuvenated. Here are the top five beaches near Ho Chi Minh City that offer a refreshing escape from the heat.
Vung Tau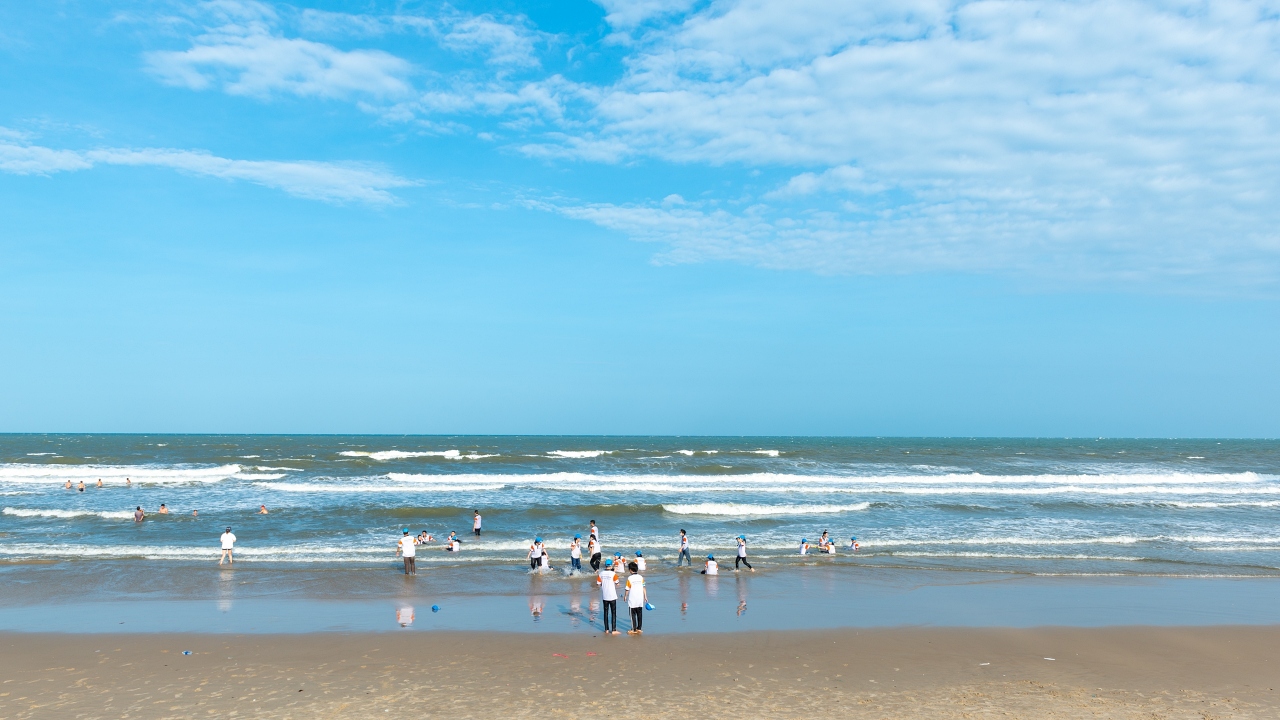 Whether you take the ferry or bus, getting to Vung Tau only takes about two hours or even less. This accessible destination ranks among the best beaches in Vietnam because of its beautiful landscape and well-developed tourism. In addition to endless sands and blue waters, the city has a mountain range that diversifies the local landscape. Families can opt for a trekking trip to the Jesus Christ statue with arms outstretched in Vung Tau City. Although it may not provide a respite from the heat, the trek offers a different perspective of the sea, ocean, and beaches that surround the city.
As the closest beach to Ho Chi Minh City, Vung Tau is popular among tourists and locals alike, especially during weekends for day trips and picnics. The waterfront promenade is dotted with cafes, shacks, and shops for renting out loungers, beach umbrellas, and kayaks.
Distance from Ho Chi Minh City: Approximately 2 hours by car or ferry
Ho Coc / Ho Tram Beach
Both Ho Coc and Ho Tram beaches provide an ideal retreat for locals and expats in Ho Chi Minh City, offering a relaxing getaway. Both beaches are famous for their natural rock formations, separating them from neighboring destinations like Vung Tau or Binh Chau.
Ho Coc Beach specifically offers tourists a harmonious combination of tranquility and outstanding accommodation, guaranteeing an experience that preserves serenity and provides essential comfort. Sprawling over five kilometers, Ho Coc's glittering white sand beach is a gem and has even been dubbed one of the best beaches near Ho Chi Minh City.
Ho Tram, on the other hand, is one of the most mesmerizing beaches in the Southern part, with sparkling white sand, palm plantations, and azure sea. Ideal for water sports like swimming, surfing, and sunbathing, this beach has a nearby fishing village where people can go trekking and sightseeing. Although it's not far from the main city, people generally plan for day excursions. Many resorts are on the beachfront, and beach camping facilities are also available.
Distance from Ho Chi Minh City: Located in Ba Ria Province, 175km to the south
Can Gio
Not looking to swim? One hour away from Ho Chi Minh City, Can Gio stands out as the most notable destination on the list for its clam farms and unique monkey island. Here, tourists can try collecting clams on the vast fields and gain insights into the hard life of the locals. Although the beaches themselves don't compare to the blue water and white sand of Nha Trang and Mui Ne, it's worth a visit if you feel like mingling with nature.
Can Gio is another low, palm-fringed island off Vietnam's coast with some of the best beaches. It is famous for its extensive mangrove forest originating from the mouth of the Saigon River. Since the beaches have been formed with the thick black silt that washed downstream from this river, the islands here do not bear any white-sand beaches, but they are gorgeous all the same. A few resorts have sprung up along these murky shorelines and have already received large numbers of guests.
Distance from Ho Chi Minh City: Approximately 1 hour by car
Long Hai
Only 12km from Vung Tau, Long Hai is a sight to behold. The golden sands and turquoise water will ensure quality time is one of the best and have you yearning for more. A couple of luxury and mid-range resort stays are ideal if you want to escape city life. Long Hai is buzzing with shacks, cafes, and hippie bars, and this is one of the beaches that offers water sports facilities. Moreover, there are many beach resorts in Long Hai across all budgets to cater to travelers of all kinds. Many famous restaurants are also located nearby.
Distance from Ho Chi Minh City: Only 12km away from Vung Tau
Phan Thiet / Mui Ne
Not as close to the city as the other destinations on this list but still within driving distance, Mui Ne is a popular destination for vacationers. Both Phan Thiet and Mui Ne have beautiful beaches and fantastic resort stays. As such, it becomes a must-see destination for Southerners seeking a relaxing day by the beach and a break from the hustle and bustle of the city. It takes about two hours to drive from Ho Chi Minh City to Phan Thiet, thanks to the Phan Thiet – Dau Giay highway, which has helped to shorten the travel time.
Besides water-based activities, you can also enjoy surfing on the dunes in Mui Ne. You can stay in any of the top-rated resorts surrounding the beach and enjoy photogenic sunset views, engage in water sports, or relax in the loungers. But fret not, tons of hotel options are sprouting all over the place.
Distance from Ho Chi Minh City: Approximately 2 hours by car