Streets bursting with colors, cultural landmarks that depict history, and the seemingly endless flow of people that reflect vibrant energy — Saigon is pulsating with life. As a vital metropolis and major financial hub, this city of eight million people has definitely made its mark as a destination for business and leisure.
But alas, despite relentless efforts and strict implementation of safety measures, the COVID-19 pandemic forced the city to go into full lockdown for four months last year. Public spaces were cordoned off and residents were asked to stay put. For most of the second and third quarters of 2021, Saigon was basically a ghost town.
For artist Daniel Ansel Tingcungco, who found a second home in Saigon when he left the Philippines in 2019, the city remains as thrilling and dreamy as ever. The pandemic hasn't, even for one bit, tainted the dazzling vibe Saigon exudes from every corner.
Daniel made headlines last year as local media gushed over his '100 Views of Saigon' series. Drawing a total of 100 images of Saigon streets and iconic landmarks, Daniel reinterpreted the beauty of the city in the most creative, vivid ways possible.
"I was inspired by the Japanese woodblock print (ukiyo-e) series '100 Famous Views of Edo' by Hiroshige and reinterpreted it to reflect the charm of Manila, and now, the beauty of Saigon," said the 33-year-old artist who works as a senior art director in advertising.
It's the overall vibe of the city and the warmth of the people that ignited Daniel to start an art series on his Instagram account that now blew up to a full-on art page with more than 10 thousand followers.
"I would like to share a whole new feeling for those who currently live here, those who have, and those who have never been — Saigon is more than just its misconceptions and its tragedies in the past, like a lotus, it blooms in this place of many dreams that thrive and grow so progressively."
Each illustration in the art series tells a special story, said Daniel. "It's a kind of journal for me, and every scene brings back memories of each place and event."
Now that Saigon's moving forward to recovery and getting ready to introduce its warm and rich spirit back when international travelers start flocking in, Daniel's illustrations are perfect depictions of what visitors can expect in the city.
Vietcetera asked the talented illustrator to share his top 10 illustrations that embody the beauty and life of the city he's grown to love, and why he thinks these specific spots should be visited by travelers soon.
SG010 The Rainbow Bridge at night (Cầu Mống)
As the post office is always mistaken for being built by Gustave Eiffel (it's actually designed by Alfred Foulhoux), this steel bridge, formerly the Pont des Messageries Maritimes, is a living example of Eiffel's work as built in1894 by Société de construction de Levallois-Perret (the company formerly led by Gustave Eiffel).
SG016 Afternoon stroll along the Nguyễn Văn Hảo building
One of the best examples of art deco architecture in the city, it was built in the 1920s as an office and residential building by Nguyen Van Hao of Comptoir Nguyễn Văn Hảo Saïgonnais (one of the city's automotive companies)
SG017 Waiting for lunch orders at Bún riêu Gánh
Even if a little more expensive than your usual bowl of Bún riêu, their consistent flavor for years now keeps serving this rich hearty bowl that keeps people coming back, whether locals or foreigners alike.
SG047 Reflection on the Turtle Lake
Built where a Nguyen Dynasty city gate used to be, followed by a water tower during the French rule, and currently a monument built in accordance to a feng shui spell advised to then Southern Vietnam President Nguyen Van Thieu to build a turtle monument to keep the dragon in place as it was in the direction of the Independence Palace. There used to be a copper turtle statue but was damaged in 1976. These days, it's a popular hangout for people enjoying street foods such as Banh Trang Nuong, Bap Xao and Da Me.
SG050 Morning walk view of the Church of St. Joan of Arc (Nhà thờ Thánh Jeanne d'Arc)
I was exploring District 5 after a hearty dim sum breakfast, then I suddenly chanced upon this scene of the Church of St Joan of Arc that really moved me so much I stood there for a while after taking a photo reference to take in a lot of the vibe.
SG064 Looking over the courtyard of the Ho Chi Minh City Museum of Fine Arts (Bảo tàng Mỹ thuật Thành phố Hồ Chí Minh)
Built in 1929-1934 for the Hua family, one of the country's major art museums presents a large collection of cultural and historical pieces in its three 3-story buildings. I saw this courtyard from a Vietnamese film that I watched and was curious to see it myself, then I realized it was the museum which I actually just visited after a year of being in Saigon.
SG070 Đổi mới train passing through the new Bình Lợi Railway Bridge
This is a newly built bridge connecting Bình Thạnh Thủ Đức Districts, replaced the century-old one (still has its remaining part beside this) that was by the same company that built Cầu Mống, Société de construction de Levallois-Perret.
SG091 Visting the Việt Nam Quốc Tự National Pagoda
Built in 1963, this 7-story pagoda caught my eye when I passed by 3/2 Street, which then I decided to pay a visit and be amazed by its large statues of the Buddha and feel the serenity amid the busy streets surrounding it.
SG100 An evening at the Nguyễn Huệ Walking Street
Might be considered overrated already, but the charm of Nguyen Hue Walking Street can never be denied! It used to be a boulevard, and way before that, it was a canal during French rule. As this is one of the first few landmarks I've been to, and for sure many foreigners as well, the majestic statue of Uncle Ho greeting you is always a welcome sight, day or night.
SG105 Bến Thành Market at Dusk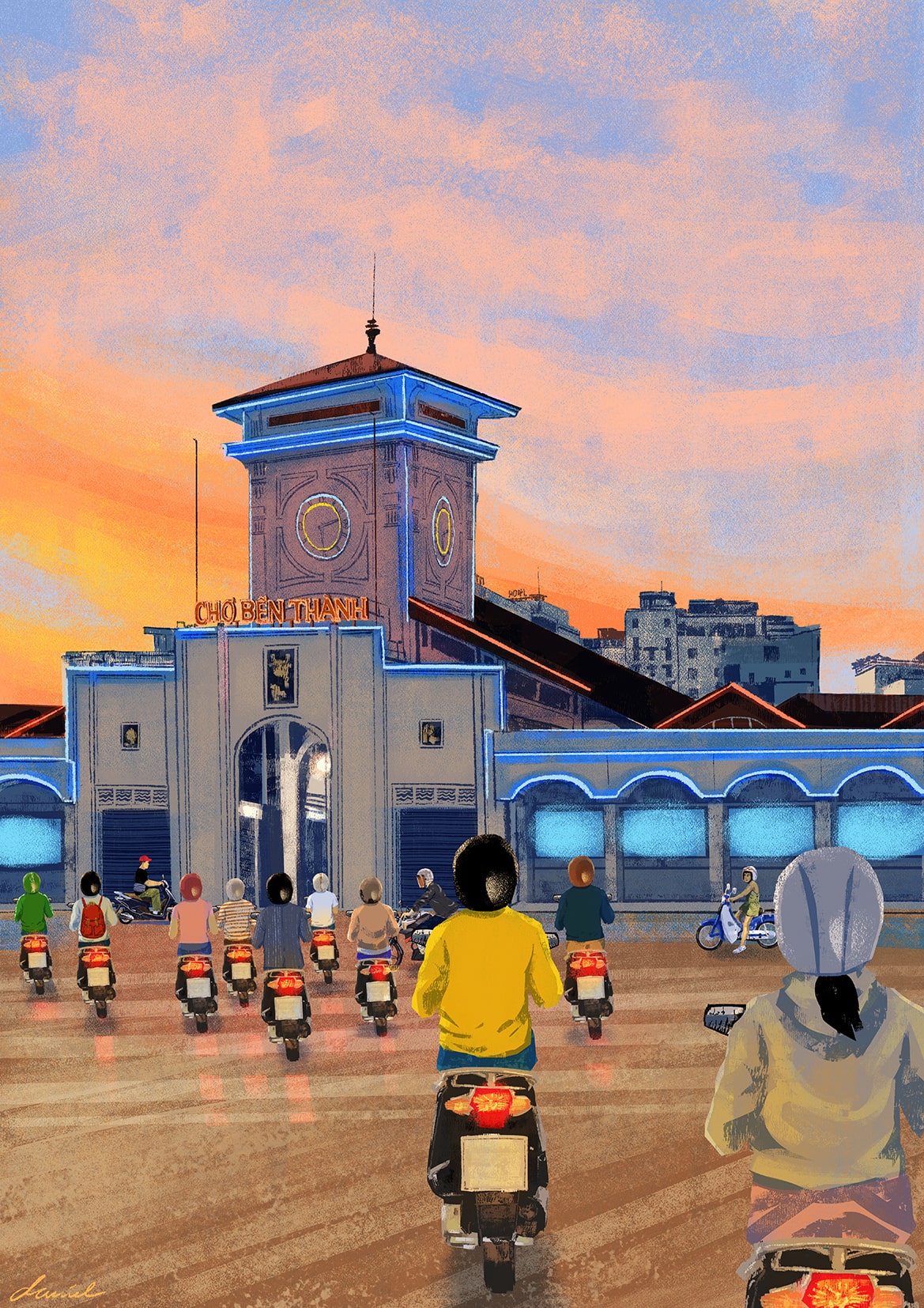 The most iconic and earliest surviving structures in Saigon. An important symbol of the city, the century-old market still stands strong in the middle of District 1's busy streets — you can never miss this one. Just make sure to learn how to bargain for the best deals!