Parallel with the development of the agrarian civilization in Vietnam, the art of handicraft was seen emerging in the countryside of Vietnam as a past-time hobby that grew to become the center of commercial activities and a source of livelihood for farmers besides agriculture production.
Mostly spotted around the Red River Delta region of Vietnam, handicraft communities went from singular activities of households, spreading to form whole craft villages that have their expertise passed down and further enhanced through generations.
Specializing in various forms of craft-making from lacquer wares, pottery, embroidery, to blacksmithing, each craft village has through time forged not only their finest craftworks but also their own characteristics representative of distinctive communities, their way of life, traditions, and unique cultures.
With thousands of units still standing, craft villages have been imprinted in the history of Vietnamese culture, employing millions of people with creative handicraft items that are valuable for export, and above all, a unique selling point to international and domestic travelers alike.
Be prepared to step back in time, as we guide you through five handicraft villages that reside right in the rustic, charming capital city Hanoi.
Vạn Phúc Silk Village
Eight kilometers southwest from the center of Hanoi ( a 20-to-30 minute drive), Vạn Phúc silk village in Ha Dong district rests elegantly on the bank of Nhue River. Renowned as the oldest silk-weaving village in Vietnam and home to the finest silk products, the village is also a historical testament of the traditional Vietnamese lifestyle, with ancient banyan trees, communal houses, and other historical architecture easily spotted around the area.
As the cradle of silk-making that dates back to more than a thousand years ago, Vạn Phúc proudly possesses a long history of sericulture, weaving, and silk-making that results in the most intricate and gorgeous array of handmade silk products, from brocade, satin, chiffon, to one of Vạn Phúc's most notable, sophisticated product of vân silk, with the patterns elegantly embedded onto the fabric.
Lightweight material with a smooth texture and a gleamy finish, silk was traditionally worn only by higher members in the nobility ranks of the Vietnamese feudal society. Much as its glorious past as a rare fabric is gone, silk undoubtedly retains its charm as conveying a romantic, elegant, and somewhat luxurious sense to its beholders.
First internationally introduced at the Marseille Fair in 1931, Vạn Phúc silk is now significantly more accessible as the village welcomes visitors to marvel at the raw, genuine beauty of the traditional countryside lifestyle in Vietnam and discover the origin of the silk-making industry in the country.
Leisurely strolling down the busy streets of Vạn Phúc, travelers can peek in one of the myriads of shophouses, displaying eye-catching silk products of various colors, styles, and textures — a result of the villagers' persistent effort to renovate and come up with thread-processing and weaving techniques.
Bát Tràng Ceramic Village
As part of Gia Lam district, Bát Tràng ceramic village is located 13 kilometers southeast of Hanoi, in an area that was historically rich in white clay, a stepping stone for fine ceramic products and skillful craftsmanship internationally praised today.
Taking one of the many means of transportation available, including Bus 47 that runs every 20 minutes, explorers can easily catch sight of the ancient, peaceful Bát Tràng village, a residence with quaint architecture and valuable historical relics from communal houses, temples, pagodas, and of course, the unique old kilns that have fired generations of high-quality pottery.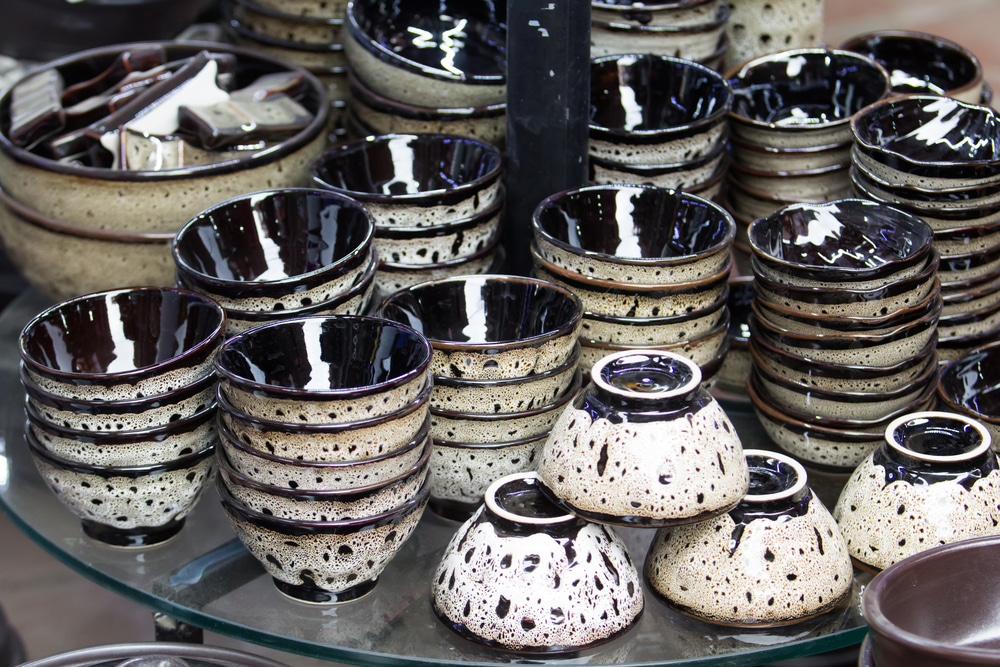 With a bewildering range of ceramic products, handicrafts at Bát Tràng are classified into crockery of bowls, plates, jars; ornaments of decorative statues or vases; and ceremonial or worshipping objects of incense burners and candlesticks; all covered with embossed decoration and ivory-white cracked glaze, the two unique characteristics of Bát Tràng's ceramics.
Today, only fewer than 20 artisans in Bát Tràng have mastered the equation of pottery, which requires the flawless manipulation of three elements — earth, water, and fire in a four-step process: Preparing raw materials; treating and shaping clay; decorating and glazing; and firing.
While the clay treatment process requires years of practice and dedication, the art of glaze making is more of a generational "heirloom" kept as a secret for each family and even craftsman, each with their own unique glaze technique, despite leveraging the same fundamental materials.
The last process of firing plays a key role in the final quality of the ceramic piece, and usually takes three days and three nights to finish. Right before kindling the fire, the oldest craftsman of the village will perform a ceremonial ritual in praying for a successful ceramic batch.
Định Công Jewelry Village
Sitting on the bank of To Lich River in Thanh Tri district, Định Công village is quintessential of the art of jewelry making in its golden days. Nowadays, there remain only a few passionate and experienced craftsmen as the spirit of the once-thriving village.
Legend has it that jewelry crafting at the village started with the three brothers of the Tran family, who ventured to foreign lands and brought back the craftsmanship to Định Công, turning the village into a famed jewelry-making community.
Now widely famous for the intricate jewelry products crafted entirely by hand, the process of jewelry crafting comprises of three meticulous techniques, which take days to perform to completion. Raw and arduous, requiring extreme patience and diligence, the process of jewelry crafting is far from glamorous, yet the result is definitely rewarding, producing highly sophisticated pieces with hundreds of meticulous details indicating the expertise of the craftsman.
With paramount importance placed on producing unique jewelry pieces that are finest in quality and aesthetically pleasing, some of the products created at Định Công village have transcended their original value as souvenirs or ornaments to become invaluable objects representing their community and Vietnamese culture.
Chương Conical Hat Village
Located in Thanh Oai district, 30 kilometers from downtown Hanoi, Chương conical hat village covers a natural area of roughly 480 hectares with eight small hamlets, all specialized in the making of conical hats. Otherwise known as nón lá, the conical hat is an indispensable accessory complementing the iconic áo dài, a staple of Vietnamese culture to international friends. Elegantly covering the face, protecting it from the weather, conical hats have seamlessly added a touch of charm and mystery to generations of Vietnamese women.
Now an omnipresent item easily found in the streets of Vietnam, conical hats from Chương village still stand out with their high quality and the colored history behind the village. Dating as far back as three centuries ago, the village was established as farmers looked for other sources of income besides farming, which left them plenty of free time off-season. Now famous to locals and foreign travelers alike, the village attracts curiosity and awe not only to its products but also to the process in which the hats are made.
With patience and skillfulness, the artisans here at the village collect and split bamboo into thin streaks before soaking them in water to prevent breaking and tearing. A conical hat frame consists of even, smooth rings, while palm leaves are collected and gently treated for their delicacy. After intricate steps of processing the palm leaves, the materials are finally sewn together into the frame, creating a complete conical hat.
Along with the intriguing hat-making procedures, Chương village also boasts its genuine beauty through its periodic fairs taking place 6 days a month according to the lunar calendar, lasting for a brief 2 hours each. At the same time, through the historical ups and downs, Chương village has accumulated a system of architecture and relics with crucial cultural and religious importance, from its hamlet's pagodas, temples, churches, ancient wells, and ancestral houses.
Quảng Phú Cầu Incense Village
The century-old incense-making village of Quảng Phú Cầu lies in Ung Hoa district, a 35-kilometer ride from the center of Hanoi. An indispensable religious-spiritual object of the Vietnamese worshipping culture, burning incense is believed to be the channel of communication to their ancestors in the spiritual realm, and thus has become a deeply-rooted Vietnamese custom.
As sending prayers to ancestors has been a frequent activity in many Vietnamese festivals, death anniversary, and notably Tet, business remains lively all year round and especially flourishing during the holiday season for Quảng Phú Cầu, along with many other incense making villages across the country.
Incense sticks take a sequence of processing steps before turning into quality products fit for consumption and exporting to foreign countries. From carefully quality checking steps for bamboos — the main material for incense sticks, blending aromatic incense paste, to dyeing bamboo sticks in the signature pink dye, the art of making incense sticks is both a staple of the authentic, genuine lifestyle in Quảng Phú Cầu village and a feast for the eyes.
Upon wandering through the village paths, visitors can easily catch sight of the poetic and artistic beauty of newly made incense bundles bathing under the sun, glistening from the blazing pink hue. Apart from incense as their main product, Quảng Phú Cầu offers a variety of bamboo products —from toothpicks, broomsticks, to handmade bamboo decorations.