Tattooing is undeniably a traditionally male-dominated profession. Ink has always been a symbol of manhood and masculinity. And until recently, lists of the best tattooists were often almost exclusively male. There have been exceptions, like Kat Von D, the artist and entrepreneur who featured on the show LA Ink that premiered back in 2007. And I-D Magazine recently highlighted female artists breaking into the industry—while reminding us that only one in six tattooists in the industry is female.
The artform in Vietnam is much younger than in the States and Europe—most artists remember the very real recent struggle to pursue their passion in the face of prejudice, including the young female artists and studio owners we've sought out here. And tattoos definitely don't fit the traditional view of feminine beauty.
Ink Girls Saigon: Five Female Vietnamese Artists Diversifying The Tattoo Industry
At Vietcetera, we've frequently encountered the entrepreneurial Vietnamese spirit. It's an energy that's strong in tattooing right now. Four out of five of our artists have their own studios—the other is an artist at Saigon's most successful tattoo shop. And all five are under the age of thirty. So, these are our five female Vietnamese artists diversifying the Saigon tattoo industry here.
Tram Dinh Owner Of Cô Giáo Tattoo Studio
"Wow, I really feel like a boss being photographed in this chair," Cô Giáo Tattoo Studio's owner, Tram Dinh, jokes to her three tattooists and a student who's come over to study. But with two tattooed sleeves and a thick gold chain around her wrist, she does look like the boss—despite only being twenty-three.
Like lots of tattooists, Tram Dinh's entry-point into the art was her love of drawing at school. "I drew and drew just to record things that were happening—it felt much simpler than photography," she remembers. She got her first tattoo five years ago after graduating high school. She remembers that she "looked at the tattooist and had the immediate feeling that I loved this job…although I never imagine I'd have my own studio."
Today, her third-floor Cô Giáo Tattoo Studio on District 8's bustling Dương Bá Trạc has a welcoming feel. "It's more than a workplace," she agrees, "we're like a small family here."
Her black line work was inspired by local artists like Lam Viet, Tu Den, Quang Pham, and Nguyen Thanh Cao, and international artists like Victor Chil, Steve Butcher and Paul Acker. "But I had no support from family or friends at first. However, now many of them come to me for their first tattoos. That makes me want to keep striving to make more people know about me and give this art form greater recognition in Vietnam," she smiles.
Address: 77a Duong Ba Trac, District 8
Contact: Instagram | Facebook
Hang Kim Tran Owner Of Finical Tattoo Studio
Hang Kim Tran worked for nine years at a large Saigon tattoo shop inspired by international female artists like Kat Von D. Then, she decided to go it alone and opened Finical Tattoo Studio on the second floor of a building on District 3's fashion-store street, Tran Quang Dieu. But she still remembers the moment that made her want to become a tattooist. "I'd had some problems and quit school and one day my aunt invited a tattooist over to the house to tattoo her," she recalls, "it was the first time I'd seen a tattooist working close-up, and I felt very excited…"
She's noticed the difference since starting her independent studio. "My job was straightforward before," Hang laughs, "come to work, tattoo, and go home.." As the owner of her own store she "has to handle so many things—staff, rent, social media." But she's happy to be independent. "It seems everyday I learn something new," she smiles.
The award-winning tattooist—she's won two awards for her black-work, one at the Saigon International Tattoo Convention and one at the Vietnam Tattoo Convention—named her studio Finical "because it sounds meticulous; when I start something I want to craft it as finely as possible—I guess I'm a perfectionist."
Address: 2nd Floor, 48 Tran Quang Dieu, District 3
Contact: Instagram | Facebook
Le Bao Tram Owner Of Olive Tattoo
"I'm forgetful so these tattoos are my way of remembering," tattoo artist Le Bao Tram tells us about the sixty tattoos she has already. Tram runs Olive tattoo, a one-room studio at the end of a winding alley off Nam Khi Khoi Nghia that's staffed by herself and three other artists.
"This studio is like a cherry on the cake of my tattooing career—a poor person like me from a rural area could come to the city and achieve this," she smiles appreciatively looking around at the immaculate space.
Le Bao Tram does fine black-line portraits—of people and pets—and watercolor-style tattoos. She began by apprenticing for two years under a tattooist in Saigon and gradually gained the confidence to start tattooing herself. "I practiced on my own skin," she nods, "but I can't really remember the moment I became a professional tattooist—people just started asking me to tattoo them." And that was five years ago already.
Address: 220/57 Hoang Hoa Tham St., Ward 5, Binh Thanh District.
Contact: Instagram | Facebook
Minh An Phuong Tattooist At Saigon Ink
Minh An Phuong is the only female artist at the perennially popular tattoo studio Saigon Ink in the city's backpacker district. "How do I put this?" she laughs self-consciously, "it's hard being the only female here…but it makes me feel kind of special." She credits the studio, and its artists, with teaching her about tattooing and about life in general. "It's changed not just how I tattoo, but how I think too…" she explains.
Her style has evolved thanks to the influence of the Saigon Ink crew, and to artists she follows on Instagram like Manchester-based artist Suflanda, Thai-born artist and photographer Tritoan Ly, and the South Korean artist Zihwa who creates "wispy bouquets that bloom on the body."
"Really, I like small but detailed tattoos that show a meticulous attention to detail," Phuong summarizes. The artist is graduate of graphic design at Van Lang University. But even before that she'd had her first experience with ink. "The letters on my body seemed to shine like jewels," she smiles. But like lots of young female artists, she was expected to find a more feminine vocation. "Being tattooed doesn't tell the whole story of who you are," she continues, "but it took a long time for me to convince my family of that."
"And today, girls can do anything they dream of or desire…" she shrugs finally.
Address: 26 Tran Hung Dao, District 1
Contact: Instagram | Facebook
Fiona Pham Owner Of Inkredible
"Growing up tattoos equaled outcasts or gangsters," Fiona Pham remembers. Her family had the same view and were ushering her towards a career as a pharmacist. "But all I wanted to do was draw," she shakes her head.
While at university on her track to becoming a pharmacist she took a part-time job at Recycle Bin, one of the original studios in Saigon's tattoo scene. But when her parents saw one of her first tattoos—a line of letters on her shoulder—they refused to let her return home. "But I didn't get rid of the ink, I got rid of them, temporarily anyway, and moved out," she continues.
It took three years for them to be reconciled: "My friends thought I have the coolest job, my parents thought the opposite." Now, they've realized Fiona's following her passion creating bold black line work and vibrant floral pieces inspired by former graffiti artist Justin "Big Meas" Wilson. "His lettering and black line work is second to none," Fiona nods, "and we both started out drawing before playing around with ink and needles."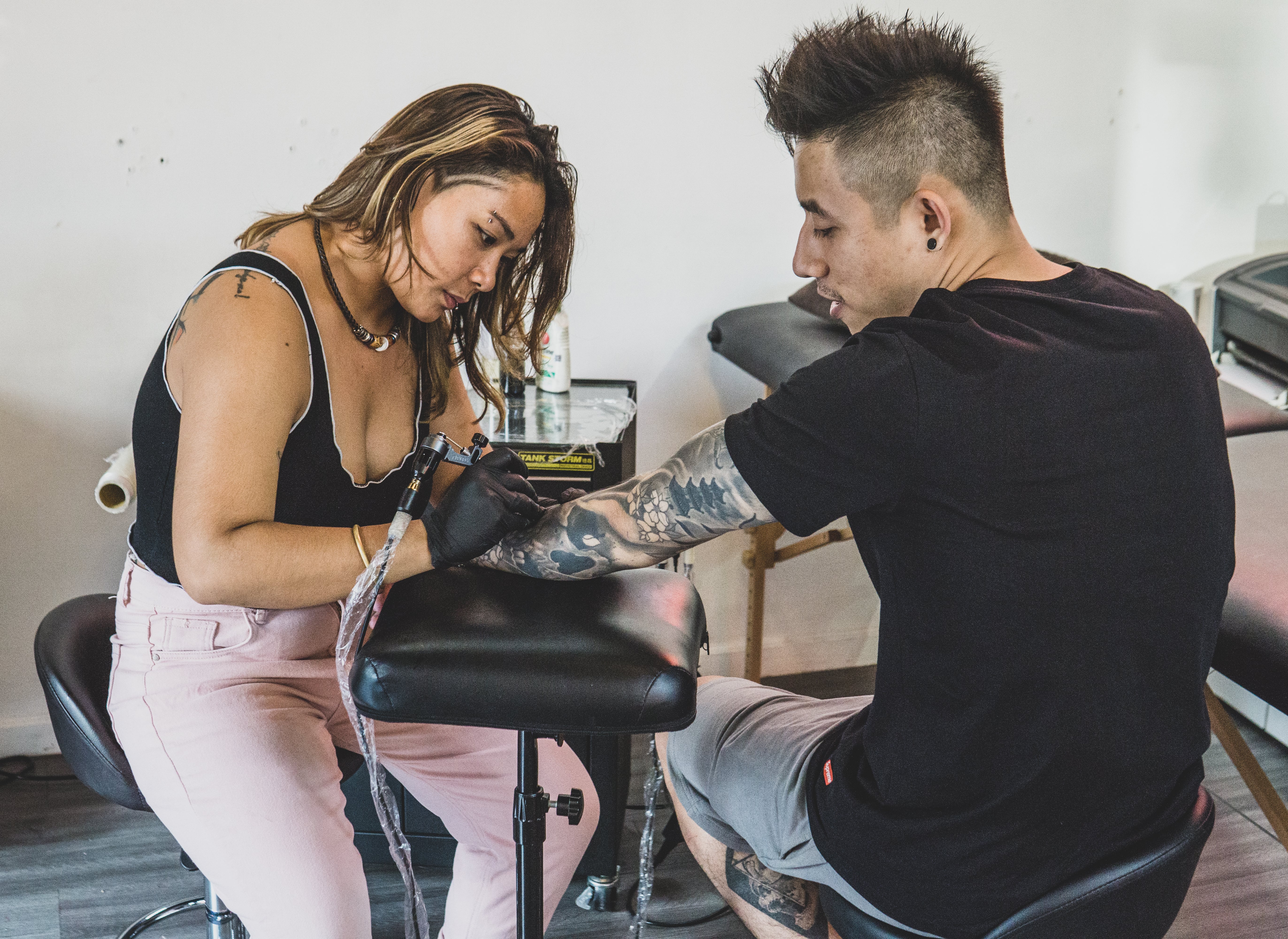 There's the positive atmosphere in this studio you get being around someone doing what they love. "I can't imagine doing anything else except this," she smiles as she begins work on another tattoo.
Address: 209 Tran Hung Dao, District 1
Contact: Facebook
All photos for Vietcetera by David Kaye.
Related Content:
[Article] Indie Music In Vietnam: Five Artists To Watch Out For
[Article] Salt Cancer Initiative's Thuy Muoi Is The Queen Of Startups And The Queen Of Problems