Winston Churchill once famously described one of the great powers of his time as resembling a riddle, wrapped in a mystery inside an enigma. This might be an appropriate way to sum up the recent visit of this award-winning Thai mixologist to Vietnam.
How did a young dreamer from the idyllic yet sleepy island of Koh Samui become one of the world's best bartenders?
While bartending at a well-known resort in Koh Samui, Pok always dreamed of moving to the big smoke in Bangkok to further his career. He finally made his move in 2019, joining #FindTheLockerRoom, the illustrious, industrial-themed Speakeasy bar in the trendy Thonglor district of Bangkok.
That same year, his compatriot Ronnaporn Kanivichaporn was crowned champion of the prestigious Bacardi Legacy Global Competition, defeating 42 other contenders at the global finals in Amsterdam. Such a victory not only helped put Bangkok's name on the global bartending map but also inspired the next generation of mixologists like Pok to reach their potential.
Amazingly, it was Pok himself who was crowned champion of Bacardi Legacy in 2021, as Thailand would be honored to have back-to-back champions for the first time in their history. The judges loved his signature cocktail, "Out of Sight," a delicious concoction made with Bacardi Carta Blanca, pineapple yogurt, agave syrup, basil, and lemon juice. The cocktail's name refers to Pok's journey as a bartender and how he worked with passion and never gave up in order to finally achieve his dreams.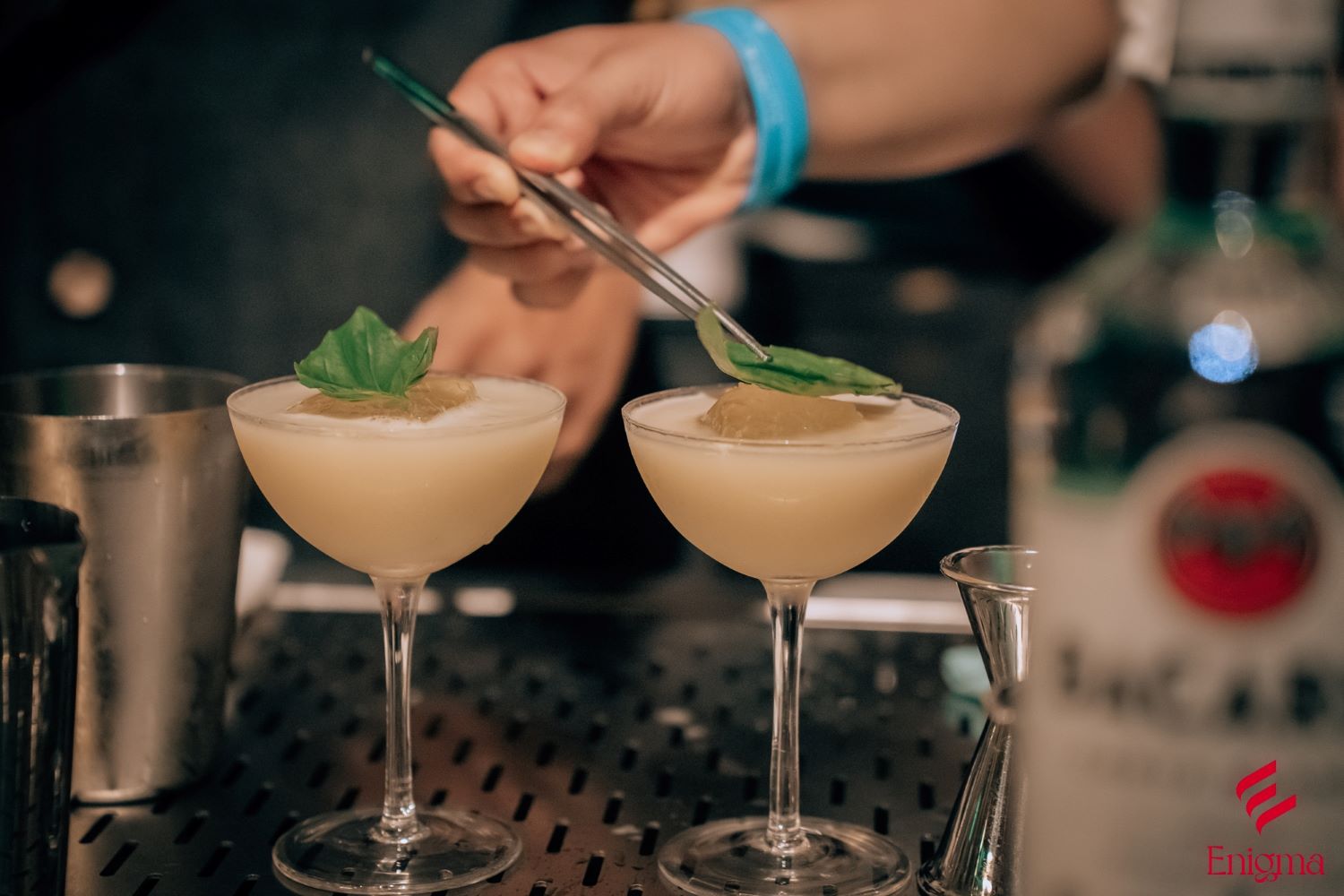 Pok said, "My victory was the pride of the Thai Bar Community and I can honestly say that without their support this would not have happened. But winning this title doesn't automatically mean I'm now a successful bartender. This is just the start of my journey."
A toast to Vietnam's bartending scene
Pok really enjoyed the evening at Enigma, noting, "this was my first opportunity to go to Vietnam, and I had a really fun night in Saigon and would love to go back soon. I genuinely believe that several of the bars in Vietnam are on the way to becoming world-class."
Pok traveled to Saigon with his colleague and compatriot, Ping Chareonsri, who is the Group Beverage Director at #FindTheLockerRoom. Ping was a wonderful ambassador for his bar, mixing and chatting with all the guests at Enigma, swapping stories. I was especially interested to hear about their time capsule-style cocktails, especially those from the 1980s when I was growing up.
Ping is also feeling optimistic about the outlook for Vietnam's bar scene. "Vietnam had been on my list to visit even before the pandemic. I see Vietnam as one of the fastest-growing cocktail scenes in Asia. The community leaders are already in place, and the talent pool is growing. We were very grateful to be invited to Enigma, where we enjoyed some of the warmest hospitality we've ever experienced."
Pok and Vu first met at a Bartending competition in the Philippines and have both gone on to forge deep connections in the industry. As a guest at Pok's shift at Enigma last week, we were promised that a selection of unconfirmed bar-tending celebrities would also be in attendance. The mystery was unwrapped as the evening unfolded as a roster of famous bartenders who were in town last week made an appearance at one of the hottest tickets in town.
Giacamo Giannotti and Daniele Pocchiari from Paradiso Bar in Barcelona, which has just been voted as the World's Best Bar, called in with their host Simon Brandmeyer, the Bar Manager of Park Hyatt Saigon. Aiden Lim from #40 Asia's Best Bar, the hip and trendy Alice Cheongdam in Seoul, was also in attendance alongside Dat and Lam from two of Vietnam's best bars, Yugen and Hybrid.
Vietnam's mixology master
Bartenders will always be the first port of call when asking where to find the best cocktail in town, and it's the dynamic, young Vu Ngoc who is setting the pace in the industry right now. He really established himself by founding the high-tech Doozy in Hanoi where he was crowned the Diageo World Class Champion in 2021 and Vietcetera Mixologist of the Year in 2022. He is currently Co-Founder & Operations Director of The Takeover Group, where he is on a mission to develop new bar concepts and inspire and lead the bartending community in Vietnam.
Vu's group certainly look to be on track to achieve this vision having already opened ASMR Bar in the salubrious Thao Dien District of Saigon where the cocktails are guaranteed to be Acidic, Sweet&Sour, Molecular, and Rich and served in a stylish setting. The second concept recently unveiled by The Takeover Group is Enigma which is modeled around the concept of a futuristic library that, upon first glance, makes you feel like you stepped onto the set of Passengers, the science fiction movie starring the sensational Jennifer Lawrence alongside Chris Pratt.
"An Enigma is something mysterious, puzzling, or difficult to understand which neatly reflects the concept and cocktails we have designed here at Enigma. The central theme of our concept is our unique library of unique, classic, and modern cocktails. So Enigma's architecture is inspired by this library concept and is brought to life with striking and contemporary colors. We aimed to bring to life the story of the ghost in the library playing on the illusion between dreams and reality with a futuristic design that features a wide variety of beautiful books that create a magical feeling," shared Vu.
Having recently covered the Diageo World Class Vietnam 2022 competition in Da Nang, it was encouraging for me to recognize two of the finalists, Tuan Anh and Thong, behind the bar, and this investment in local talent will be a key component of Enigma's strategy moving forward.
Look out for Enigma's new menu, which launched this week called "Tree for the Future." This menu has a powerful message of sustainability as Enigma looks to strengthen its connections with local farmers. Each cocktail in this menu will focus on one core element of the tree such as seed, wood, flower, leaf, and fruit and Vu is already delighted with the gooseberry, dragon fruit, and tonka bean that are currently flourishing on the menu.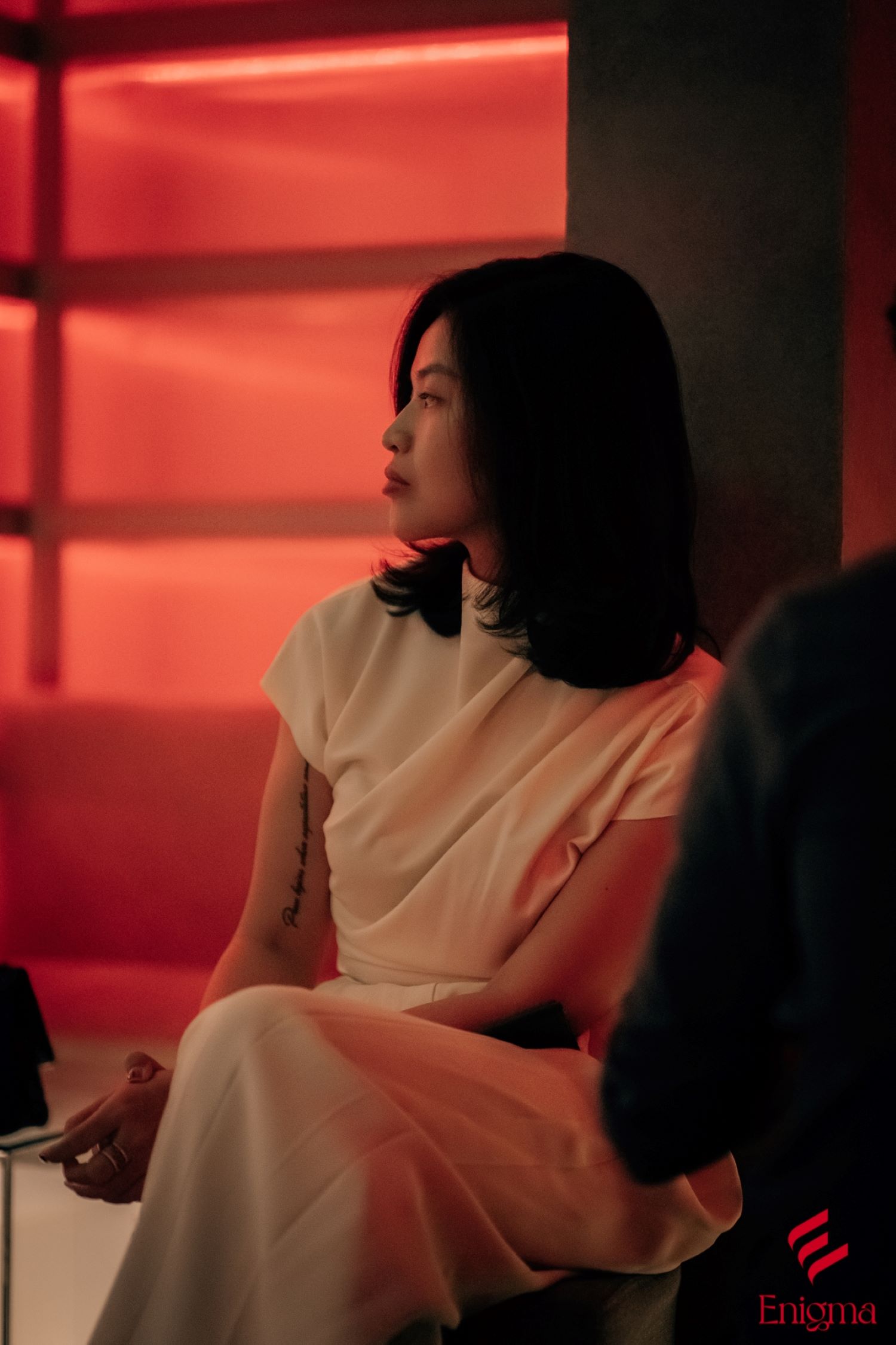 So watch this space as @poknarasha from @findthelockerroom.bkk and @ngocvu.0311 from @enigmasaigon continue to drive standards and trends in the cocktail scene right here in South East Asia.