RWS has carried the title "Best Integrated Resort" (awarded by TTG Travel Awards) for ten consecutive years since 2011. The sheer range and variety of its six hotels and signature restaurants, entertainment, adventure, and relaxation options goes a long way in explaining this. The resort also grants quick and easy access to Universal Studios Singapore, S.E.A. Aquarium, Adventure Cove Waterpark, and Dolphin Island, as well as a range of deep-dive experiences.
In a bid to make Resorts World Sentosa the place to be as we spring into The Year of The Rabbit, they are running a number of promotions and special events this Lunar New Year, and beyond, under the title "Bountiful Moments", which we covered in a recent article.
With so many places to stay, eat, party, unwind, and be entertained, there're Bountiful Moments for everyone – from thrill seekers to aesthetes, families to couples and solo travelers. The only real challenge for prospective visitors is making the right choice for them.
Here we take a look at some of the best hotels and exclusive Lunar New Year experiences at RWS.
Escape to Nature at Equarius Hotel
Equarius Hotel lies right on the edge of Sentosa's island native tropical rainforest, with its rooms offering balcony views of the jungle itself or the ocean opposite and quick access to hiking trails, rendering it an idyllic getaway for nature lovers.
From now until December 31, 2023, visitors can enjoy RWS' Treasured Reunions Stay packages, which include access to Universal Studios Singapore and S.E.A. Aquarium or even dining experiences at a number of the resort's best restaurants. While the Treasured Reunions Stay includes Deluxe Rooms as Equarius Hotel, as well as Hotel Michael and Hard Rock Hotel Singapore, there are plenty more amazing accommodation options at Equarius Hotel and Villas.
Equarius Villas offers one-bedroom villas with their own private Jacuzzi, as well as two, three, and four-bedroom options, all waited on by a personal butler and serving up ocean views as well as access to their own personal and secluded pool. Equarius Ocean Suites, meanwhile, are a marine-life lover's delight. The two-storey townhouses boast outdoor patios and private Jacuzzis on the upper level, but it's on the lower level where the magic really happens; each bedroom comes with a floor-to-ceiling window offering a spellbinding underwater view of over 40,000 marine animals.
From under the sea to amidst the trees, Equarius TreeTop Lofts may be the most unique stay on offer at Resorts World Sentosa. These open-plan and spacious one-bedroom lofts, each with its own personal butler, are nestled in the canopy of the rainforest 12 meters up, promising total privacy and relaxation.
The celebrated Feng Shui Inn is also located in the Equarius Hotel. Here, Chef Li Kwok Kwong leads a crack team of cooks in the open kitchen, where guests can sit and watch them serving up elevated Cantonese cuisine. Feng Shui Inn is serving up something extra special this Lunar New Year too – an elevated rendition of the traditional festive dish Yu Sheng, this made with lobster and smoked salmon.
Enjoy Art, Design & Aesthetics at Hotel Michael
Hotel Michael, takes both its name and its stylistic inspiration from contemporary architect Michael Graves. The hotel-turned-art gallery is an ideal place for aesthetes, with its signature deluxe rooms finished in rich maple and adorned with eye-catching, warm works of art.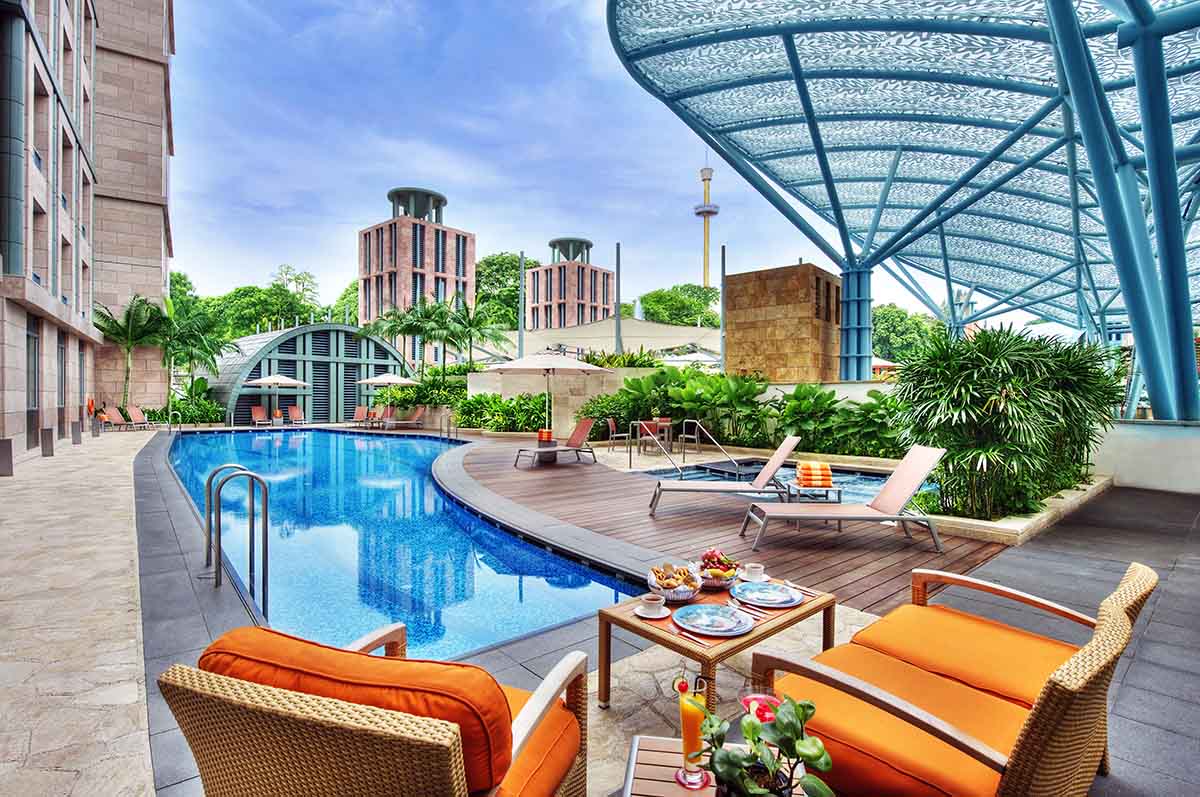 Art enthusiasts visiting RWS can enjoy Van Gogh: The Immersive Experience, a stunning exhibition that is coming to Southeast Asia for the very first time. Running from March 1 2023 onwards, the 360º display fuses the artwork of the renowned artist Vincent Van Gogh with cutting-edge technology in a multi-sensory experience, ranked by CNN as one of the world's top 12 immersive experiences.
In the vicinity of Hotel Michael, Peruvian native Chef de Cuisine Ruben Rodrigo Serrano Cabrera, leads an amazing team at brand new Peruvian-Chinese restaurant CHIFA! The restaurant opened its doors in January 2023, taking its name from the unique culinary fusion of Peruvian ingredients and Cantonese cooking techniques – a style which originated in Peru in the late 19th century. To celebrate its opening just in time for this Lunar New Year, CHIFA! has curated a very special Lunar New Year menu to showcase the best of this distinctive cuisine.
Revel in Music, Glamour & Energy at Hard Rock Hotel Singapore
While the Hard Rock Hotel Singapore gives off energetic, glamor-filled vibes (and rightly so), the hotel is also highly-regarded for its tranquil, luxurious rooms which offer a perfect spot to relax after a fun-filled day and night. That Hard Rock Hotel Singapore is located just moments away from RWS' top attractions Universal Studios Singapore, Adventure Cove Waterpark, and S.E.A. Aquarium makes it a great base for exploring the best of the resort as a whole.
The hotel's main swimming pool comes complete with its own in-pool bar, inviting guests to swim up and enjoy a drink from a submerged bar-stool, as well as private pool-side cabanas. Live music is a given at The Rock Bar Terrace, but if that's not enough, RWS' recently opened venue Ave8 makes another fantastic entertainment option, with top DJs and popular local bands taking the stage four nights a week.
From now until Dec 31, guests can take advantage of Resorts World Sentosa's Bountiful Escapes Treasured Reunions Stay, which offers a choice of packages at one of these three characteristic hotels.
Unwind in Luxury & Opulence at Crockfords Tower
Opulent custom-built furniture and lavish finishes, steam rooms in grandiose bathrooms, and a choice of deluxe suites, mansion and villas options may make Crockfords Tower the most luxurious of Resorts World Sentosa's hotels. Its Deluxe and Premium Suites highlight open plan, expansive modern design, while Crockfords Villa raises the bar, allowing guests to open the doors of a chic living room right onto the edges of its private swimming pool. On the top floor of Crockfords Tower is Crockfords Mansion, a sweeping penthouse with a panoramic view of the resort beyond.
Just a few minutes' walk from Crockfords Tower are two of RWS most-loved attractions, which promise an ideal counterbalance to the luxury of the hotel: Universal Studios Singapore and S.E.A. Aquarium.
Visitors can avail of the Universal Studios Singapore VIP Experience and S.E.A. Aquarium VIP Experience. VIPs can take part in a guided tour which includes fast-track and unlimited, repeat entrance to select rides, as well as access to an exclusive viewing area for evening performances on select nights (only during LNY period). Also included in the VIP Experience are complimentary refreshments and group photos, retail discounts, private meet-and-greets with Woody and Winnie Woodpecker, as well as a special Lunar New Year meal at KT's Grill.
If marine life is more up your alley than the thrills of Universal Studios Singapore, the amazing S.E.A. Aquarium is also offering VIP Experience for your consideration. As well as granting express entrance to skip the queues, VIPS also have exclusive access to the back-of-house areas of the aquarium, not usually open to visitors. Here you can take a closer look at how S.E.A. Aquariums aquarists care for the diverse and colorful inhabitants, as well as encountering the friendly bottlenose dolphins up close while learning the importance of protecting them.
To celebrate this Lunar New Year, Resorts World Sentosa is running a wide array of special events, promotions, and packages this Lunar New Year. To learn more, click here.