At first glance, many people would mistake Saigon's Baigur's signature bottle for a pineapple, a durian, or even a hand grenade-- which isn't completely off the mark considering that the gin is perfectly explosive in flavor. Fans of fantasy fiction, however, will immediately recognize another object it resembles: a dragon egg. The bottle was, in fact, designed to mimic the shape and texture of the mythical creature's egg: bold, timely, elegant, and hard to miss. 
And while we are yet to hear reports of dragon-sightings in Saigon, a rare creature of a different kind has been spotted on the city's streets of late. Founders Jochem Lisser and Florian Draaisma are selling their premium product from a traffic-stopper of a gin-truck, driven around Saigon as part of the brand's community engagement strategy. For the duo, the commitment to create a memorable experience for their customers and visibility are equally important.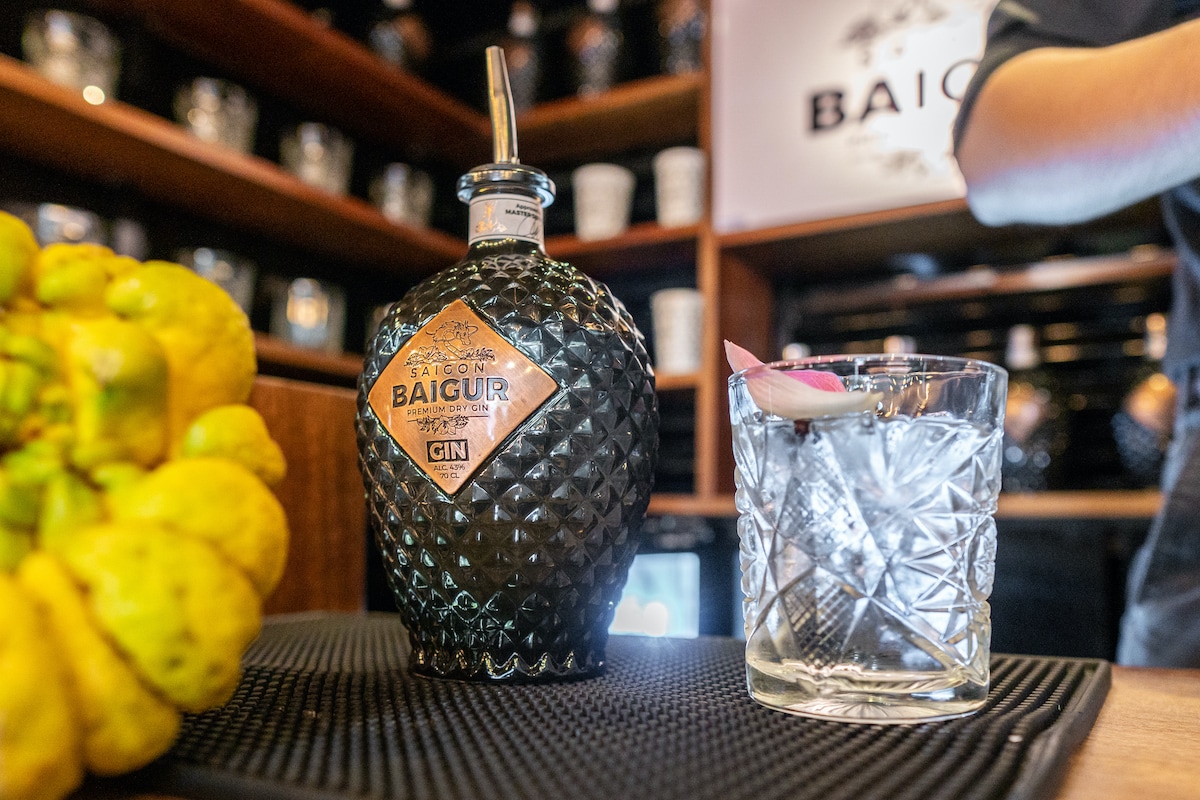 They also want to be recognized as a proudly Vietnamese brand, hence a brand name that speaks of continuity. Baigur was the first known settlement in the area that we know today as Ho Chi Minh City. Dating back over 1,000 years, it was a small isolated trading post of livestock, fish and spices. For Jochem and Florian, the name Saigon Baigur signifies the long and rich tradition of trading in these parts of Vietnam and the importance of spices to this area.
With Buddha's hand (a citrus plant) as a main note, their gin also features vapour-infused lotus flower, Saigon cinnamon, local star anise and Phu Quoc peppercorns. Jochem and Florian are sourcing from all over the country to create their gin's distinctive, floral taste; taking their customers on a botanical journey across Vietnam with each sip.
A glass of Saigon Baigur & Tonic in hand, we sit down with Jochem and Florian, who are part of the founding team of three, to hear about the city's first premium dry gin's backstory and why the founders want consumers to start buying local. 
How did Saigon Baigur come to be?
The idea to start Saigon Baigur came from a shared passion for gin between us. Although gin originated in 13th century Holland, Netherlands, where we're both originally from, today it's distilled in over 60 countries. Except that in Vietnam, until very recently, there was no local gin in the market, which was surprising as it's one of the most ideal locations for sourcing tropical botanicals and herbs to make gin in the first place. 
We both shared a dream to create a tangible product, and as gin-lovers and drinking buddies we knew that in terms of dream projects, there was no going wrong with creating our own brand of gin. So in 2018, we started experimenting with botanicals from around the country and worked laboriously through hundreds of recipes until we selected 12 versatile botanicals to combine with imported Macedonian juniper for Saigon Baigur. And since all our ingredients are sourced from different pockets of the country, our gin takes you on a botanical journey through Vietnam.
How would you describe Saigon Baigur's brand personality?
We were inspired by Vietnam itself. We traveled through the country by motorcycle and were mesmerized by the diversity of landscapes, people, and experiences the country offers. When we think back to those expeditions, the words adventure, excitement, unique, and bold come to mind— and that's what we tried to put into the bottle.
Work needs to be fun. The company culture needs to be fun. This is essential when you're creating a brand like ours because you want your customers to enjoy using the product as much as the team enjoys making it. 
What makes Vietnam a go-to destination for a premium brand like Saigon Baigur?
Gin is made all over the world, so associating it with Vietnam doesn't feel forced, whereas other spirits are almost always exclusively associated with their country of origin. Besides juniper, the basic ingredient in any gin, everything else is in your hands, so you can create a truly local product.
Vietnam is a large exporter of herbs and spices and grows plenty of ingredients to choose from: nearly 90% of our botanicals are locally sourced. If we were to create this in Europe, we would have to rely on importing these ingredients. Saigon is the most diverse and cosmopolitan city of Vietnam and it just felt natural for all those different flavors to be bottled together here. There's also a bigger chance for a localized gin product to become popular.
Can you tell me a little bit about the inner-workings of Saigon Baigur? What's something that surprised you about the process of producing gin?
You quickly learn that botanicals have such a variety of aromas and flavor intensities that unless you are careful to source the ingredients that can produce the same flavor in each batch, you will struggle with consistency. Also you have to purchase directly from the farms to make sure your ingredients come from a controlled environment.
We didn't realize there were so many different aspects to making gin. For a product that is so simple, it is actually a very laborious process. We're only a team of three, so there are no clearly defined roles. Every day looks different: in the morning, you might find us distilling a new batch; the afternoon might be spent going over marketing materials with our graphic designer; and in the evening, we might be hosting a party for Saigon Baigur. 
Besides learning something new every day, we get to share our creation with gin-lovers and bars across the country; and that's the best part of this job. We've created something that we're both really proud of, so when it's well received, it really puts wind in our sails! 
Why should I buy your spirit instead of one made by a larger, more familiar brand?
When spirits are mass produced, little attention is given to details and the sense of passion that initially drove production is often lost. Such products are usually a one-size-fits-all. Small distilleries like ours, on the other hand, use hand-picked ingredients to create a flavor profile that not only tells the story of the botanicals, but the production and founding stories as well. We want people to be able to tell it's our gin they are drinking from the taste alone.
And we are not the only ones who want locally-made gin to shine: in the local distillery scene, you'll find other interesting products, each packing its own personality and origin story. And it's just more fun to drink something that's made using products from where you live. 
What are your thoughts on the current artisanal distillery trend in Vietnam? How about the drinking scene in general here? 
When we arrived here 12 years ago, there were barely any cocktail bars here, but now, a new one opens every month. As quality bars proliferate, spirits like gin are gaining popularity. People are now more interested in experimenting with flavors and are looking for an experience that gives them more than just the buzz from alcohol.
But the trend of localization is still very limited, and we see it as part of our job to help it along. To achieve that, we're not only packing the Saigon Baigur experience into a bottle, but giving the bottle a voice of its own – ours is probably one of the most unique bottles in the industry! We've invested heavily in designing and manufacturing it and the result speaks for itself.
What's next for Saigon Baigur? 
Since the launch 4 months ago, we have been working diligently to get our product on the shelves of the top cocktail bars and nightclubs in Saigon and Hanoi. The next step is to be able to distribute our gin throughout the rest of the country and maybe even beyond.
But, we want to do more than just selling our Gin. Next year, we hope to host more events to bring the Saigon Baigur experience to people and cocktail bars all around Vietnam. And if all goes to plan, early next year, we'll be able to launch an entirely new product!