With nine million people and countless pastry and dessert shops, Saigon is a city that knows how to satisfy a sweet tooth. From traditional treats like bánh da lợn to trendy favorites like burnt cheesecake, the options are endless.
What makes Saigon — and Vietnam in general — a bakery and dessert haven is the availability of fresh tropical fruits that inspire pastry chefs and bakers to create unique treats. Durian cream puffs, anyone?
We've curated a list of five must-visit spots in Saigon for all confectionery enthusiasts, where you can indulge in the best desserts the city has to offer.
BAKES
"Pastry should be like love — exciting, thoughtful, honest." This is what BAKES believes in, and this is why we believe in BAKES. The French patisserie has become one of Saigon's most well-loved pastry shops thanks to its minimalist store design that allows its meticulously crafted pastries to shine.
BAKES recently opened a new location in Thao Dien in addition to its already-popular spot near District 3's Turtle Lake. The new branch sits in a three-floor glass-walled building dedicated to the art of baking: the ground floor is where they showcase their baked goods, cakes, and coffee perfect for a morning energy boost; the second floor is a bistro for cocktails, snacks, and savory dishes that opens an hour later than the ground floor bakery. The top floor is a secret lab, where executive pastry chef Brian Gartner and his talented team craft the magical goodness that's also to be delivered to BAKES Turtle Lake.
There are plenty of products to choose from — the classic croissant, cashew chou, orange Aperol tart, and truffle salted duck egg macaron, to name just a few. There are also thoughtful gift items and decor like handcrafted earrings, scented candles, and Song Cai Gin to take home.
It's also worth noting that BAKES champions sustainability. Their takeaway bags are made from biodegradable cassava starch and recycled paper, on top of ensuring they only use organic and local fresh fruits in their offerings.
16 Thao Dien, District 2
47 Tran Cao Van, District 3
Dine-in, takeaway, and delivery
Maison Marou
If you haven't heard about or been to Maison Marou at least once, what have you been doing all this time? This patisserie bakery brings out the chocolate-loving inner child in everyone with their sweets and baked goods.
This retail shop, under the Marou brand, is dedicated to the ultimate bean-to-bar chocolate experience as customers are invited to witness the fresh creations prepared thoughtfully by top chocolatiers.
Must-tries include gorgeous macarons that come in different flavors. If you want the classic, the caramel and coconut coffee won't disappoint; for a bit of adventure, the pho spice and passion fruit are the macaron flavors you never thought you needed in this lifetime. Seriously, we're not exaggerating.
Note that the pastry options are a bit on the smaller portion size, but each brings a kick of flavor that is a hallmark of the chocolate brand.
Of course, don't miss out on the original chocolate bars made from quality cacao beans sourced from Southern Vietnam.
57 Nguyen Du, Ben Nghe, District 1
167-169 Calmette St, District 1
B2 Level Takashimaya, District 1
90 Xuan Thuy, Thao Dien, District 2
G Floor Crescent Mall, District 7
Dine-in, takeaway, and delivery
IVOIRE Pastry Boutique
There are genuinely delectable desserts that don't look too Instagram-worthy, and there are those that are aesthetically gorgeous but aren't as friendly to the palate. At IVOIRE Pastry Boutique, expect a unique piece of art in both looks and flavors.
Located in the historic ward of Ben Nghe in District 1, this pastry haven serves arguably the most visually stunning sweet goodness. Their summertime offering, Orange Milk, is a delicately crafted poached apple, yuzu, cara orange custard, walnut dacquoise, and a sleek milk veil that looks like a masterpiece on a rock.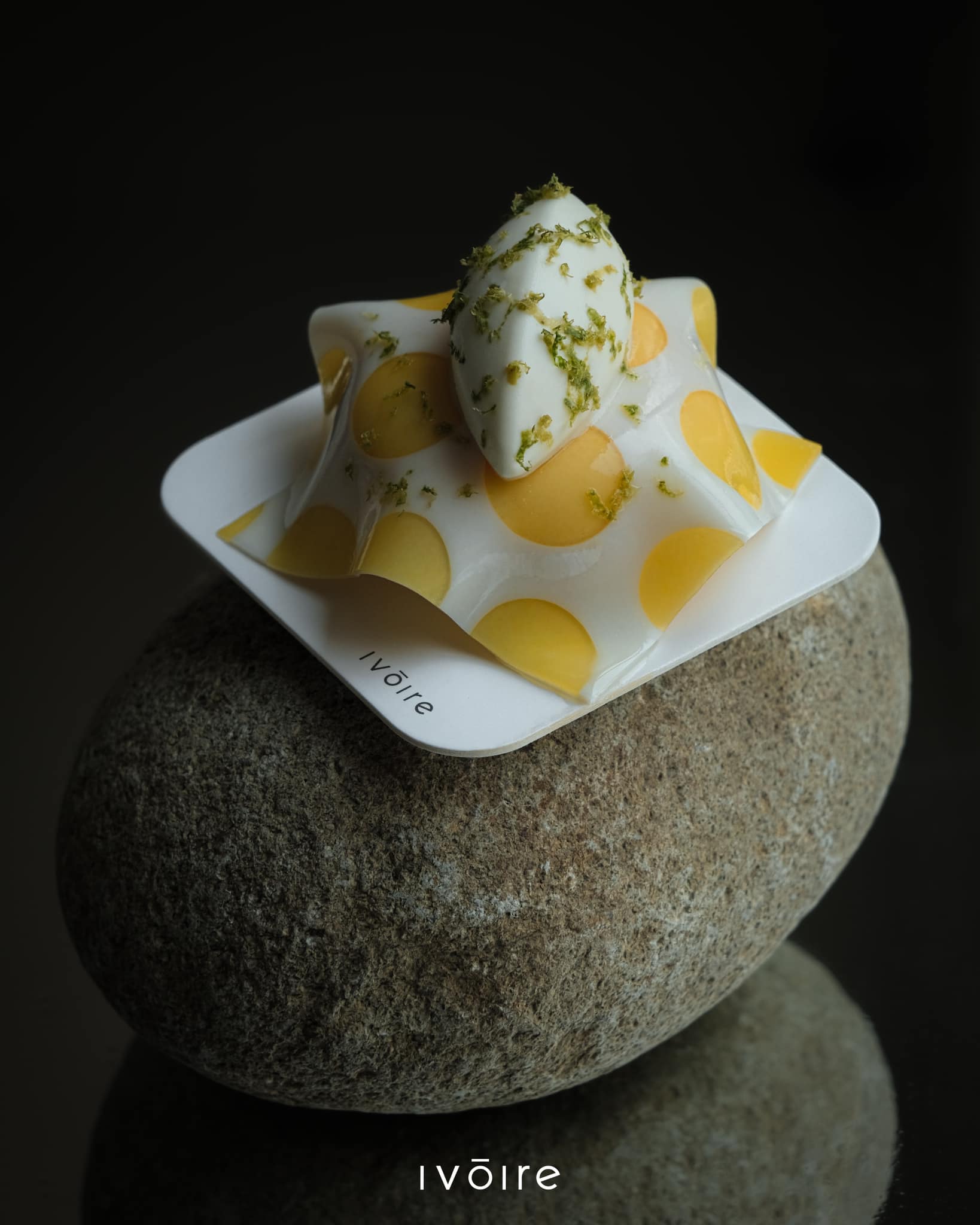 Then there's the corn, made with sweet corn mousse, vanilla roasted corn, caramel, corn streusel, and corn biscuit. It's too good to look at, you'll think twice about slicing it up.
The desserts, however, don't come cheap. Expect to pay more than VND 150.000 for a piece, but knowing the incredible amount of creativity and passion (with high-quality ingredients, of course) poured into every dessert makes IVOIRE worth every penny.
28 Cao Ba Quat, Ben Nghe, District 1
Dine-in and takeaway only
The Vagabond Patisserie Cafe
For those who only want the real deal when it comes to cakes, The Vagabond is the place to be — and it's easy to see why. They've made it their mission to make complex flavors and baking techniques result in layers of palatable pleasure.
Have a taste of the Mill-Crepe Cake, a two-tier cake with over 20 layers of crepes and cream that melts in your mouth. And if you think avocado, caramel, and chocolate can never go together, the cafe is bound to make you believe in the impossible. Their Meraki cake carries many flavor complexities, with the prominent flavor of avocado added with dark chocolate and caramel for an unforgettable dining journey.
Wanna go for a classic butter croissant? The Vagabond has found a way to elevate the experience by filling it with homemade ice cream. Pair it with a glass of iced coffee made from Burundi coffee beans for a complete experience.
9 Tran Cao Van, Dakao, District 1
118 Ha Huy Tap, Tan Phong, District 7
Dine-in, take-away, and delivery
BLISS Premium Gelato
What better way to end this list than with an insanely good gelato recommendation? BLISS is proudly made in Vietnam, with ingredients sourced locally and produced inside its own state-of-the-art factory.
Indulging in a scoop of gelato is like taking a heavenly experience. The smooth and creamy texture of the gelato glides over your tongue like silk, coating every taste bud with a luscious sweetness that is nothing short of divine.
Too hot in Saigon? The fresh Piña Colada flavor is perfect for a cool down. Want something more exotic? The Tamarindo flavor is worth the try. The sour tamarind flavor mixed with chili sauce and peanut butter is strangely irresistible. For those who want to play a little safe, the Ferrero Rocher and Flower of Salt Coffee will make you want to stop counting calories.
BLISS strives to showcase tropical flavors with every scoop, giving everyone a taste of the real Vietnam.
BLISS Premium Gelato Instagram
L1 Aeon Mall Binh Tan
B2 Takashimaya, District 1
Take-away and delivery