The story begins in the 90s. A 13-years-old Vietnamese boy sets foot on American soil for the first time, unrelenting passion for fashion his biggest asset. Years later, while his peers dutifully studied for STEM careers and law degrees, the boy enrolled in FIDM (California's Fashion Institute of Design & Merchandising) bravely stepping on a road laid with thorns. For someone with an enthic background similar to his, breaking into the fashion industry was a very long shot.
Graduation came and with it a decision to pursue his dreams on the home turf instead of setting shop at one of the world's fashion capitals. "I made a lot of missteps. But in retrospect, it was probably better to fail in the comfort of your hometown than alone in some cosmopolitan cities."
Eventually, the young designer saw his vision realized with the launch of an eponymous mid-market fashion brand. His designs, some produced in collaboration with A-list celebrities, are highly sought after. Recently, he added a Netflix debut to his list of achievements. When asked to comment on this string of successes, the artist replied that he owes it to the unwavering support of the Vietnamese community.
This is the story of Thai Nguyen and how he came to be the first Vietnamese host on 'Say I Do', an American reality television series.
One early morning (for me) and late afternoon (for him), Thai and I, through our Zoom-powered call, had a candid talk about how he gained his rightful place on the Netflix show.
How did you become Netflix's very first Vietnamese host?
Even as recently as 5 years ago, it would have been an unattainable dream. But with recent developments in media, Netflix has been putting increasingly more efforts towards diversity and inclusion, so Asians as well as people of other races are finally getting the chance to be represented. 
The producers of 'Say I Do' were looking for a personality who was capable of not only creating designs, but also making them come to life from scratch in a time crunch. I happened to be one of the few designers who could pull off such a stunt! 
And just like the participants of the show, I myself have stories that have never seen the light of day that I wanted to share with the world. Perhaps that's why Netflix picked me from the hundreds who auditioned.
The first season of 'Say I Do' has made its premiere on Netflix on 1 July 2020 with 8 episodes. The premise of the show is to help couples organize their dream wedding: from the attire and photography to the venue.
What does this mean to you as well as those around you?
For me, it was more than a dream come true. It was a life-changing opportunity.
My friends were equally happy for me. It was a source of inspiration for them, because if I could do it, other Vietnameses could do it as well.
My family, on the other hand, doesn't know a whole lot about Netflix. My parents only watch Vietnamese-language programs, so when they learnt that I was going to be on an American reality show, their response was pretty much just: "OK, good!". They don't get how big of a deal it is!
What's the dynamic between you and your two co-hosts Gabe and Jeremiah? 
I'm an only child, so it was like having two older brothers with Jeremiah and Gabe on the show. They're actually younger than I am, but I'm young at heart alright! (laughs).
You can say that we're truly "a match made in heaven", because we didn't know each other at all before joining the show, but we go on like a house on fire and the three of us make a well-oiled wedding machine.
Gabe is a culinary expert, Jeremiah is an interior designer and decorator, and I'm a fashion designer. Together we combined our expertise to create the perfect wedding. And since we each know something that the others don't, we were able to learn and share a lot of new insights among ourselves.
With each episode being a race to create the perfect wedding dress or suit, how do you manage to get the job done?
What you see on the show is practically what I do on the daily. People call me the "the King of Emergency" for a reason. My specialty is doing last minute alterations for the bride and groom. So I've had my fair share of rushing to the finish line.
I like to work under pressure, so the grind on 'Say I Do' is not an issue for me at all.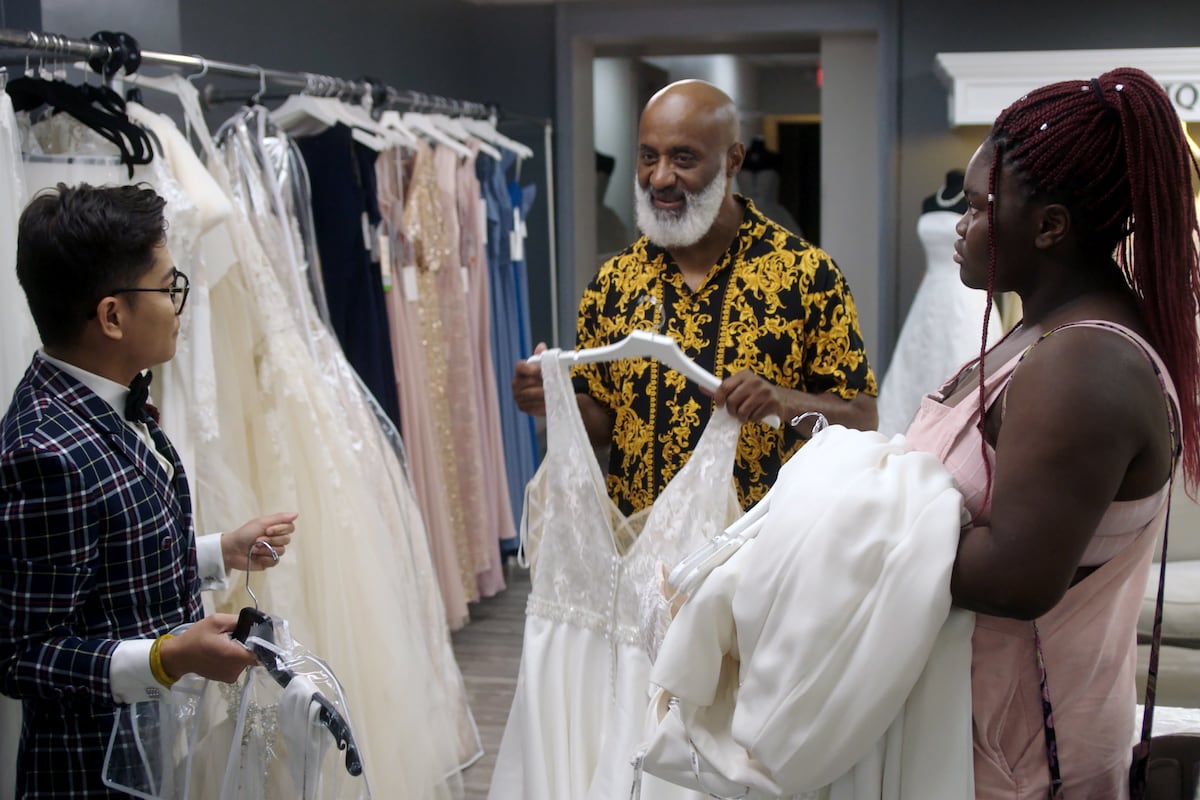 What I found challenging though, were those times when I had to create an entire outfit for a participant just from the description of their partner. There are men who are so oblivious to fashion, they don't even know what size their ladies are. 
Fortunately, the 'Say I Do' crew gave me everything I needed to work my magic, so I didn't have to waste time looking for materials and could just focus on the design and the execution. 
Of the 8 episodes of season 1, which one is the most special to you?
Honestly, every episode carries a special meaning for me. But if I had to choose, it would be 'Episode 5: Kindergarten Crush' and 'Episode 8: Me and My Guy'.
In episode 5, I got to meet Joe, whose life story is very similar to mine. I was a young Vietnamese immigrant, while Joe was a boy from a "small town" America. 
We both had a difficult childhood, but we always saw the silver lining of things and fought our way through life.
When I met Joe, I realized that there are many people out there who are just like me, that I wasn't alone and that we'll cross paths if life allows.Meanwhile, episode 8 was an opportunity for me to open up about my own story. Even though I grew up in a progressive country like the US, I was still bound by my family's expectations and traditional Vietnamese values. As such, I had to keep my true self a secret. That secret, for the most part, is now out to the world.
Why just "for the most part"?
To be frank with you, it's because everyone in my family but my parents has seen the episode.
They live in another state, and due to the distance and the pandemic, I haven't got the chance to visit them. I'm worried that they wouldn't get it if they watched the whole show in English by themselves. So, I want to be there in person so that we can watch it together.
If your wedding was to take place on the show, what would it be like?
The blueprint for my wedding has been in existence for a long time now but it hasn't got the chance to materialize yet. If you have watched the show, you'd know it's because I'm still waiting for the greenlight from my family.
Vietnamese culture and traditions are a big part of my identity, so I'd love to have the blessing and support from my loved ones on my wedding day. It will definitely be a very traditional ceremony, but the details are TBD for the moment!
Adapted by Uyen Do.