This is an updated version of the original article written by David Kaye in 2018.
We frequently receive inquiries about the top tattoo destinations in Ho Chi Minh City. This is due to the widespread trend of tattoos, both globally and within Saigon. Particularly at present, the tattoo industry in Saigon is thriving with new tattoo trends, making it an ideal location for tattoo enthusiasts.
Driving the evolution of the art here are true originals like Saigon Ink's Danis Nguyen and next-generation social media-savvy artists like Chun Hack.
From old-school to black lines and geometric patterns, tattoo artists in Saigon run the whole range of styles. Prices to get inked here are pretty affordable. Especially when you compare Ho Chi Minh City to international tattoo capitals like London, LA, and San Francisco, where you will often pay three or four times higher—although this can vary dramatically depending on the artist. It's a disparity that might lead to a boom in tattoo tourism once word gets out.
With the tattoo scene here evolving as fast as the city's infrastructure, Vietcetera decided it was time to take a trip around town to put together a list that mixes the old with the new.
Saigon Ink
"If you do something for many years, over and over, day after day, eventually there will be a moment when you understand it deeply," Danis smiles as we sit down with him in the back of this ten-artist Saigon Ink studio. His reputation was reinforced in 2015 when he was featured in the lavishly illustrated World Atlas of Tattoo.
Danis has been around long enough—he founded Saigon Ink twelve years ago in 2006—to see perceptions of tattoos in Ho Chi Minh City evolve from symbols of rebellion to signs of recognition. "Tattoos don't mean you're bad, but bad people always have tattoos—that's what the social perception seemed to be. The difference between the two causes the beauty of tattoos to be a delicate subject…even today," Danis adds.
This area used to be his private studio. These days he only does four or five tattoos per week if he feels a connection with the client, and that the tattoo they ask for spiritually or symbolically fits his beliefs.
With his team doing most of the tattoos, he's broken down his studio. The extended space houses Saigon Ink's nine other house artists like Ans Pham (black and grey, old-school line tattoos), BonBon (neo-traditional, black and grey, and watercolor styles), Phuc Dang (mandalas and geometric patterns), and Jerry (fantasy- and Japanese-style sleeves and large body tattoos).
Location: 26 Tran Hung Dao, District 1, Ho Chi Minh City, or 37 Xuan Thuy street, Thao Dien, District 2.
Style: Eclectic with black line, geometric, and fantasy art styles depending on which of the ten artists you choose.
In short: Saigon's original studio with a diverse roster of house artists headed up by Danis Nguyen, who you might recognize from The World Atlas of Tattoo.
Chun Hack Tattoo
Hoang Trung, better known now as Chun Hack, is a self-taught tattoo artist. During 8 years of pursuing this career, he has built a reputation...
Self-taught tattoo artist Hoang Trung, better known now as Chun Hack, has built a reputation for his delicate black line and dot work. He first came to our attention when we learned he did two of Floralpunk founder Julia Doan's tattoos. "That's how I first heard of Vietcetera, too," he smiles from his studio's sofa. He's also done tattoos for local icons like stylist Kelbin Lei.
Just like his tattoos, Chun Hack's studio has lots of quirky hand-drawn images, like the sign pointing to the front door that reads "crying room," and there's also a cool wall sign that spells out his name in red neon too.
Chun Hack's images of finely rendered text tattoos and cooly inked drawings, as well as the enigmatic photos of himself, have attracted more than 52,000 thousand Instagram followers
He went to school in Russia—where tattoos were more common—stayed on to complete a Master's degree and opened his studio once he returned. It's now recognized as one of the best parlors for tattoos in Ho Chi Minh City. The Russian artist Vitaly Morozov did the typically fierce tattoo on his left arm. "And I also love Manchester-based artist Susanne Suflanda Konig work," Chun Hack adds.
You can find Chun Hack Tattoo off Nguyen Trai, in District 1 (be careful as the map directions on Facebook are misleading). Above the men's fashion store, you have to walk through, you'll find Chun Hack's "crying room" on the first floor.
Location: 2nd Floor, Room 209, 130 Pasteur, District 1, Ho Chi Minh City
Style: Fine black line and dot work with cool geometric and hand-drawn designs.
In short: The millennial tattooist with a big Insta-following and a number of high-profile clients.
Alchemist
Founded by Nhut Be, this two-man studio is right across the hall from Hurricane Barbers. But first, you'll have to find the stairs. They're accessible at the back of the ground floor restaurant at 135 Bui Vien—and don't worry, they're used to customers walking through for a trim or to get inked. Alternatively, you can take the alley at the side and double back into the building.
Besides once being a tattooist at Saigon Ink, Nhut used to be a member of a breakdance crew. "I'm too out of shape for that now," he laughs as we settle into the couch in the reception room. "I still do graffiti, though," he says of his other passion he's had since 2005. Today, Nhut is best known for his black-line work at Alchemist.
His studio partner, Jase, does bold, old-school designs. "We're appointment only," Nhut adds. "People fly here just to get one of our tattoos in Ho Chi Minh City."
Location: 2nd Floor, 135 Bui Vien, District 1, Ho Chi Minh City
Style: Black line and old-school tattoos.
In short: Some of Saigon's best tattoos by two artists in the heart of the backpacker district.
Recycle Bin
Recycle Bin is another foundation tattoo crew. After almost a decade of tattooing as a loose affiliate of artists, they finally opened their first store in the Autumn of 2009. Almost ten years on, house artists like Giang Tran, Lam Nguyen, Ronin, and of course, Binx, have done tattoos for celebrities like singer Bao Anh, besides their steady stream of international, Viet Kieu, and local clients. And their tattooist Lam Kity does piercings too.
Formerly two separate stores, the "Bin" has consolidated into its current location in Phu Nhuan. They've kept the same concept—recycled objects like the reclaimed wood reception desk, the kooky American license plates pinned to the walls, and a large lived-in Chesterfield sofa.
They've added a modern-industrial aesthetic to this location, with a big sliding iron grill gate that leads to the studios' stairs. "Everything here's recycled," the Recycle Bin's founder Chi Hieu, or Binx, says, glancing around the first-floor studio. It's a sign of their popularity that they are also currently converting the floor upstairs to provide more space for their team to do tattoos in Ho Chi Minh City.
The part of town also has a concentration of great street-food restaurants. Try the com tam shop right across the street, whose version comes with freshly BBQ-ed pork ribs, if you need a break during a sitting or you're waiting for the team to complete a design. But in case you don't want to venture out, the Recycle Bin also has a complimentary cafe inside serving juices and coffee (and they'll probably order you a com tam to-go if you ask nicely).
Location: 176 Nguyen Van Banh, Phu Nhuan, Ho Chi Minh City
Style: Diverse, as you'd expect from a tattoo parlor with nine artists. They specialize in black lines, realism, watercolor, minimalist and old-school tattoos.
In short: Foundation names in Saigon's ink scene keep getting better with their airy modern-industrial tattoo and piercing studio in Phu Nhuan.
Monster Ink
Monster Ink is known for its breathtakingly beautiful flower tattoos. In fact, all the tattoos created in this studio are by one artist, Tuyen Nguyen. And his style, developed over five years as a tattooist, isn't restricted to flowers—he also does colorful geometric pieces that incorporate animal images, watercolor-style tattoos, and creative cover-ups. "Many of my customers are Viet Kieu who find me through Facebook," Tuyen explains from behind the reception of his tattoo parlor.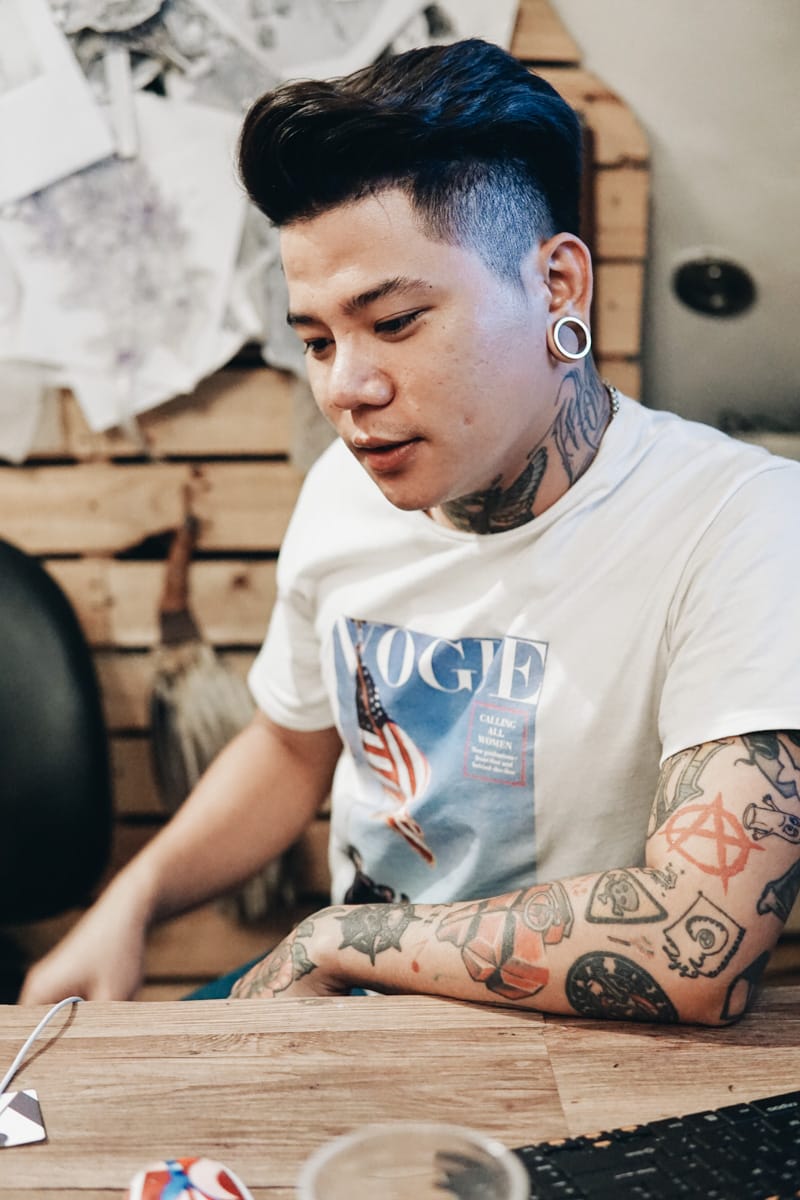 The studio is hard to find down a blink-and-you'll-miss-it alley off Cach Mang Thang Tam. But it's worth the effort. Look out for the nearby Ninomaxx store and the Bao Long Mobile store right beside the alley.
Location: Tk28/49 Nguyen Canh Chan Street, Cau Kho Ward, District 1.
Style: Large tumbling flower tattoos and geometric shapes.
In short: A one-artist studio hidden off bustling Cach Mang Thang Tam that's worth taking the trouble to find.
Tips for getting tattoos in Ho Chi Minh City
Booking an appointment
Some studios, like Saigon Ink, will accept walk-ins. However, that might restrict your choice of the artist. Added to that, some tattooists, like Saigon Ink's founder Danis Nguyen, only work with local clients or ones referred to them. Other studios, like Alchemist, are strictly appointment only—and their popularity might mean there's a waiting list to see their tattooists, Nhut Be and Jason Truong Nguyen. Fortunately, thanks to social media, booking in advance has never been easier when getting a tattoo in Ho Chi Minh City. Most tattooists will offer an online consultation too, and some advice about how much it will cost.
Choosing a tattoo
The best advice is to do some research, find a design, and even better, an artist that you like, don't rush the decision, and view getting the tattoo as a collaborative process.
Facebook and Instagram have provided two platforms on which tattooists can regularly update images of their work. Artists like Chun Hack connect to most of their customers that way. That also means you can browse artists' work before you book and make a considered choice of both artwork and artist well in advance.
Communicating your concept
English proficiency in Vietnam has leaped in recent years, particularly in Ho Chi Minh City and in other major cities like Danang and the capital Hanoi. All the studios covered here either have fluent English-speaking tattooists and staff (like Alchemist and Recycle Bin) or assistants around to help translate (like Monster Ink).
As with any tattoo appointment, if you're getting tattoos in Ho Chi Minh City, don't proceed until you are completely happy with the design. But also be receptive to your artist's advice—all the tattooists in this article know what they're doing.
Paying for your tattoo
Check on the studio's payment policy before getting inked. Even some of the best parlors for tattoos in Ho Chi Minh City, like Alchemist, are cash only. However, the majority will take credit cards, especially larger studios like Saigon Ink. Also, remember many studios will ask for a deposit, like the 25% requested by the Recycle Bin, that's deducted from the total cost at the end.
Tattoo Legality in Vietnam
Despite the yearly Tattoo Convention and the popularity of parlors like Chun Hack Tattoo, tattoo shops are not recognized as a business. Lots of the store owners we met were hopeful that overdue acceptance was imminent. As a customer, you won't be affected. And note that these studios still maintain the highest standards and enforce an over-18 legal limit.