Prolific artist and storyteller Thai My Phuong has illustrated 17 children's books and over 250 book covers. She has also authored and created the artwork for publications like "Hat Gao Mat Tich" (The Missing Rice Grain), and her own version of "Snow White". And her collaboration with American-German author Marc Alan Shultz, "Ada And The Magic Fruit", was published, first in French, in April this year.
Thai My Phuong has also been profiled by Tuoi Tre, Kenh14, magazines like Dep and Elle, and international design blogs like Juxtapoz. She is a regular contributor to Vietnamese teen magazine "Tra Sua Cho Tam Hon" (Chicken Soup For The Soul), while completing commercial assignments for companies like Nestlé and Samsung. And somehow she's still finding the time to nurture the next generation of art talent as a lecturer at the Graphic Design Department at HCMC University of Architecture.
In love with Phuong's ephemeral hand-drawn images and her uniquely sideways look at life, we invited her over to the Vietcetera office. We wanted to know how a distinctly bohemian childhood helped her to realize her creative ambitions and become the artist better known as Tamypu, her challenges while studying overseas, and how she sees the younger generation's engagement with the arts.
Can you describe your work to someone who has never seen it?
In my work, I try to balance elements that are interesting but familiar. I want to lead the viewer towards thinking differently about things they take for granted. There's a sense of optimism too—a feeling of brightness and warmth that should feel inviting. And I also like to include humorous things. For example, I sometimes illustrate around or over found objects like watches, paperclips or fried eggs—the curve of the edge of a watch face can become a hill, a slice of bread can become a person's blanket, or a tiny person's drowning hand can reach out of a coffee cup.
But overall, I don't obsess too much about style. I began as a designer and I still carry that versatility with me. The questions I always ask myself are, "Have I transmitted my idea effectively? Does it have 'imagination'? And is there artistic merit in the work?"
When did you realize your upbringing was unusual? What led to this realization?
There was definitely a point when I noticed that I evaluated myself differently to my peers. My friends always aimed to become the best pupils in class, which meant striving constantly for academic success. Conversely, I just loved to make things more beautiful and more interesting. Because we were so different, I used to think, "Am I a bad child? Will I ever find my place in the world where what I love doing will be recognized?"
Fortunately, I found that place quickly. It was an old wall at home which my parents allowed me, a four-year-old girl, to "destroy" with chalk and pencil doodles—mostly of mermaids who, at the time, I thought I had descended from. I realized then that my parents were the only ones supporting me to explore my artistic side. Everyone else considered me strange and badly behaved. And so, of course, I continued to struggle academically, while winning prizes in creative contests.
 

 

 

View this post on Instagram

 

 
What were the best but also the most challenging things about living and studying overseas?
My adventure in Brighton, on the south coast of England, was something of an accident. I had not prepared—my English was not good enough, and I was also not ready mentally or financially. It was the most challenging journey of my life. Although people perceive me as strong, I'm not. In fact, I'm quite sensitive. But challenges bring the best out of me. I learned how to communicate without language. Instead, I would communicate visually; like being in a silent film. Although I got a distinction, that was not my goal. My objective was to try to learn to turn my limitations and difficulties into opportunities. And I am so thankful for that time because some recent projects really began then.
So, while in Brighton, I made two small books. One was about three eggs, which was published by Kim Dong this year as "Three Eggs In The Super Boring Land". The other book was "Ada" which I entered into a competition. Although I didn't win, it has now been published as "Ada And The Magic Fruit" first in French and then Italian, but soon it will be released in English and Chinese too.
 

 

 

View this post on Instagram

 

 
How is the art community in Brighton different to the one here in Vietnam?
In Brighton, I saw creative people producing works not just for themselves but also for the benefit of the city. You can tell immediately it's a city deeply engaged with the arts. There are pictures and colors everywhere—on the streets, on walls, on buses, even in the clothes people wear. It creates a kind of song of the city. When art is expressed on the streets every day, and not only in museums or galleries, it becomes a truly beautiful thing. It is also a way of telling stories to visitors, and even to the next generation.
In Vietnam, we have a chaotic recent history. That has affected how people think and our aptitude for self-expression. I have been living in Ho Chi Minh City for more than ten years. There was a thriving art community a long time ago, but for my generation, everything feels fresh and new. Some artists are maintaining traditions, others are engaging with Western aesthetics, and still others, like me, are mixing the two.
 

 

 

View this post on Instagram

 

 
Do you think that we are born with creative talent or that we develop it?
I would say both. Everyone has some artistic ability. The difference is some people nurture it, while others don't. I think to nurture that ability you need both knowledge but also, very importantly, passion.
Before I became a lecturer, I thought that through encouragement alone we could magically transform students who didn't have any confidence in their artistic abilities or who had been held back through a lack of support into great artists. Now I know that's not the case. Encouragement is like a drug—it may have some effect, but that effect will probably be short-lived. This led me to explore more supportive methods. Today, I think each individual is different, and they need individualized feedback to help them grow as creatives. I would add that when a student who has a strong passion for what they do meets a thoughtful, skillful tutor, their art has the chance to soar.
Are more Vietnamese enrolling in arts courses? What's encouraging them to sign up?
It's hard to be exact, as I do not have access to the figures, but through my own observations, there are three types of students enrolling. The first are people who admire international artists, perhaps who they discovered online. They felt inspired and decided to enroll in an arts course. The second kind are people who admire, maybe even idolize, local influencers and they want to follow the same dream. The third group just naturally love art and self-expression. They study independently, without needing the impetus of following someone to be inspired.
How is teaching different to being a designer or illustrator? How do the two activities influence each other?
I think there's a cycle. Practitioners, like designers and illustrators, experiment and explore new artistic experiences to generate new knowledge. As teachers, they share those experiences and knowledge with their students. But they also support those learners to create art, and that process often influences and informs their own artistic practice.
Who are your artworks for?
When I was young, I craved people's recognition, even though I may not have realized it at the time. I was constantly trying to prove my artistic ability to people by making things I thought they would like. I do not regret that. It is part of the process of becoming more mature. But the problem with that mindset was that after I had satisfied someone what comes next? I was stuck in a cycle of craving compliments. Right then I realized, having the pure urge to create is very different to wanting to make things just for recognition and fame.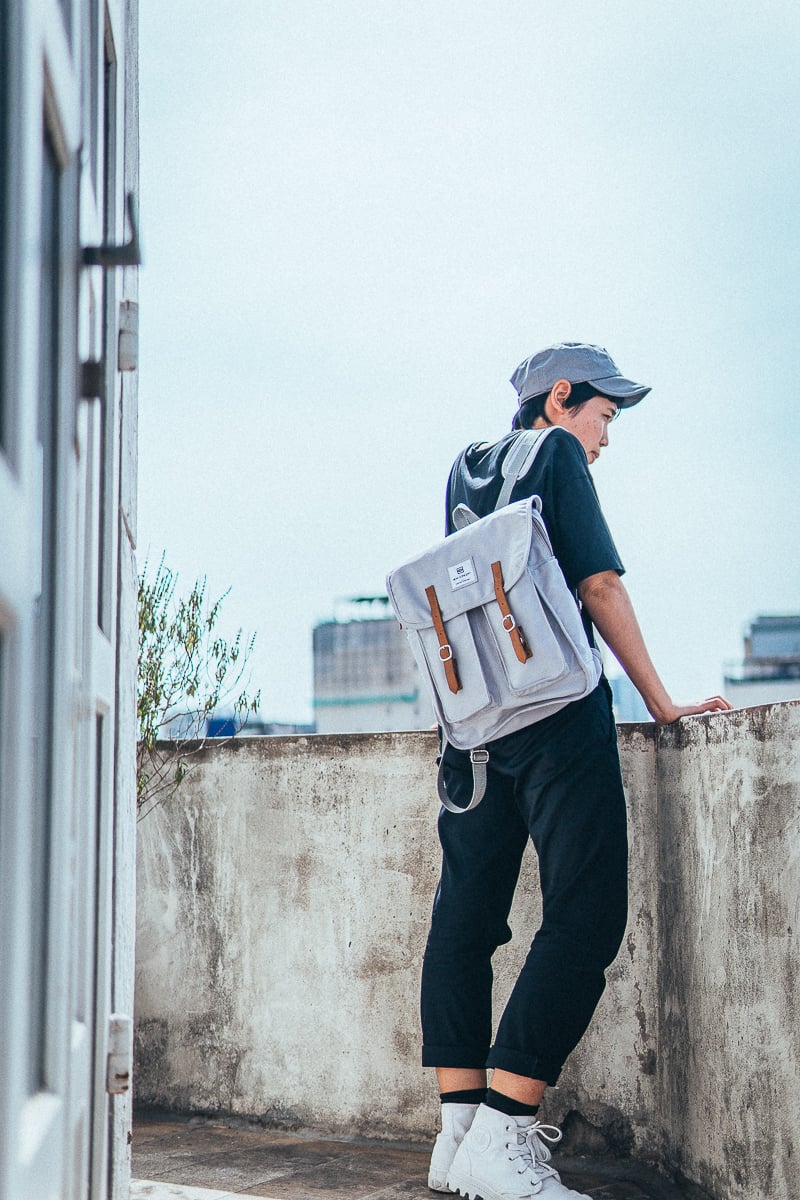 My father was a musician. He passed away recently. One thing he said has stayed with me—"One day people die, but their art lives on, forever." However, art can only survive if future generations perceive its value. Realizing this, I changed my direction. I decided I wanted to make art with meaning, art that could benefit the world in some small way. This has also encouraged me to focus on helping children think differently. I want to inspire them and help nurture their creativity.
What routines do you employ to help you stay focused when you are working? What things help you to be more creative?
My need for focus depends on what I am doing at the time. If I am very clear about my objectives, I will focus intensely. If my objective is to continue working on a project that has been going for some time, my routine can be dramatically different—wake up, exercise, drink tea, spend some time to explore new ideas. Then in the afternoon, I develop some of those ideas. The next day, when I'm fresh, I will look again at what I have done. This helps me to spot any mistakes or identify any problems. I don't know whether that is a routine, but I repeat this cycle over and over until the project is finished.
Another thing I do is, if I have a long-term plan or goal that may take several years, I divide it into smaller steps. Then I feel better each time I reach one of the mini-milestones, or even when I reach my target for the day. Focusing on the bigger target is overwhelming. Most likely I will start to feel negatively towards the project and lose my passion for it.
Could you explain the evolution of your various social media presences for us?
I used to think social media was a way of communicating ideas with an audience. But I have discovered that the process is two-way and I have learned a lot from the people I connect with. It has also been a good way to chronologically track my work's progress and my experiences.
I try to make all my social media pages beautiful. On "Tamypu's Tiny Things" I share my professional work. The focus is on my current portfolio so I can share what I am doing but also get thoughts and feedback from followers. I share things I am interested in on "Tamypu Homemade"—cooking, decorating, even wrapping gifts, and the way these activities intersect with art. Finally, on "Today Tamypu Learns" I share life observations. There, I talk about events and situations I have been involved in and my thoughts and reflections. Then there is my own Facebook profile that is a mixture of all the above.
How do you find time to make posts when you are so busy?
There is no process to it. I share randomly without a premeditated plan or schedule. I think it is important to make honest posts driven by real emotions. Having said that, I do place restrictions on myself. For example, I will only check Facebook at noon and at night. And I will only make between two and four posts per week. Otherwise, I am sure I will become addicted, lost in people's ideas and opinions, and mired in some of the negativity we find on social media. My philosophy then, if I could summarize it, would be that it is a tool for two-way communication—use it effectively and do not let it use or control you.
And how did the Samsung collaboration begin? How does it fit with your creative vision?
Actually, before the Samsung collaboration, I'd worked with Nestlé. I visited coffee plantations as a picture journalist to tell the story of the cultivation of certified-quality coffee. I told the story very simply, from the perspective of the farmers and their families. The story touched many people and was widely shared on social media. The success of that project prompted lots of brands to ask me to produce stories for them, but I only want to focus on certain things, like family, travel, food, and education too. So, when Samsung asked me to visit orphan centers in remote areas, to explore how modern products and technology can help them to access the world, and to dream bigger, I agreed. Since then the collaboration has developed, but always with community values at its core.
If you could live in an imaginary world, what would it be like?
It would be my dreams. Dreams make up my imaginary world. And it would probably be in black and white. To me, black represents a beautiful kind of evil, while white is strong but angelic. I think I am both.
We forgot to ask, when did you first become "Tamypu"?
Actually, the name came about as a shortcut for me. By 2010, people were starting to ask me to sign books, and Thai My Phuong is too long to write over and over. Tamypu was much shorter and easier to write.
Who do you think we should speak to next?
There are many people that I admire. Dy Duyen is a photographer who you can follow on Instagram. Then there is Hang Artdoll—an artist who creates brilliantly emotive handmade dolls. There's Hang's husband, Nguyen Thanh Phong, too. He is very successful with a unique voice in a different artistic field—comic books. Also, Trung Nghia. He built a fantastic sculpture using natural aged materials, which he is currently preparing for exhibition. Finally, there is Vu Tien An, a young architect and lecturer who has turned a small piece of land into a beautiful house and studio for himself and his family.