In recent years, the emergence of third-wave coffee in Vietnam has changed the way people enjoy their caffeine. It's not just about the taste and price anymore, nor about the cafe's ambiance. Coffee makers and drinkers have found a new favorite part in the process — what happens before the finished product is poured into the glass and served.
In Vietnam, a growing number of coffee shops now have open kitchens, with baristas making drinks before the very eyes of whoever chooses to spectate, creating a more thoughtful approach to drinking coffee. That way, customers get the chance to ask questions about the beans, their sources and if they meet global standards.
We have listed four cafes for quality craft coffee in Saigon if you're interested in riding the third wave of coffee culture. 
Saigon Coffee Roastery
Barista Phap Vo founded Saigon Coffee Roastery, a household name among the barista community in Vietnam. The tranquil ambiance of this coffee shop and the second–to–none tastiness of beverage and food will live up to your expectations.
It's a quiet and spacious garden coffee shop located in a small alley on Vo Thi Sau street in Saigon's District 3 — complete with a front yard filled with lush greenery. The roaster's interior has few and scattered elements and is covered in a fresh coat of white paint, giving the space inside a clean and minimalist look. And privacy for customers is a priority, making it a perfect place for enjoying coffee alone or with a group of friends at an affordable price.
Aside from its signature coffee, Saigon Coffee Roastery also serves tea, juices, cakes, and main courses, ideal for a longer stay over lunch. In providing the finest cup of coffee, they use quality coffee beans from Da Lat and other famous coffee-growing regions globally, such as Kenya, Ethiopia and El Salvador.
If you're in the mood for the gentle sweetness of Da Lat's Arabica beans, cold-brewed for 12 hours, their Cold Brew Coffee is for you. And if you're looking for something new, try Chemex + Panama Natural  — a pour-over coffee made from Panamanian coffee beans with a pleasant aftertaste and mild aroma.
Saigon Coffee Roastery at Alley 232 Vo Thi Sau, Ward 7, District 3
Phin Xanh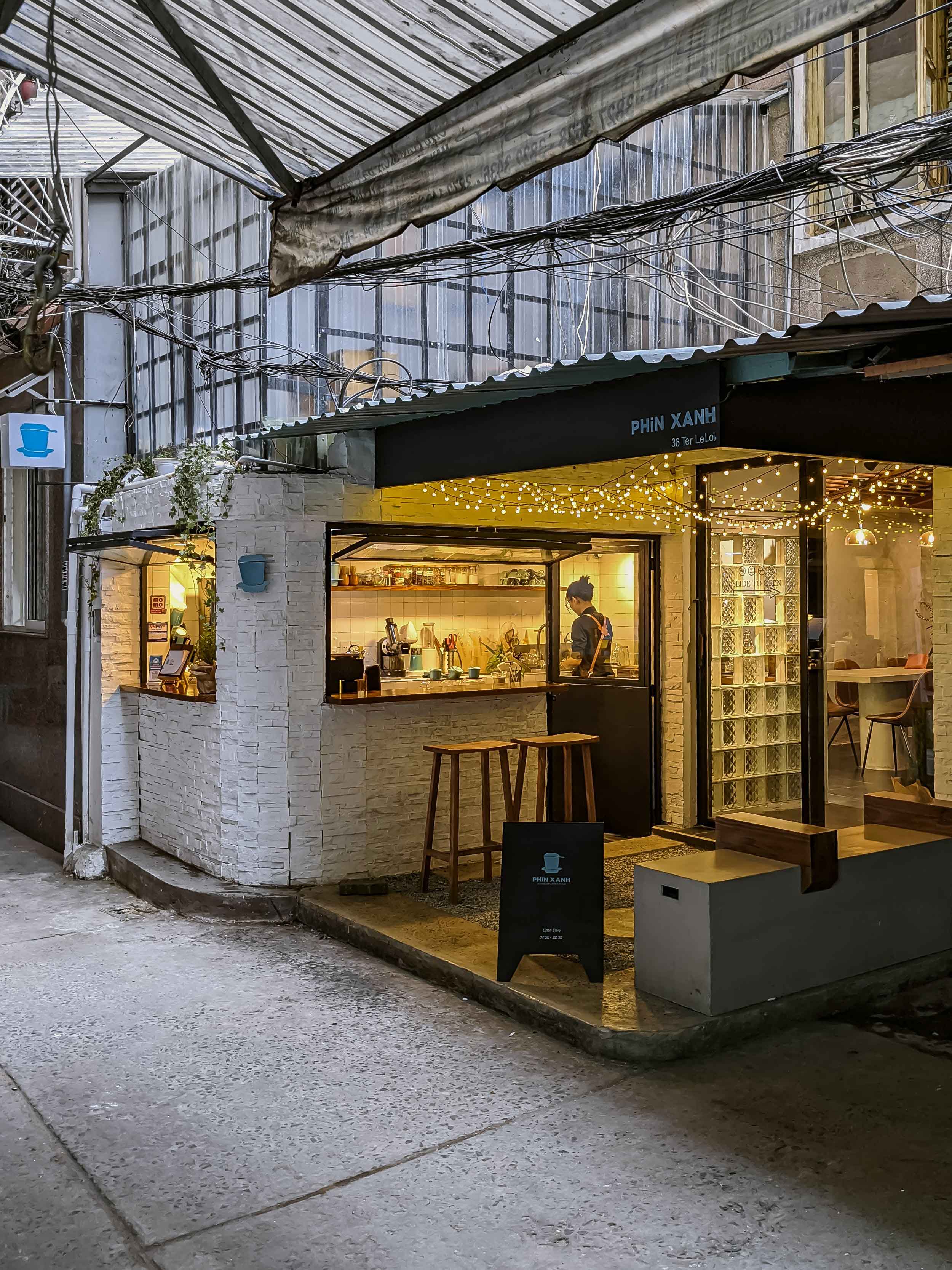 It would be remiss to talk about craft coffee without mentioning traditional Vietnamese drip coffee. For coffee connoisseurs, brewing is a performance through which they extract the original flavors of coffee beans. Look no farther; Phin Xanh, where you can have this experience and more. Its motto is "Hái chín rang mộc" – that is, only the perfectly ripe beans are picked and roasted. 
Tucked away in a quiet alley on Le Loi Street, this unassuming coffee shop has a modern white-wall look and features wooden ceilings and dark brown chairs. When visiting, save a spot at the counter for a front-row view of the barista's performance in perfecting your coffee. A number of indoor and outdoor seatings are available. Don't judge its seemingly compact space, Phin Xanh is a seasoned coffee supplier for many places in Vietnam and worldwide.
Phin Xanh at Alley 36 Le Loi, Ben Nghe Ward, District 1
Fin Saigon Cafe
Settled in an old apartment along Phan Xich Long street, Fin Saigon Cafe, previously known as the Coffaholic, is a small and cozy coffee shop serving top quality coffee beans that comply with the standards of the World Specialty Coffee Association SCA and the World Coffee Quality Institute CQI. This cafe also prefers using organic, non-GMO ingredients as well as high-quality Vietnamese goods such as USDA-certified organic Ben Tre coconut.
With its beautifully decorated facade, this cafe pleases not only your eyes but also your olfactory nerves the moment you step inside, inhaling the aroma of freshly ground coffee. There are a few seats at the long bar for those who want to get a closer look at the baristas in action.
Fin Saigon Cafe at Building 13, Apartment A3 Phan Xich Long, Ward 7, Phu Nhuan District
UCC Coffee Roastery
UCC concept stores highlight contemporary Japanese coffee culture and hospitality, valuing the quality of each coffee batch and promoting sustainability.
The UCC coffee shop in Vietnam feels very intimate with its cozy floor space and picturesque outdoor area. Any coffee-lover who favors meticulously crafted coffee with rich and aromatic taste should try Siphon coffee. The brewing method is based on the principles of expansion and contraction of water vapor — referred to as "the most theatrical of all brewing methods." 
Besides specialty coffees like traditional, machine-made, and handmade, the roaster also serves fruit teas, juices, smoothies, and cakes and waffles.
UCC Coffee Roastery at Saigon Pearl, 92 Nguyen Huu Canh, Binh Thanh District