The year is getting off to a good start in Vietnam — from the arrival of at least 1,700 passengers on the first days of the resumption of international flights to the government greenlighting Ho Chi Minh City and Binh Dinh Province's plans to welcome international visitors on special tour packages.
As the tourism industry regains its footing, we're also seeing announcements of new hotels and resorts — finally — opening this year. Properties, such as Avani Doc Loc Resort and Mandarin Oriental Saigon, which were originally planned to open doors in 2020, are now ready to push haute hospitality forward.
Here's a list of some of the hotels and resorts we are incredibly excited about in 2022. From north to south, these new properties are sure to usher in a "new normal" in the hospitality and travel industry.
Crowne Plaza Vinh Yen City Centre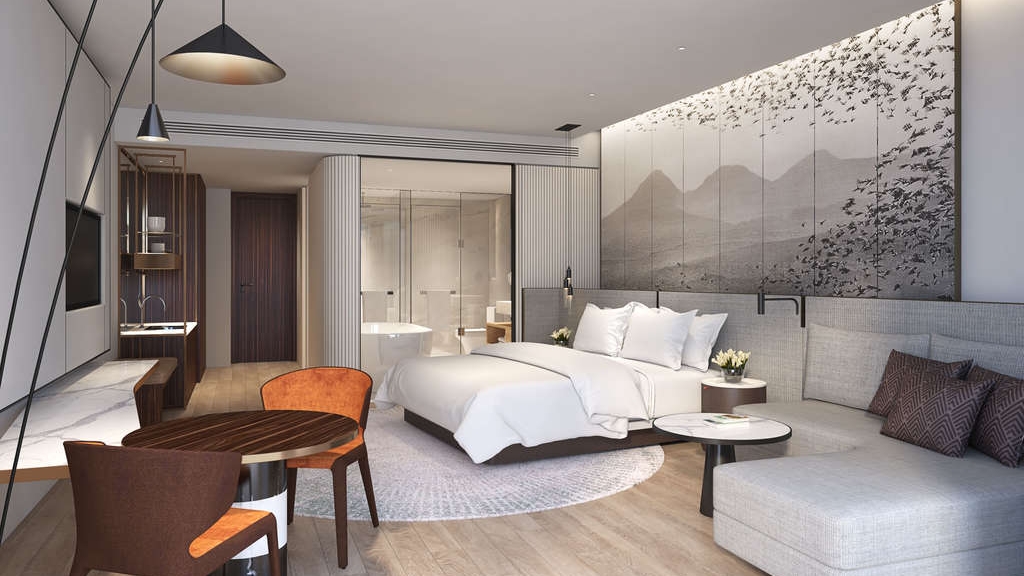 Before we get too excited with IHG's four new properties planned in Danang and Halong Bay for 2026, let's talk about the Crown Plaza Vinh Yen City Centre. This 170-room hotel located in the heart of Vinh Yen, the capital of Vinh Phuc Province, is bringing Crowne Plaza's distinctive design style that integrates business and leisure.
Designed by dwp, the hotel features contemporary spaces inspired by Vietnam's rich cultural history and offers innovative hospitality for work and play. The hotel bears Crowne Plaza's signature Plaza Workplace lobby, an executive lounge, business corner, and agile working spaces. Guests can wind down in rooms designed in the WorkLife concept, with a quarter designed as large-format suites equipped with kitchenettes, ideal for a short trip or for a long-stay serviced apartment option.
As the first upscale and premium international hotel in the region, domestic visitors and local communities alike will delight in its extensive facilities, while appreciating its proximity to must-visit destinations including Tam Dao National Park, Truc Lam An Tam Zen Monastery, Vinh Phuc's four highly-rated golf courses and many more attractions.
Citadines Marina Halong
Quang Ninh, home to tourist-favorite Halong Bay, has been seeing a constant rise of luxury resorts over the years for its tourism potential. Citadines Marina Halong is about to join the club.
Built by Ascott Limited and BIM Group and designed by KAZE Interior Design Studio, Citadines consists of 637 condotels and 176 apartments, together with modern facilities such as an infinity pool, rooftop pool, restaurants, and supermarket, as well as a recreation zone and smart car-parking system.
Citadines Marina Halong offers spectacular views of Halong Bay's limestone karsts, without taking to the waters. But of course, it's a must to set sail on to the majestic seascape. The hotel offers boat excursions, kayak adventure, or other leisure activities around the bay.
Somerset Danang Bay
Danang is now at the center of the urban hustle and bustle, with the increasing flow of investments and a continuous influx of tourists. The rise of Somerset Danang Bay is a welcome addition to the thrilling progress.
Located just a five-minute drive from the city's central business district, Somerset is built as part of Blooming Tower Danang, a mixed-use development that comprises two 37-story residential towers and a three-story podium for commercial retail and recreational uses. It will be one of the tallest towers in the city, offering panoramic views of Danang Bay.
Be it for business or leisure, long-stay or momentary, Somerset Danang Bay renders a space for rejuvenation and comfortable living, with its rooms fitted with a range of well-equipped kitchenettes, separate living, and dining areas as well as en suite bathrooms. And to further aid guests in feeling right at home, guests are given full access to a comprehensive list of amenities available in-house.
Avani Cam Ranh Resort & Villas
The tropical shores of Cam Ranh, an inlet in south-central Vietnam, continue to draw crowds in, especially after an international airport was opened in 2009 and allowed travelers to fly directly to the town. Fun fact: Cam Ranh International Airport was the only airport in Vietnam that handles more international passengers than domestic passengers pre-COVID.
Building on the growing popularity of the town, Avani Cam Ranh Resort & Villas offers chic stays, romantic getaways, and fun family breaks starting this year. The new addition to Avani's fast-growing Vietnam portfolio, the resort features 300 guest rooms and 315 private villas, all just steps from the turquoise sea. There are plenty of options for dining, events, and gatherings.
The resort is designed by Studio Noor, a leading architecture and design studio headquartered in Vietnam and Greece. It's luxurious, but not intimidating, and is surely an ideal base for seaside excursions and inland explorations. There's a nearby national park, offshore islands, and pagodas for some day tours.
Avani Doc Let Resort
Avani Doc Let Resort, an upscale 273-key property, is part of Doc Let's exciting developments — 50 kilometers north of high-energy beach town Nha Trang. With ample on-site leisure facilities and waterpark slides, and serene and charming interiors (thanks to KAZE Interior Design Studio), Avani guests could be excused for never leaving their slice of palm-fringed Eden. "Lots and lots of hammock time," as its website says, isn't so bad of an idea.
But for the adventurers, the scenery is gorgeous around the area and many of the attractions, being impossible to reach by bus, are unspoiled. A vigorous hike up to Ba Ho Waterfalls for a refreshing swim in a crystal-clear lake or a kayak excursion to Hon Lon Island is what makes Doc Let so magnetic in the first place.
Mandarin Oriental, Saigon
Mandarin Oriental's incomparable service, award-winning restaurants, and luxury accommodations have gained its properties a legion of fans. So when the popular hotel chain announced that it would open Mandarin Oriental, Saigon in 2020, everyone was ecstatic. Works on the hotel were, however, halted because of, well, COVID-19.
But as Mandarin Oriental is now also preparing for the construction of its luxury resort and residences project in Danang, it's also finally cleared out that it will open Mandarin Oriental, Saigon this year.
The property, which forms a part of Union Square, is a mixed-use complex. The upper floors will house the hotel, as well as a variety of international luxury retail outlets It comprises 227 guestrooms and suites, six restaurants and bars, a range of meeting and banqueting spaces, a fitness center, a spa, and an outdoor swimming pool.
Mandarin Oriental, Saigon is adjacent to the Saigon Opera House and the People's Committee Building and within walking distance of most of the key landmarks in the city. Its position is ideal for guests wishing to enjoy the city's vibrant dining and shopping areas.
Hyatt Place Saigon Phu Nhuan
Standing in Phu Nhuan district, which is considered the geographical center of Ho Chi Minh City with its proximity to the international airport and surrounding business districts, Hyatt Place Saigon Phu Nhuan is the perfect base for business and leisure travelers.
The hotel houses 200 guest rooms, along with a lobby lounge, cafe, grab-and-go food market, fitness center, outdoor pool, and meeting rooms. As the first Hyatt Place brand in Vietnam, the hotel combines purposeful service and smart design in a high-tech and contemporary environment. It's slated to open in the first quarter of 2022.
"Hyatt Place Saigon Phu Nhuan's close proximity to dynamic business zones and local attractions will help position it as the choice accommodation for value-conscious business professionals and leisure travelers," said Tri Cao Nguyen, Chairman and Chief Executive Officer, Ben Thanh Holdings, Hyatt Hotels Corporation's partner in Vietnam.
Cross Long Hai and Cross Vibe Long Hai
Expected to open in the fourth quarter of 2022, Cross Long Hai is a 58-villa resort set in the stunning coastal town of Vung Tau. The boutique-style property introduces Cross Hotels luxury by design concept to the flourishing Vietnamese travel market.
Cross Hotels & Resorts partnered with Tan Thanh Trading & Tourism JSC to launch the resort, along with its sister property Cross Vibe Long Hai, in what is slated as one of the biggest hospitality property developments in Asia since the start of the pandemic.
Twin-tower-style Cross Vibe Long Hai, which features more contemporary designs, will serve as a condotel that can accommodate 658 guest rooms, MICE facilities, spa, swimming pool, and fitness center.
With construction already underway, the two properties are expected to pull local and international tourists further to Vung Tau, which is just about 95 kilometers from Ho Chi Minh City.
Regent Phu Quoc
A new ultra-luxury hotel with five swimming pools and floor-to-ceiling beach-facing windows, Regent Phu Quoc is a tranquil sanctuary that is sure to delight guests who want some moments of peace and calm. After a five-month delay, this beachfront haven is set to open in April 2022.
Regent is nestled on the white sands of the island's western coast, relatively untouched by mass tourism — yet. Guests can choose between suites and villas; luxurious villas with one to seven bedrooms and private infinity pools are the best deal for families and big groups.
The resort is also perfect for retreats, gatherings, and weddings, with venues that can be expertly customized according to guests' preferences. If spectacular sunsets, impeccable service, plush comfort, and exquisite tastes are the key ingredients to your vision of this important moment, consider it taken care of.
Regent also houses six dining venues, a destination spa (with personal trainers available on request), a library, and a kids club — all ready to be experienced and immersed in.