Bài viết này có ngôn ngữ: Tiếng Việt 
American breakfasts are unbeatable. A heaping plate of bacon and eggs; thick, fluffy pancakes; waffles dusted with powdered sugar and drizzled with syrup; peanut butter and strawberry jam on everything. While in the rest of the world breakfast as meeting is still underused, Americans have long known it as the power hour, when real business is being done.
At Vietcetera, we have also become converts to the powers of convening in the morning, and Saigon's excellent American eateries provide just the right kind of setting for a quick but productive chat. And when we need a break from our pho addiction, this is where we come for a coma-inducing lunch or dinner of burgers, BBQ ribs and bagels -- an all-American feast.  
Here, we round up Vietcetera's favorite American food joints delivering refreshingly authentic experience and serving up American staple food -- juicy cheeseburgers with classic toppings, expertly grilled steaks and utterly satisfying milkshakes. 
Eddie's New York Deli & Diner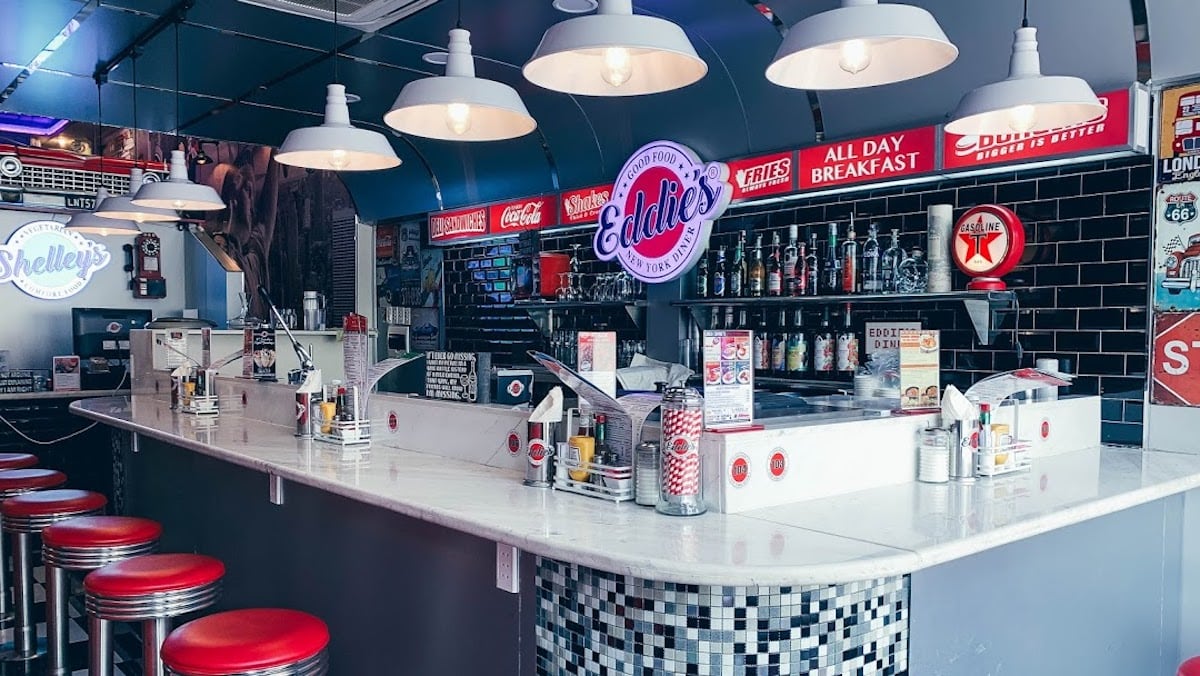 Customers keep returning to Eddie's not solely for the restaurant's impeccable rendering of a classic American diner complete with a checkerboard floor, retro-style furniture in Coca Cola red, and the 50s-60s music in the background, but also for its extensive menu of all-American favorites that blows competitors out of the water. Its offerings cover the gamut from chili cheese dog and Sloppy Joe to cheeseburgers and Reubens sandwiches. Everything on the menu is finger-lickingly good and you might be going back for seconds (despite Eddy's authentically American portion sizes).
Address: 71 Thao Dien, District 2.
Saigon Bagel
Finding Saigon Bagel's District 1 location requires a bit of a quest, but this gem of a shop is well worth the effort. Hidden in one of the alleys off Vo Van Kiet, the dining spot promises to quench your desire for a perfectly baked bagel. From bagel sandwiches to bagels with schmear, Saigon Bagel really hits the spot and transports you to New York -- the humble carb and a steaming cup of coffee by your side to help you power through the day. 
Address: 224 Vo Van Kiet, District 1
Chuck's Burger
True love stands the test of time. If you are skeptical, one visit to Chuck's Burger will warm your cold, dark heart. In the words of its owner, Chuck's Burger is a story of a "boy [who] falls in love with burgers." Saigon's own love affair with Chuck's burgers has certainly stood the test of time: despite the changing landscape of Le Loi street and the explosion of dining options in the area, the restaurant remains a staple stop on weekends and after a long day in the office.
Address: 71 Pasteur, Ben Nghe, District 1
The Wagon Wheel 
Situated in a charming alley around the corner from Ben Thanh Market, the Wagon Wheel is home of American comfort food in Saigon. Exposed brick walls, dimmed lights and (faux) kerosene lamps straight out of the gold rush era reinforce the rustic Americana vibe. The menu skews Southern comfort food and features the likes of fried chicken over waffles and mac 'n' cheese. The restaurant's roots shine in holiday specials too, with spot-on Thanksgiving turkey, mashed potato and pumpkin pie bringing you right back to your mom's kitchen. 
Address: 200 Le Thanh Ton, Ben Thanh, District 1
Elbow Room
An American-style bistro on Pasteur street, the Elbow Room feels cozy and intimate. Whether flying solo at the counter or getting together with fellow comfort food lovers, you are almost guaranteed to overorder, as literally everything on the menu sounds enticing. We are particularly partial to their Philly cheesesteak, chicken fajita wrap and the exquisite breakfast blueberry pancakes available, despite the name, all day. 
Address: 9A Thai Van Lung, District 1
Quán Ụt Ụt
Ụt Ụt sits on a tranquil canal in Ben Nghe, but inside the atmosphere is more upscale beer garden than zen retreat. The sprawling restaurant that celebrates all things pork is our go-to after work destination serving up slow-cooked BBQ ribs so tender that you don't need additional cutlery. The name "ut ut" is the Vietnamese version of "oink oink" with more wordplay found on the menu itself ("Oh Heo Yeah Saigon Pork Ribs" takes the cake for us).
Address: 168 Vo Van Kiet, District 1.