Listen and subscribe to "Vietnam Innovators" in English: Vietcetera Podcast | Apple Podcasts | Spotify | Google Podcasts | YouTube.
Listen and subscribe to "Vietnam Innovators" in Vietnamese: Vietcetera Podcast | Apple Podcasts | Spotify | Google Podcasts | YouTube.
When Facebook rebranded as Meta in October last year, we all knew the metaverse — a graphically rich virtual space, with some degree of verisimilitude, where people can work, play, shop, socialize (according to Polygon) — isn't any more a futuristic concept of a place parallel to the physical world; it's a reality happening at this very moment.
Questions and confusions still cloud this concept, but through tech giants like Meta (previously Facebook) that have brought the metaverse to life, people have started to immerse in it, doing things together even more than they have in the physical world.
But more than for building social connections, entertainment, or gaming, the metaverse is also for businesses and work. The tools and features on Meta form an ecosystem that helps enterprises unlock opportunities and succeed.
In a new episode of Vietnam Innovators podcast, Benjamin Joe, Meta Vice President for Southeast Asia and Emerging Markets met with host Hao Tran virtually and talked about the social technology company's visions for metaverse and how enterprises can leverage Meta to build a future-proof business model.
What is the metaverse?
"Our mission is around bringing people closer together and giving people the power to build community," said Ben.
"And with that is an increase of presence. So imagine if we're doing the interview like this on a 2D screen, imagine if it felt like you and I are sitting next to each other in the metaverse — that would be an awesome experience. That's what we're building for. Presence is going to be a big piece of what we do because we're all about bringing the world closer together and providing connectivity."
The metaverse is made up of virtual spaces where you can create and explore with other people who aren't in the same physical space as you. You'll be able to hang out with friends, work, play, learn, shop, create, and more.
Contrary to the popular perception that the metaverse is replacing in-person experiences, its main aim is to enhance the feeling of being close to one another, regardless of physical distance, like teleporting a friend or a family member into your living room, even if they're on the other side of the world.
The roadmap for metaverse and its application
Beyond popular social media platforms like Facebook, Instagram, and WhatsApp, Meta's mission is to give people the power to build a community and bring the world closer together through metaverse-centered products that enhances connectivity among people, especially for work and business.
When COVID-19 forced us to stay put and limited our movements, the hybrid way of working emerged. People have been allowed to work wherever they feel comfortable and safe and were given access to virtual spaces where they can still be fully productive. The Workplace from Meta, for instance, helps foster a strong sense of community and engagement in companies big and small. Employees and executives are able to communicate in real-time, ensuring all teams meaningfully participate in the company's growth.
Business deals and collaborations are also made possible through the metaverse. Different parties can go into a virtual meeting room with tools and features that allow healthy discussions to transpire and creative visions to materialize.
Products like Meta Quest, Meta Portal, and Novi are also creating huge impacts on togetherness and connectivity. Moreover, these platforms also provide solutions to advance education and healthcare systems and upgrade lifestyles in more ways than one.
Remote work, education, tourism, healthcare, entertainment, and community support are just a few of the sectors elevated by metaverse, where challenges in physical spaces and distances are addressed through virtual immersive tools that still keep people together.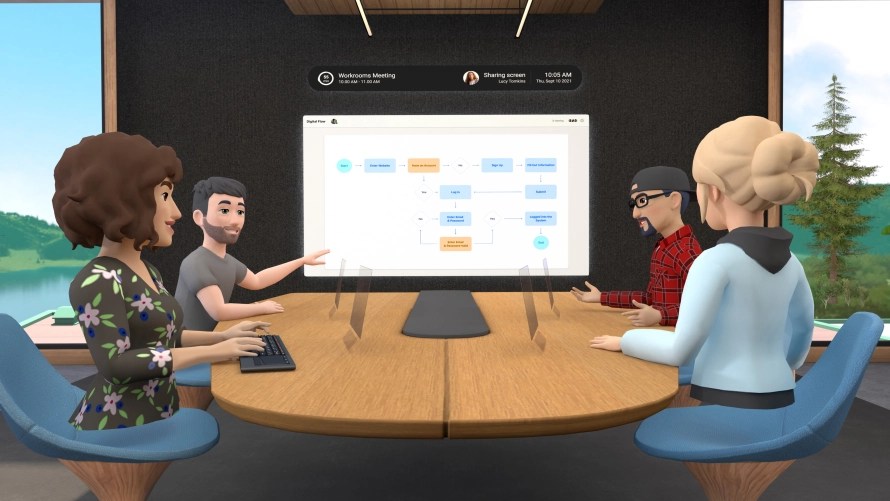 Metaverse for SEA and Vietnam
The metaverse has opened vast opportunities for Vietnam — a nation with a hyper-active online population — to explore and grow, especially as its startup and innovation ecosystem is now highlighted as the third-largest in Southeast Asia. The Vietnamese government has an ambitious goal of building a digital economy that would account for 20% of its GDP in five years. How can this be achieved?
Growing digital transformation and increasing adoption of industry 4.0 is expected to drive the demand for Vietnam's Augmented Reality & Virtual Reality market in the forecast period.
According to Meta, 80% of people in Vietnam said they see technology like AR as a way to bridge the gap between online and offline worlds. Meta also saw that 68% of shoppers in this region want to try on products from the comfort of their homes.
In the next 10 years, investors and stakeholders in Vietnam are seen to put more effort into industries like e-commerce, financial services, online media, online travel, food, and transport. As the pandemic continues to accelerate the application of technology to what used-to-be traditional sectors of the economy, the huge wave of investment in innovation and entrepreneurship in Vietnam is going up and forward.
Listen to the full conversation here: