On TikTok, there are a total of 6 billion views for videos with #Sheinhaul and 3.1 billion for #Zarahaul. These numbers show that we are so fond of videos that brag about hauls of popular fast-fashion brands such as Shein, Zara, or H&M. Although the products are affordable and arguably lovable, most fast-fashion brands aren't sustainable nor ethical.
Building a sustainable fashion brand is a difficult journey as you have to balance three factors: Profits, human resources, and the environment.
In Vietnam, there are several brands that have been following artistic and humane values from day one. In spite of hardships, they slowly cement their names in the competitive world of fashion and promote sustainability one clothing at a time.
Fashion4Freedom: Sustainability is preserving craft villages
Fashion4Freedom (F4F - Fashion for freedom) has been very vocal about its desire to use fashion to liberate and develop. In 2010, upon realizing that economic development had been draining the livelihood of craft villages, Nguyen Lan Vy founded F4F to directly link customers with artisans, minimizing the number of intermediaries and labor exploitation.
Each product at F4F is a true work of art due to its uniqueness in concept and processing. Dragon Shoes is a good example. The sole of the shoe is made from jackfruit wood purchased from local families and is intricately carved.
In the journey of "redefining luxury", during the first years of selling Dragon Shoes, Lan Vy did not write the brand name, forcing consumers to be curious, to learn, and to self-evaluate. Now, everyone knows that the Dragon Shoes come from Hue. The Dragon Shoe was also awarded for its impressive design at the German Design awards 2018.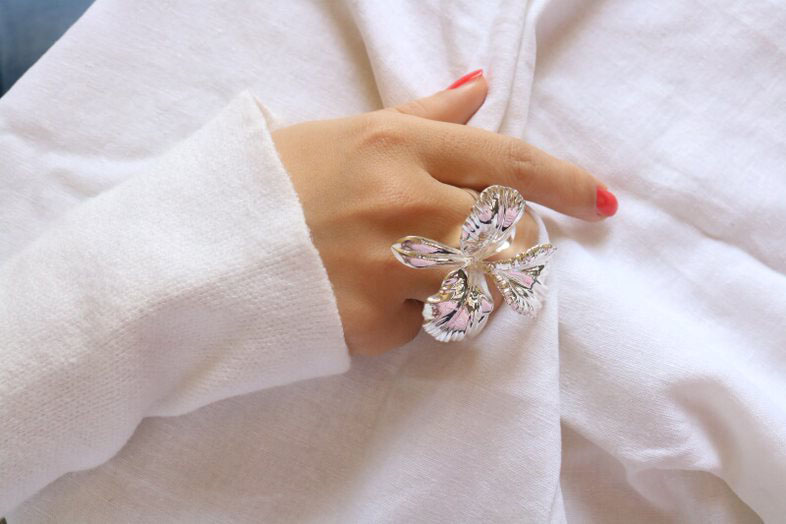 But F4F's mission doesn't stop there. F4F also has many impressive products such as textured costumes of Ta Oi people, jewelry collection from tech "wastes" such as broken phones, computers, and tablets. Regardless of the product, F4F always maintains transparency about the material, the idea, and the person who made it.
When we look at products from F4F, we have the right to be proud of a carving culture that comes out of traditional craft villages. Through this effort, the art of traditional carving has endured through the decades and will continue to be part of the Vietnamese culture for the centuries to come.
Metiseko: Sustainability is promoting Vietnamese culture
Metiseko was founded in 2011 by Perzo and Florence Musso, a French couple passionate about Vietnamese culture. Metiseko may not have a Vietnamese name or a Vietnamese founder, but it is still a "proudly made in Vietnam" fashion brand that honors Vietnamese materials in its design.
The name Metiseko is a combination of the word "métis" or "métisser" and the word "eko," an ecosystem that combines the quintessence of French design methods and high-quality materials from Vietnam. Except for Indian cotton fabric (certified organic globally), all of Metiseko's clothes use 100% silk fabrics from Bao Loc, Lam Dong (including Habutai, Crepe, Satin, Santung, and Twill).
Metiseko's textile design is simple yet elegant, embodying the landscape and culture of Vietnam — the cobblestone streets of Hoi An, lanterns and light boats drifting along the Thu Bon River and so on.
If you are interested in discovering the ancient legends of Vietnam and the strong symbols in the local culture, without being stereotyped, check out these collections: "Living", "Coi", "Red Dao", or "A Journey to the Temple".
Moi Dien: Sustainability is quality products
Moi Dien was founded in 2016 by Tom Trandt (Tran Minh Dao). He holds a degree in Fashion Design from the prestigious Parsons University in New York. The name "Moi Dien" (Crazy Lips) means to convey the message of "freedom of expression," which is also the brand's mission.
Moi Dien's products are inspired by the treasure of Vietnamese stories, with witty and easily relatable names such as "The Way to My Heart" shirt, "Girl Scratch" pants, or bag "Three Gang."
At the end of April 2022, Moi Dien released its 10th collection "Village Play." inspired by the first logo the French made for Saigon with the Latin words "Paulatim Crescam" (I will develop slowly). Saigon appears liberally through its Asian-style design textures, with the colors of the palm tree forest, the faint embroidery streaks like the surface of a river, and the material handling techniques like the scratch of an Indochinese tiger.
According to Tom Trandt, if you pay a higher price to own good quality fashion products, customers will have a more nurturing, respectful, and preserving attitude. This is also the sustainable core of Moi Dien — steadfast in designing quality products.
TimTay: Sustainability is "zero-waste"
TimTay — all products come from the heart, formed by loving hands. The brand was founded by two sisters Hoang Tu and Hoang Anh in 2014. TimTay prioritizes quality, neatness, and natural materials such as flax, cotton, and pure silk to be more environmentally friendly, and friendly to the wearers themselves to minimize skin irritation.
The Silk 1 collection marks the first time TimTay has applied the zero waste cutting technique. "Zero-waste" challenges the creativity and craftsmanship of the designer to ensure the percentage of excess fabric is 0%, instead of 15-20% like the regular fashion products.
TimTay does not follow any trend, the product is therefore not directed to specific genders and ages, but is more about liberating the body with comfortable and soft products.
Archive Sashiko: Sustainability is "patching"
Thanh, Archive Sashiko brand owner, is probably the only person who practices Boro in Vietnam. This is a traditional Japanese embroidery and patching technique that makes use of scraps and excess fabric. Boro honors the spirit of thrift and creativity when you do not have too much wealth.
Thanh taught himself Boro sewing technique in Japanese through Google translate and bought indigo fabric from Sapa himself. When he mastered the sewing technique, he gave birth to the brand in the city of Da Lat.
At Archive Sashiko, Thanh can only make one to two items a day, and sell seven to eight items a month. This spirit of "slow fashion" helps each item have its own story, filled with the passion and love of its maker.
Archive Sashiko's products are all "patched" but you won't think these are old products. On the contrary, if you look at them for a long time, you will have the feeling that it's been like that since birth. This is the perfect way to celebrate frugality and showcase the endless creative inspiration of its maker.
Translated by Mi Tran