David's culinary career began at the esteemed Gleneagles Hotel in the picturesque Perthshire region of Scotland. Doubling up as the home of one of the world's most famous links golf courses, Gleneagles is a destination venue for guests to escape for relaxing golf and gourmet experiences.
A common thread running through David's career is that he always chose to cook in kitchens located in beautiful provincial, countryside-style towns with rolling hills and fresh air, the epitome of a destination venue where guests would happily travel for miles to enjoy their cuisine.
The clarion call of Michelin stars would also prove very attractive to diners as David's career progressed to positions at the 1 Michelin star Harvey's in Bristol, then two Michelin star Lettonie in Bath. His progress was confirmed as he spent two years at The Waterside Inn under Michel Roux, the three Michelin star god.
After five years in the UK, David was at the stage of his career where he fancied the challenge of proving himself in France, considered by many to be the world's culinary capital. He returned to Australia to apply for his French visa, which took longer than expected, so he decided to fill the time working at Lake House, an iconic Hotel, Restaurant, and Spa based on the shores of the beautiful lake Daylesford in rural Victoria.
Fast forward 12 years, and David never boarded that flight to Paris, having loved his time at Daylesford, winning 2 Chefs Hats from the prestigious Good Food Guide of Australia with the bonus of meeting his Vietnamese wife Hang, who was working with the front of house team at Daylesford. Great recognition followed David to Lakehouse, which was annually recognized as one of the top five restaurants in Australia. A sprinkling of other awards followed, most notably directed toward their most eclectic wine list.
With almost 20 years of experience now, David has developed his unique cooking philosophy. "I just love cooking, it's as simple as that. Even with my position as Chef-Owner, I'm always on the pans, getting sweaty, greasy, and stuck in. We derive great satisfaction from making special memories for our guests. After a couple of months, they may forget the food, but they'll never forget how you made them feel. We are also all about making everything in-house. Ours is a teaching kitchen, and I want to make this an inspirational and collaborative environment for my kitchen team so we can inspire the next generation of chefs in Vietnam."
Upon arrival at Olivia on the spacious, peaceful, and leafy boulevard of Le Van Mien one experiences a sense of escapism. The cacophony of the city is left behind for some moments, almost as if one is checking in for a deluxe spa treatment. A European style of decor is a nod to David's time in the UK, while beautiful pieces of art from local artist Hoang Kha adorn the walls and establish that connection with Olivia's local community.
David elaborated further on the design vision for Olivia: "My background is all about country boutique hotels, most notably the Waterside Inn in the UK and The Lakehouse in Daylesford, Australia. So this destination-style restaurant is part of my DNA now. Even though we may be located in such a bustling city, we strive to convey the feeling that we are inviting guests into our home, into a welcome and comforting space. Being named after our cherished daughter Olivia heightens that family connection we want to offer our guests."
A short tour around Olivia confirms that all the "hardware" is in place for a fine dining experience. The traditional open kitchen is full of all the shiny surfaces and obligatory gadgets, and it's relevant that David's chefs will labor behind a glass façade to ensure that sounds and aromas don't infiltrate the main dining room. This dining room is beautifully appointed and seats around 40 pax; fresh flowers will be delivered daily to adorn white table tops, and their East Room is an impressive private dining room catering for up to 14 pax.
It was also remarkable to note the attention to detail behind importing a special cooling machine to control their wine cellar's temperature and humidity levels.
It feels like the "software," that human capital, is all lined up to deliver a superb guest experience. David's wife, Hang, leads the front of house and service team, who are all trained to present as very smart and professional, and three other chefs support David in the kitchen. Olivia has also appointed their own "Super Sommelier," Miss Lan Anh, who has recently completed her Level 2 WSET qualifications, to reflect the importance of the wine component to their offering.
"We wish to focus on guest satisfaction and quality to bring our fine dining interpretation to Saigon. The concept or notion of fine dining can be quite a controversial topic. For us, it's just about setting consistent standards, not taking shortcuts, and proper and consistent training for the team while always using fresh, quality ingredients. We are somewhere you can dress up and be spoiled for a few hours, a destination to go and celebrate something special."
A central pillar of Olivia's concept is their tasting menu, consisting of seven dishes prescribed by David with delicious extras like an amuse-bouche of chilled tomato tea, bonus desserts, and freshly baked bread.
The menu will champion local ingredients, especially fresh salads, cheeses, and vegetables from Da Lat. They are also making all of their jams and chutneys in-house.
World-class imported ingredients, such as the Tasmanian Flinders Island Lamb, will also be used, and expect to be presented with a comprehensive wine list from Lan Anh with a particular focus on boutique labels from France and Italy. David also loves the idea of bringing animation and theater tableside so expect more dishes like their "Picnic Basket," which features honey-baked Dalat Camembert in a wicker basket with homemade cider, inspired by one of his visits to Normandy in northern France.
A price point of 2,090,000 VND ++ represents excellent value for money and add on an extra 1,090,000 VND ++ for Lan Anh's perfect wine pairings. Olivia won't be offering an a la carte option but stay tuned for their weekend high tea package as David looks to bring the success of this concept from Daylesford to Saigon.
In summary, Olivia seems all set to bring something fresh, new, and exciting to Thao Dien. For all of the recent hullabaloo around the spate of new openings in this salubrious district in Saigon, it remains the case that Saigon's best restaurants (Anan, Quince, A by Tung, etc.) are all located in District 1.
Led by a tasting menu concept, Olivia may experience some initial inertia around an unfamiliar menu concept, but, such is the cosmopolitan nature of the catchment demographic of Thao Dien, Vietcetera would expect that good news shall travel fast, and Olivia will become established as a leading culinary destination in Saigon. The question is not "Is Olivia ready to open in Thao Dien ?" but "Is Thao Dien ready for Olivia ?".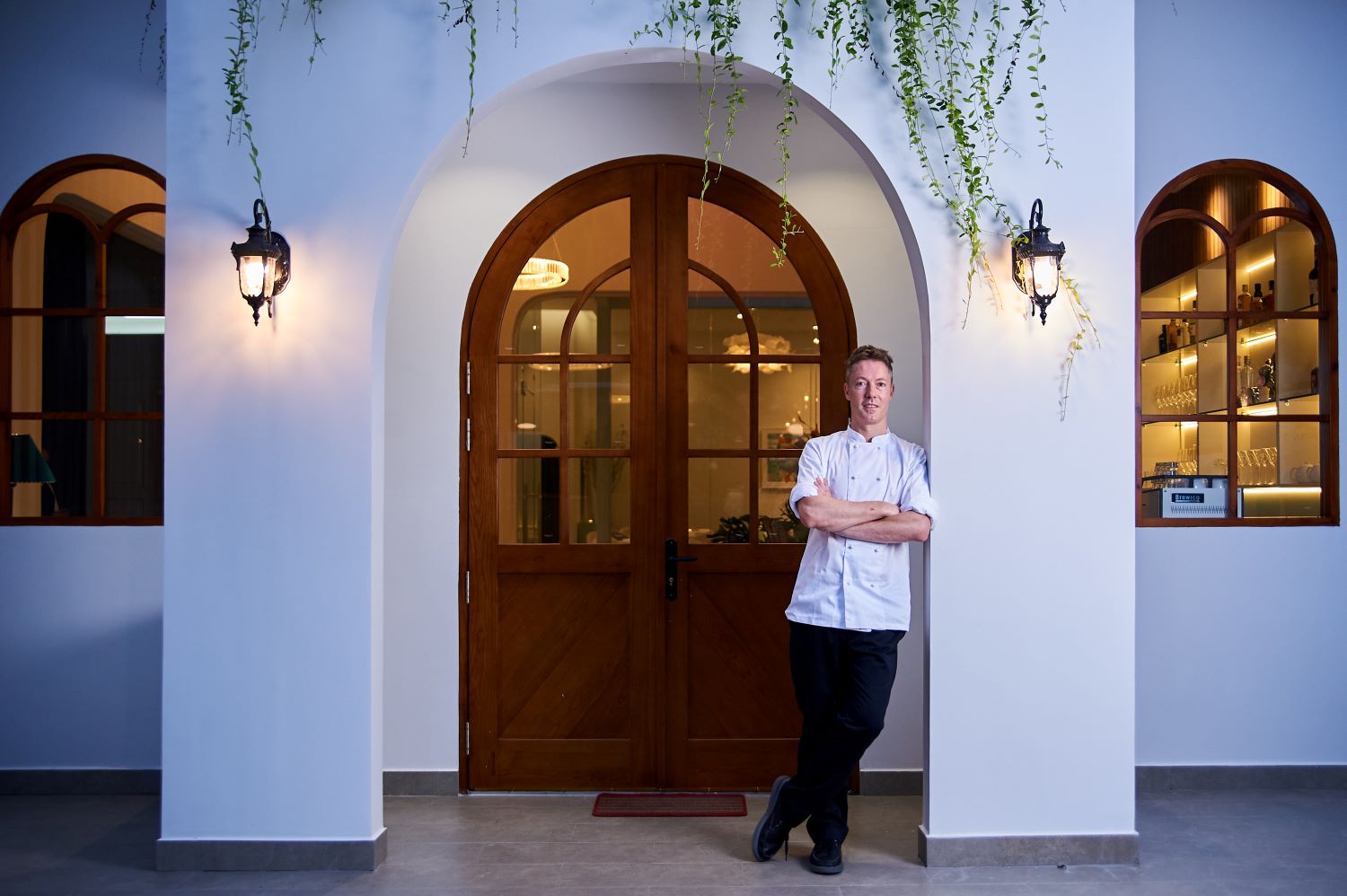 We wanted to conclude this feature by asking David to outline his hopes and dreams for Olivia moving forward.
"We would love to be accepted by the local community as one of their own, as a place to come and celebrate their special milestones, bring important guests from out of town and enjoy our warm hospitality," said David.
"As we move forward, we'd also like to play an active role in our community as a hub for events such as cooking classes and wine tastings and activate our East Room for bespoke functions and events."
Address: 31A Le Van Mien st, Thao Dien, District 2, Thu Duc City. HCMC

Contact information: Facebook | Instagram | Website

Tel: 028 7307 8268