With COVID-19 related social distancing campaign in place across Vietnam, dining venues were forced to close or switch to home delivery.
To help F&B businesses remain afloat and to get nutritious meals to homes across Saigon, for our second collaboration with Kamereo we have put together a guide to restaurants, cafes and breweries that are safely operating home delivery services.
Follow us on Vietcetera Fanpage
Breakfast or brunch at home
Haan – Drink & Eatery
Conceptually, Haan is a cross between a chic cafe, casual restaurant and trendy bar. Similarly, their menu is a hotchpotch of dishes from all over the world, from Italy and France to Australia.
Haan is offering a 15% discount on delivery orders, with no minimum order requirements and free shipping in District 1.
See the menu here.
Message to order: Facebook
Hotline: +84 28 3827 0123
Fear of Missing Out?
Signup to receive a collection of this week's top stories in your inbox every Tuesday.
Au Parc Saigon
Au Parc ranks high among Saigon's brunch venues thanks to an extensive menu running the gamut from Mediterranean to Middle Eastern cuisine. Not to be overshadowed by the superb food, the beverage list features popular healthy juices, Italian vintages and excellent coffee.
Until April 30, Au Parc is offering a 20% discount on the entire menu. Free delivery in Districts 1 and 3. Delivery fee for Districts 4, 2, 10, Phu Nhuan, Binh Thanh: 20,000 VND. Districts 5, 6, 7, 11, Tan Binh and Go Vap: VND 30,000. Districts 9, 12, Binh Chanh, Binh Tan, Thu Duc and Cu Chi: from 80,000 to 100,000 VND.
See the menu here.
Message to order: Facebook
Hotline: 028 3829 2772 hoặc 028 3824 8046
Central Parc Bánh Mì
Launched as a delivery business, Central Parc Banh Mi specializes in a Vietnamese classic – the breakfast sandwich. The menu also features iced tea, coffee and juices.
For lunch, try their moreish New York-style sandwich. Central Parc Banh Mi's delivery policy varies by district. A discount of up to 20% applies to all orders placed before April 30.
See the menu here.
Message to order: Facebook
Hotline: 028 3822 8549
Follow us on Vietcetera Fanpage
Café Marcel
What Café Marcel excels at is offering a highly customizable breakfast experience: wholesome or decadent, sweet or savory and any combination thereof.
Café Marcel offers free delivery to Districts 1, 2, 3, 4, 5, Binh Thanh and Phu Nhuan.
See the menu here.
Message to order: Facebook
Hotline: +84 90 987 80 96

Lunch, dinner and snacks
Ads
Propaganda Vietnamese Bistro
A wonderful showcase of the breadth and depth of Vietnamese cuisine, Propaganda's dishes are bursting with flavor and colors.
Using exclusively local ingredients, Propaganda is constantly pushing the envelope when it comes to reimagining local food for international tastes. Recently, Propaganda has officially launched its home delivery service with free shipping for orders starting at 199,000 VND.
See the menu here.
Message to order: Facebook
Hotline: 028 3822 9048
House of Chay
To end up on your plate (or in your take-away container), each ingredients on the House of Chay's menu goes through a rigorous vetting process. Freshness, impeccable pedigree and green credentials are a must.
The menu is seasonal, as should be expected from a restaurant that prides itself on selecting only the freshest produce. For orders of VND 100,00o and over, House of Chay will deliver quality vegetarian dining to your doorstep for free.
See the menu here.
Message to order: Facebook
Hotline: +84 97 1576984‬
Ads
Master Meals VN
For nutritious, wholesome meals, look no further than Master Meals VN. The menu can be tailored to your needs and goals ensuring you receive just the right combination of protein, fiber and complex carbs.
After a consultation, a personalized meal plan is developed allowing you to pick and choose the dishes that work best for you.
See the menu here.
Message to order: Facebook
Hotline: +84 77 710 1861
Jeffrey's Kitchen
Jeffrey's Kitchen is proudly Taiwanese. From sticking to traditional cooking methods to selecting only tried-and-tested ingredients, its signature beef noodles are the ultimate comfort food.
With no less than 20 varieties of herbs and Chinese spices in the pot, the beef is stewed continuously for 20 hours, resulting in a sublime broth.
See the menu here.
Message to order: Facebook
Hotline: +84 90 129 48 66
Ads
Flavor Box Saigon
Looking for a little inspiration of what to have for lunch? Let Flavor Box Saigon put together a daily-changing menu for you and you'll never have to agonize over what to order again. Dishes skew healthy and you can opt for a week- or month-long personalized menu.
Free delivery on orders starting at 100,000 VND in Districts 1, 2, 3, 4, 7, Phu Nhuan and Binh Thanh.
See the menu here.
Marcel Burger
Marcel Burger is all about 'gourmet'. They have set the bar high for themselves, accomplishing nothing short of (burger) greatness.
Marcel Burger is serious about the origins of the ingredients. Beef is Australian grass-fed angus, cheese is imported from France, vegetables are supplied by local farmers, while the buns and signature sauce are made in house.
Use promo code "COCO" to get a 10% discount on all orders placed directly with Marcel Burger.
See the menu here.
Message to order: Facebook
Hotline: +84 93 145 43 53
Ads
Drinks and sweet treats
Maison Marou
A household name in Vietnam, Maison Marou serves locally-made gourmet chocolate in all shapes and forms: artfully wrapped chocolate bars, frothy hot chocolate and a miryad of chocolate desserts.

See Saigon menu here.
Message to order: Facebook
Hotline: 028 7300 5010
See Hanoi menu here.
Message to order: : Facebook
Hotline: 024 3717 3969
Ads
Amazing Specialty Coffee
Each cup brewed at Amazing Specialty Coffee (AMA) is the labor of love, passion and dedication to delivering exceptional customer experience. Not just a coffee shop but an integral part of the community, AMA now delivers aromatic hot and cold beverages to your home and office.
In Saigon's central districts AMA delivers for free. Customers in other districts are advised to use BAEMIN app.
See the menu here.
Message to order: Facebook
Hotline: 028 6286 2827
Amazing Coffee
Get your coffee and sugar cravings satisfied in one go with Amazing Coffee's delivery menu packed with coffee-based drinks and delectable desserts. The café merges classic coffee beverages such as cappuccinos and lattes alongside newer trends like cold brew and pour over.
See the menu here.
Call to order: Facebook
Hotline: 1800234535
Ads
Heart of Darkness Craft Brewery
If the impressive roll call of recent accolades is anything to go by, the Heart of Darkness team is still very much at the top of their game. From bold, challenging brews to thirst quenching, super-sessionable beers, the brewery does craft right.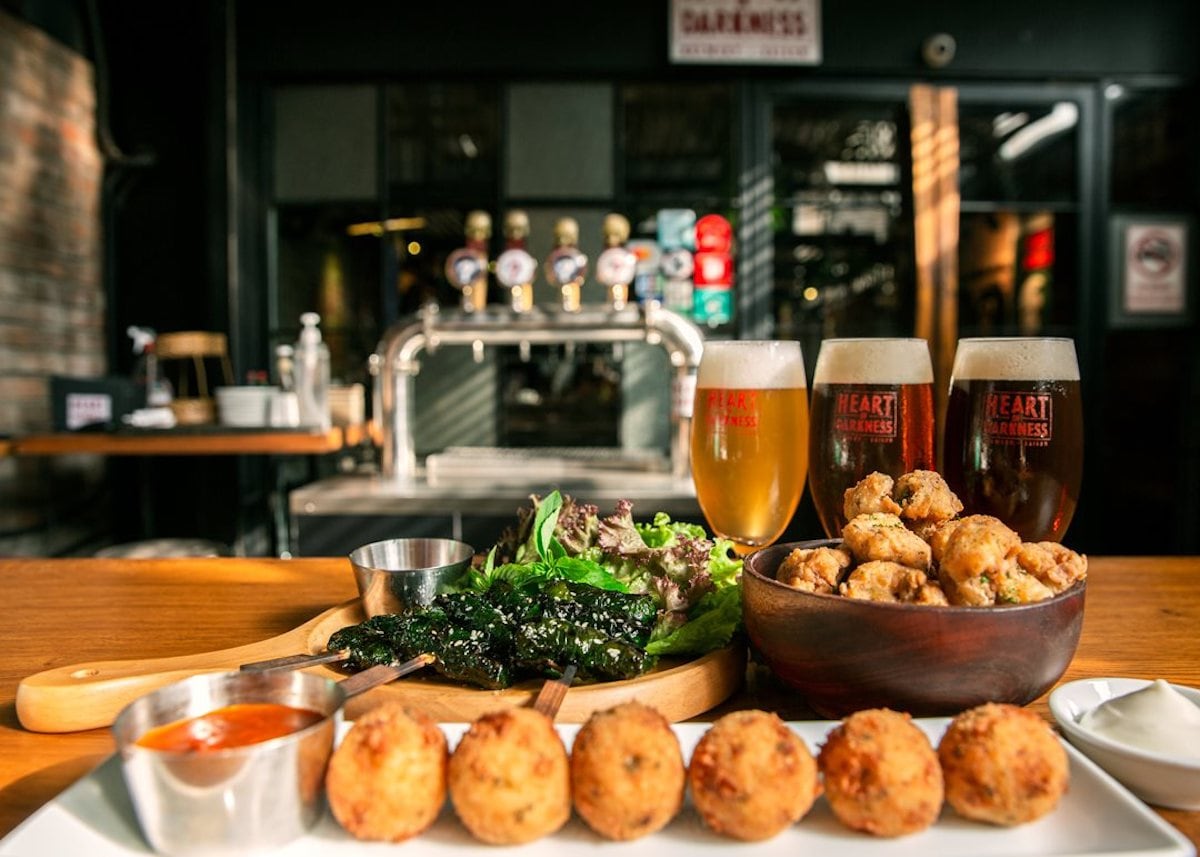 Treat yourself to a bottle or two of ice-cold lager. You've earned it. Free delivery.
See the menu here.
Message to order: Facebook
Hotline: +84 903 017 596
About Vietcetera x Kamereo F&B Enterprise Support Project:
To help support Vietnam's F&B businesses struggling amid COVID-19 outbreak, Kamereo and Vietcetera pledge to promote their information on Kamereo and Vietcetera channels free of charge.
To be featured, please submit information about your business by filling out the form on the link below: https://bit.ly/33pxhuN
Related Contents:
[Article] Where To Eat In Saigon: Dine-In And Delivery
[Article] Opinion | Vietnam's Food & Beverage Sector Will Bounce Back Stronger Than Ever