Vietnam has been leading Asia's clean energy ambitions, even ranking just a little behind advanced nations such as Australia and Japan in investing in clean power projects, developing aggressive renewable policies, and empowering the private sector to focus on sustainable growth.
The country also saw the fastest rise in solar plus wind share of the electricity mix in 2020, outpacing all nations in Southeast Asia. While Thailand and the Philippines — two of the most populous countries in the region — showed a decline in their renewable electricity sources, Vietnam's solar and wind electricity generations rose from 4.7 TWh in 2020, a 1.98 percentage point increase in the share of total electricity generated.
These prove Vietnam's commitment to transition from a brown to green economy, and mitigate the impacts of climate change by achieving net-zero emissions by 2050 or "as early as possible," as pointed out by Prime Minister Pham Minh Chin ahead of next month's COP26.
In fact, the latest draft Power Development Master Plan 8 from the Ministry of Industry and Trade revealed that Vietnam is increasing the proportion of renewable energy to nearly 30 percent by 2030, a big jump from the 16.8 percent originally drafted.
According to the Electricity of Vietnam's statistics, the proportion of wind and solar power sources is on the rise, with the national sale reaching 24 percent (16,941 MW / 69,342 MW) in 2020. This year, this proportion will further expand, including thousands of MW of wind power.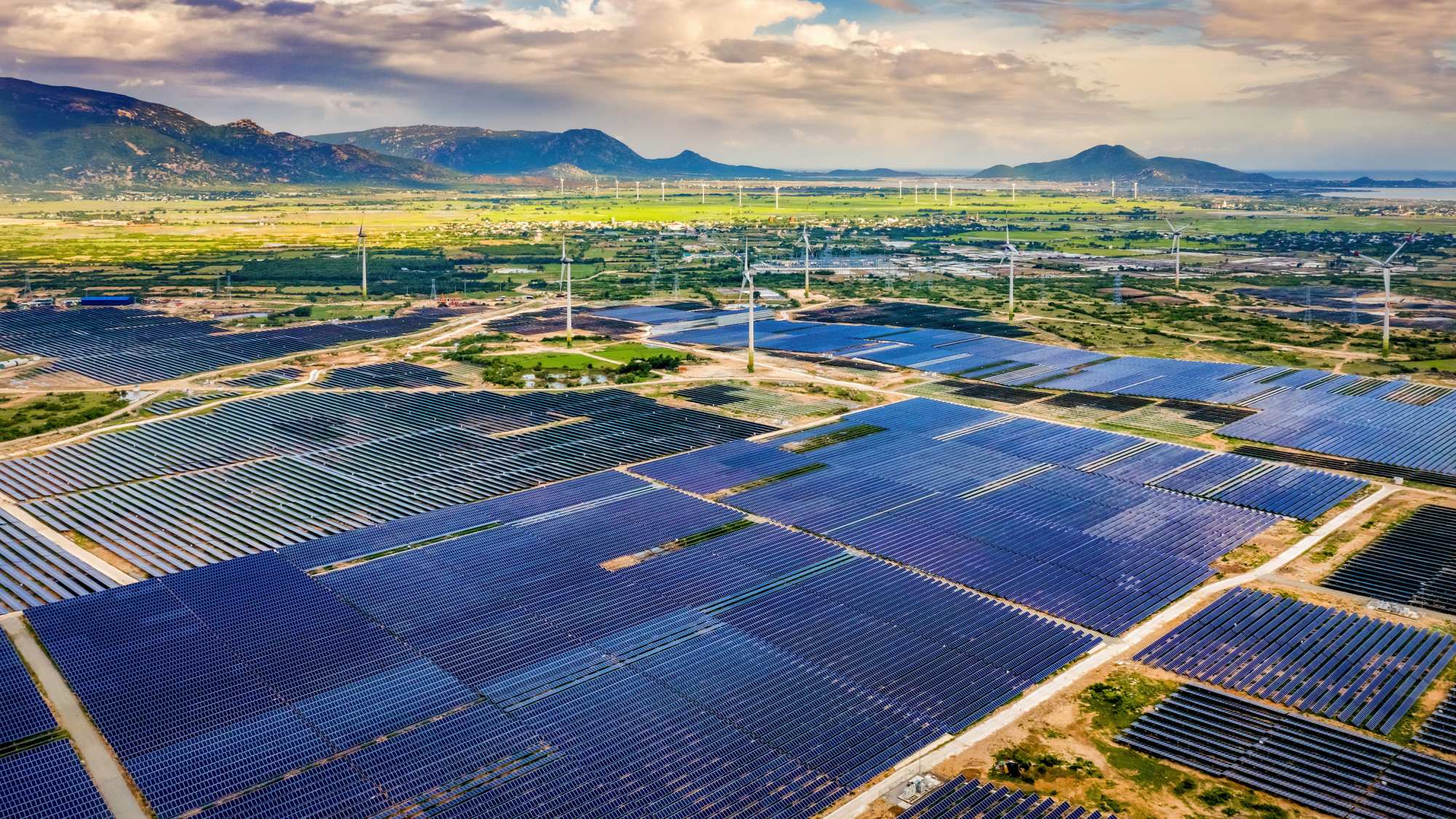 Rising investments for clean energy
In September, T&T Group, a Vietnam-based multi-industry group, signed a memorandum of understanding with Ørsted, a leading group in offshore wind power, to invest about 30 billion USD for power projects in Binh Thuan and Ninh Thuan provinces. The two private companies will be developing three projects with a total estimated installed capacity of nearly 10 GW within the next 20 years.
"T&T Group has planned a strategy to develop renewable energy and gas to power projects by 2030 with a vision to 2045, in line with the national strategy and planning of energy. This cooperation will help T&T Group accelerate the implementation of this strategy, bring valuable international experience and financial resources in the implementation of projects in Vietnam," said Do Quang Hien, chairman of T&T Group.
To support this ambitious goal, Ørsted Asia-Pacific president Matthias Bausenwein said, "we need to work closely with a partner like T&T Group, who brings a deep understanding of the market and has an impressive track record in developing large scale energy projects in Vietnam."
T&T Group also signed an agreement with Belgian firm Smart Universal Logistics N.V. to develop desalination plants using wind power to produce freshwater for agriculture and aquaculture in Vietnam.
The US Consulate General in Ho Chi Minh City also granted 2.96 million USD to AMI AC Renewables for the implementation of a battery energy storage pilot project in the central region. The project will use cutting-edge American technology and equipment to help integrate greater renewable energy into the power system, advance goals of expanding renewable energy generation that will eventually lead to reduced reliance on coal in Vietnam.
"Energy storage is the key to unlock the potential of renewables and is a vital component of the energy transition," said Patrice Clausse, chief operating officer of AC Energy International and chairman of the AMI AC Renewables board of directors.
The battery energy storage unit will be built and integrated into a 50 MW solar farm in Khanh Hoa province's Cam Lam district.
Most recently, French renewable energy producer EDF Renewables announced that it will be pouring at least 100 million USD to SkyX Energy, a subsidiary of VinaCapital Group and the owner of rooftop solar power plant SkyX Solar. This new partnership will help develop 200 more MWp of solar rooftop electricity within the next two to three years, serving industrial and commercial enterprises.
In our interview with SkyX Solar CEO Samresh Kumar for Vietnam Innovators, he said that it is the firm's goal to "transform the vast idle roofs in Vietnam with clean power" — further putting Vietnam's rooftop solar energy sector on the map.