Rating: ⭐⭐⭐⭐⭐⭐
The first location of La Cala opened in 2019 in Nha Trang and has been very successful ever since. I mean, what's not to love about finding a slice of Southern Italy in an alley of the beloved seaside city Nha Trang? Exactly.
Now, La Cala by Mia opens in Saigon, located in a wonderful new courtyard. You might recognize Mia from the luxury hotel Mia Saigon. We can thank (or blame?) their F&B group Mama Mia for all the money you will probably spend on these delicious Italian dishes.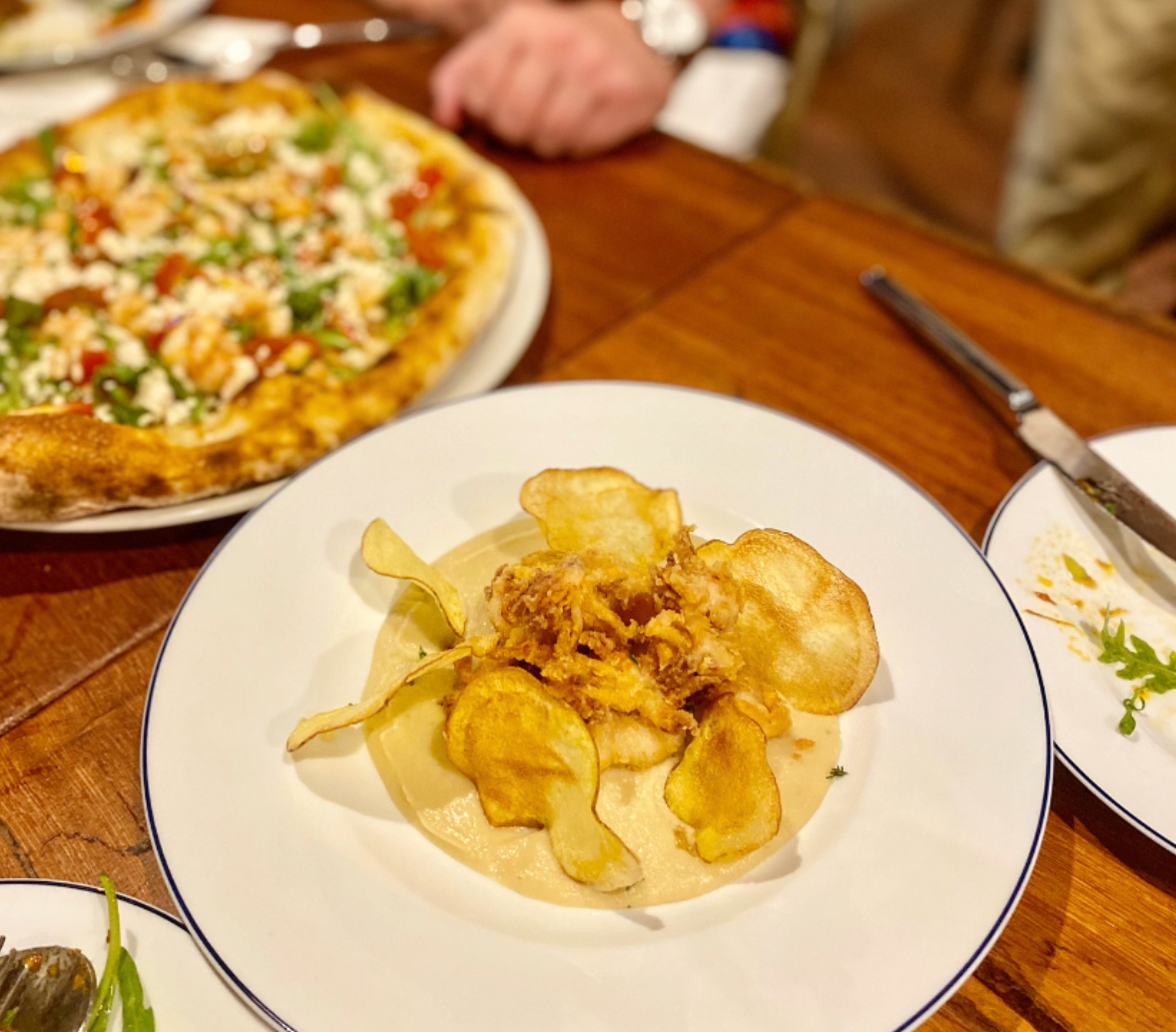 But how can they replicate the Italian flavor all the way in Vietnam? Charismatic owner Salvatore Spinali, originally from a seaside town north of Naples, is determined to find quality ingredients and use authentic Italian recipes. For example, the tangy tomato sauce on the pizza is made with Da Lat tomatoes. Also, their seafood comes straight from Nha Trang, where it's wild-caught.
Must-eats? That will probably be me summing up the entire menu. Every dish has that signature Italian simplicity. And the best ingredient? Love. Awww. But it's true. The food really feels like your Italian nonna thinks you've gotten too skinny and wants to treat you with some yummy dishes.
But, I do have some favorites! My personal trend prediction is that their Parmigiana Eggplant Pie is going to take over the city. With that silky-smooth eggplant layered with homemade tomato sauce, mozzarella and parmesan, it's the ultimate comfort food.
And for sure, when you go there, you'll notice the huge pizza oven. Their pizza is made the authentic Neapolitan way by leaving the sourdough to rest for up to 48 hours. That beautiful crunch and the airy crust prove that you don't need to be in Italy to eat amazing pizza.
Also, their Tiramisù. Creamy on top, soaked with coffee flavor on the bottom. I think it might just take the crown of best Tiramisù in Saigon. To make a statement like that is bold, I know. But that means if any of you know some that are better, I'll just have to try them. That's a responsibility I can live with.
And you want to know what really tugged my heartstrings? Salvatore's mom also owns a restaurant back in Italy. Not only is La Cala by Mia created in the same style as his mom's restaurant, but she also hand-wrapped and shipped all the beautiful Italian ceramics you see on the walls. Straight from Italy, now adorning the walls in Saigon. Okay. I'm not crying over this cute authentic Italian restaurant; you are.
Make sure you book a table because seating isn't unlimited. And if you happen to see me there going to town on that Eggplant Pie, just know that I'm living my best life, and you should too.
Enjooooooy!
La Cala by Mia
10 Đ. Trần Ngọc Diện, Thảo Điền, Thủ Đức, Thành phố Hồ Chí Minh 700000
Opening hours:
Monday: closed
Tuesday - Sunday: 11:00–22:00