Amid this relentless social distancing period in the city, you ought to equip yourself with the necessary precautions and latest updates. But since it's no use preaching to a hungry man, may we suggest warming yourself up to a serving of comfort food?
Vietcetera comes through today with your ticket to the sweet world of bake shops with home delivery in Saigon that's guaranteed to be friendly for various budgets.
Le square Épicier Fin
Le square Épicier Fin is a shopping complex with a French pâtisserie on the ground floor that brings a breath of Europe to Saigon, courtesy of their seasoned team's training with pastry experts straight from France.
Using only the finest ingredients, yet Le square Épicier Fin's baked goods are very reasonably priced. Definitely check them out if you're a lover of French cuisine.
Must-trys:
Traditional croissant made with butter (to cut costs, many bakeries today opt for margarine in place, which doesn't have the same effects). The odor of yeast isn't pungent, instead there's a very mild butter scent. There's also a chocolate option for the sweet tooth.
Cinnamon rolls, warm and fragrant. Using traditional Danish recipe to cook up only the softest, fluffiest pastries.
Fruity apple danish, for those looking for a lighter taste.
To purchase:
Online-only or take-outs due to COVID-19, HCMC-wide delivery
Address: 186 Nguyen Van Huong Street, Thao Dien Ward, D2
Order through their website or hotline for home delivery
Hotline: 093 9373 441
Price: 24.000 - 60.000 VND
CTY Kitchen + Bar
CTY Kitchen + Bar is one of Saigon's donut havens. The donuts here are filled to the brim with three types of delicious, sweet filling. Their menu also features brownies, cookies, cakes and crepes.
The cherry on top, though? A cute customized note with every order.
But hurry up, because CTY's closed from Monday until mid-July to ensure the health and safety of their staff. Last delivery service is on Sunday, June 27.
Must-trys:
The "donut trio": spiced vanilla, chocolate and coconut pandan cream. These little guys are deep fried before being pumped with filling.
Watermelon cake, CTY's highlighted item on the menu. Assembled with a sponge base, fresh cream layers and complimentary notes of watermelon with strawberry mixed in.
Burnt basque cheesecake, with a decadent cheesiness and mild sweetness.
To purchase:
Online-only or take-outs due to COVID-19, HCMC-wide delivery
Order through their website or hotline for home delivery
Hotline: 0938 705 614
Price: 40.000 - 220.000 VND
Kemkem Bakery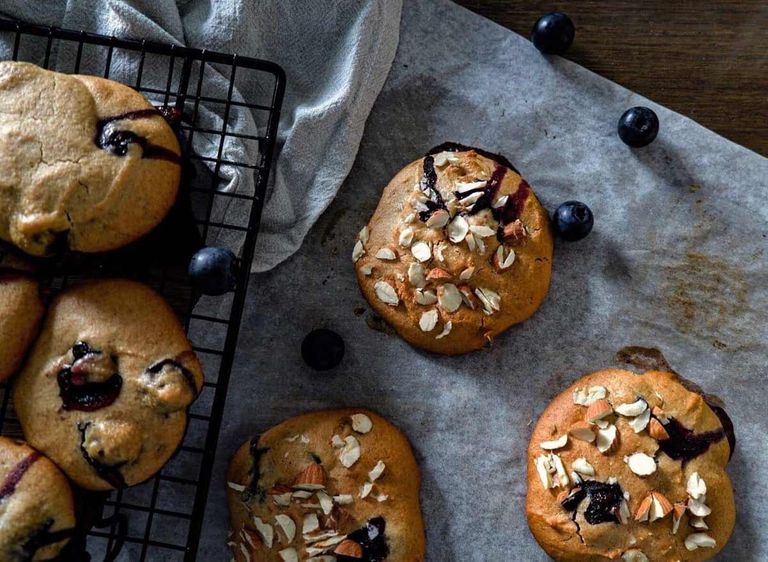 Kemkem's goods are proudly fresh out of the oven every day. They use organic ingredients harvested from the highlands of Dak Lak, as well as honey as a sweetener — perfect for anyone cautious about their sugar intake. Kemkem is also renowned for their vegan cookies, so our vegan friends are sure to love it here!
They're also very mindful of their packaging, opting for friendly paper cups that are also much handier for delivery.
Must-trys:
Crunchy, syrupy chocolate cookies, a delightful surprise with vegan unsalted butter and without eggs.
Chocolate and cheese cookies, with mild sweetness.
Scrumptious banana bread with oats, assorted nuts and dried fruits.
To purchase:
Online-only, HCMC-wide delivery
Order one day in advance/two days for the chocolate cookies with vegan filling
Hotline: 098 239 98 85
Price: 60.000 - 120.000 VND
Garden Kisses
A bakery famous for its assortment of cinnamon rolls in all kinds of flavors, made to order every weekday and delivered on the weekend.
You can choose from Garden Kisses' separate a la carte and combo options. Also put their fresh and nutritious homemade cashew milk to the test while you're at it.
Must-trys:
"Fun box" of four cinnamon rolls: three sweet — Salted Coffee Cream Cheese, Lime Cream Cheese, Salted Caramel Cream Cheese, and one savory — Cheesy Garlic Butter Roll. Rolls are bite-sized with perfectly balanced flavors.
Cici Healthy Roll with 50% whole wheat content, nourishing and fitting for the health-conscious.
Cheesy Garlic Butter Roll: cheesy and aromatized with garlic and butter, just like its name suggests. A nice change of flavor from the usual sugary cinnamon roll.
To purchase:
Online-only, HCMC-wide delivery
Order from Monday to Friday for Saturday and Sunday delivery
Order through Facebook or Instagram for home delivery
Price: 80.000 - 220.000 VND
Translated by Jennifer Nguyen