Rating: ⭐⭐⭐⭐⭐☆
Annie Cookie Store is a thriving cookie company by 29-years-old Nguyen Thi Thuy Trang (Annie). The tiny store, located in District 2 in The Courtyard, specializes in big, New York-style cookies.
Why should you add this place to your list? Well, this shop is definitely my go-to spot for ooey-gooey cookies. And what's better than ordering a box of warm cookies for yourself that feels like a little gift? The cookies are freshly baked every day and are always delicious. Trust me, I ordered plenty of times before to confirm this. Research, you know. I take this column very seriously. You're welcome.
So how did Annie manage to create a shop with such good cookies?
First of all, it's hard to believe that owner Annie never baked before she started making her signature cookies. Before the pandemic, she worked as a store manager for a fashion shop in Saigon. When the first lockdown took place, she - like many others - couldn't go to work.
In true lockdown fashion, she was craving some comforting food. In particular, the New York cookies her cousin brought back from the concrete jungle where dreams are made of (yes, now the song is stuck in your head too). But they were nowhere to be found in Ho Chi Minh City. With a non-stop craving and nothing to do in the lockdown, she decided to just bake them herself. And boy, am I glad she did.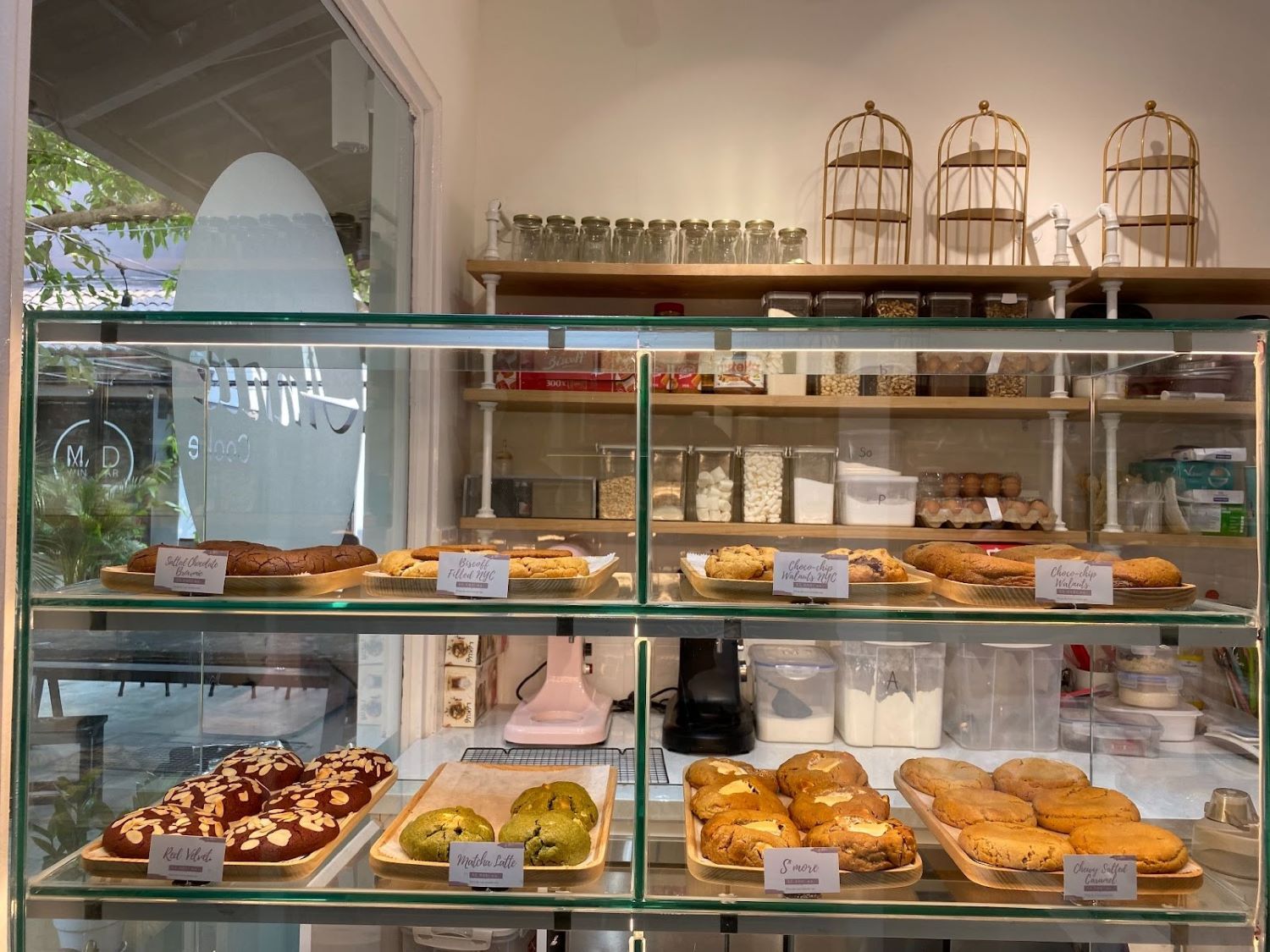 After cooking the first batch, her (lucky) friends got to try & approved right away. Our cookie genius didn't even expect the first batch to be a success. Her friends encouraged her right away to start selling them: "If not now, when?". We love to see supportive besties!
After getting her loved ones' approval, she started selling them on Facebook. Annie was only planning on doing it as a side hustle, but her customers completely fell in love with the yummy treats. Her business boomed enormously when she started selling online!
So our cookie creator got the opportunity to set up shop at Soma Art Lounge in District 2. There, they saw the potential in her cookies and offered her a place in the café to start selling them in a real shop. That was exactly the opportunity she needed to take her business to a higher level. Recently, she moved to The Courtyard on Xuan Thuy in Thao Dien to open her own tiny, but lovely store.
As far as lockdown hobbies go, I must say: this one is quite successful. I binged Netflix and baked one cake, Annie started a thriving cookie business.
At the moment, she's selling up to ten flavors of the yummy cookies, as well as a Birthday cookie. The current bestsellers are the 4 first cookies she ever made: Choco-chip Walnuts, S'more, Chewy Salted Caramel, and Chocolate Brownie. And I can confirm. When I indulge in an Annie Cookie Store order, the S'more and Chocolate Brownie NEED to be included.
And yes, I know. In Saigon, bakeries are making these New York-style cookies more and more every day. But what I like about Annie is that you'll be getting your money's worth. These cookies, that range from 100 to 120 grams, will for sure fill you up. Don't expect a little cookie that's the supporting actress to your iced latte. These cookies have some major main character energy!
Next to that, cookies are baked to order. Annie herself loves the feeling of a warm, freshly baked cookie. So that's what she wants to give to every customer who buys at her shop or orders online. And with every order looking like a perfect gift package wrapped up with a bow, we can only suspect that her love language is giving gifts. So cute.
From locals to expats to even international tourists paying the shop a visit, Annie never envisioned this success when she made that first batch of cookies. In the future, she hopes to open a grab-and-go store in District 1. So for all of you who are tired that the good places only open in Thao Dien, I would suggest you start ordering those Annie cookies so that she can expand all over Saigon.
It's my perfect little treat-yo-self moment or a sweet gift for your loved ones. If it's a rainy day or you just have a cookie craving: definitely try out this spot.
Disclaimer: I'm not responsible for your future cookie addiction. If you do experience cookie addiction because of this article, you can mail it to helpmeimdrowningincookies@vietcetera.com (for legal reasons, this is a joke).
Enjooooooy!
Annie Cookie Store: 63 Xuân Thủy, Thảo Điền, Thủ Đức, Thành phố Hồ Chí Minh
Opening hours: Monday - Sunday: 09:00 - 18:00