Travelers often say "take only pictures, leave only footprints," as a principle of the Leave No Trace movement. However, for those of us who are into purchasing tangible things to make our travels more memorable, a few mugs and ref magnets won't hurt anyone, right? 
Even if you have limited baggage space, you'll always find something that you'll want to take home. Unfortunately, souvenirs made for tourists these days are low quality and mass-produced. 
In our opinion, souvenirs should be made locally, by the locals, using local materials. It must also be ethically made to the extent possible. Lastly, a meaningful memento should be something you can use back home. 
If you happen to be visiting Vietnam while reading this, we have listed souvenir items that are generally unique in the country, collectible items and sustainable brands and social enterprises options for those who want to go the extra mile in helping local businesses.
Unique Souvenirs in Vietnam
To some, a trip to Vietnam is a trip of a lifetime and of course, you'd want something that's equally special to remember your trip — something that's uniquely Vietnam with a worldwide reputation.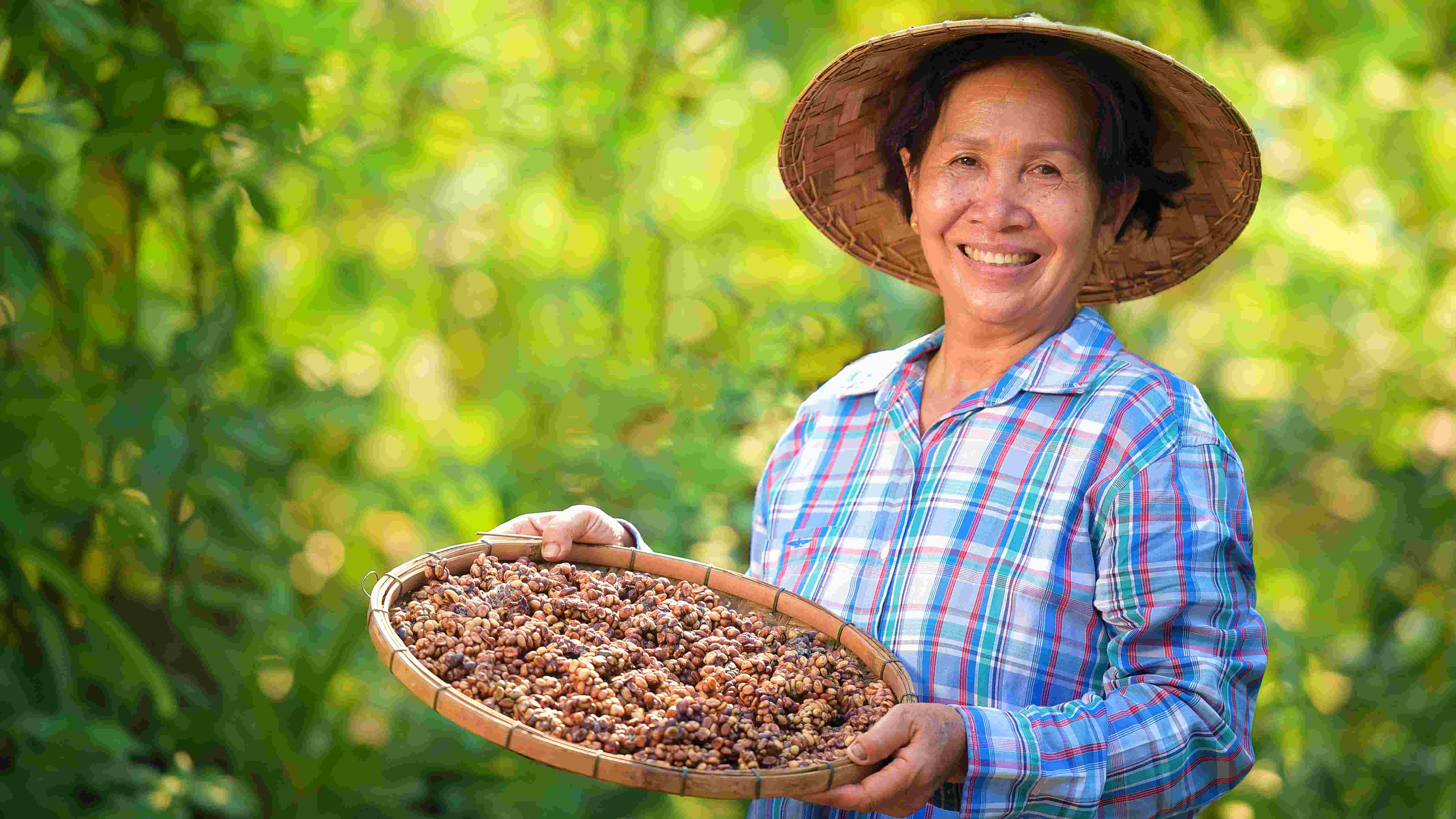 Vietnamese coffee
Not only is Vietnamese coffee like no other in the world, but it's also suitcase-friendly. Vietnam is the second-largest coffee exporter globally, so what would be a better souvenir than coffee? 
Not to exaggerate, but coffee is everywhere in Vietnam — you can have it from pushcarts while stuck in traffic or from to-go stands without getting off your motorbike or car. 
Vietnamese coffee is rooted in its culture. The country produces Robusta beans, but Arabica can also be found in the Highlands, especially in Buon Ma Thuot city in Dak Lak province, dubbed as the capital of coffee. We recommend visiting local farms and families producing coffee in the Highlands if you're up for a treat.
Farm prices usually start at 100,000 VND for 200 grams of packed coffee beans. 
Ao Dai (traditional dress)
If you have a big interest in fashion and culture, Ao dai is a must-buy Vietnamese souvenir for you. The silk-made traditional long dress that symbolizes the elegance of Vietnamese women is probably one of the most recognized Vietnamese souvenirs you can find.
Though you can find ao dai almost everywhere, Hoi An is the most popular place for tailoring Ao dai to your size. Vietnamese people and tourists usually wear traditional dresses during significant holidays, such as Tet Holiday or Mid-Autumn Festival.
Prices can go over the roof depending on the season and the location you're buying it from. If it's from a touristy place, expect a higher rate, so don't forget to negotiate.
Tailored Ao dai usually starts at 700,000 VND and can reach 2,000,000 VND depending on the fabrics, colors, graphics, and the seller.
Non la (conical hat)
Non la is one of those objects that represent Vietnam. Just like Vietnamese coffee, don't worry about where you'll find it because these hats are everywhere. Locals usually use palm leaves and bamboo to make conical nón lá hats, ideal for staying cool in the sun. 
Remember when we said the best souvenirs are those you can actually use back home? Non la is one of those. In Vietnam, locals around the country, especially in the countryside, wear these hats during the day to protect themselves from the sun or rain, depending on the season.
Non la prices in the market and tourist attractions vary from 20,000 to 150,000 VND. 
Silk products
Silk may be considered a luxurious item but in Vietnam, it's surprisingly affordable and quite easy to find. Not to mention how diverse and beautiful the colors and patterns you can find here. 
Hoi An is the most recommended and widely recognized by tailors. Hanoi's Old District is home to Silk Street (Hang Gai Street) where you can buy high-quality but a bit expensive silk. Cam Chau in Hoi An and Toan Thinh Silk in Ho Chi Minh City are other great places to buy silk.
The price per meter is at least VND 70,000 for Vietnamese silk and over VND 100,000 for premium kinds. 
Collector's items
We all probably know someone who collects mugs with names of different cities printed on them, or themed bookmarks, or coins from each destination they've visited. Collecting travel souvenirs is a tried-and-true way to keep the memories of your adventures in Vietnam alive. It can also serve as a bragging right, especially if there's a wall full of it. 
Ceramic tea sets
Ceramics in Vietnam are part of a cultural tapestry of handicrafts, including embroidery, calligraphy, weaving, and painting, among others. In fact, the country has several renowned pottery villages and distinctive styles of ceramics. 
Although it requires extra care when traveling, the tea-for-one set, which stacks into its matching teacup, is an excellent way to treat yourself. 
While ceramic products can be bought in the major cities of Hanoi, Da Nang and Ho Chi Minh City, it's always a good idea to head straight to the village source, where your unique souvenirs are more authentic and usually cheaper. You can visit Phu Lang in Bac Ninh province, or Thanh Ha on the banks of the Thu Bon River in central Vietnam, or Bau Truc in Ninh Thuan province, near the southern town of Dalat.
Lacquerware  
The Vietnamese lacquerware industry is an art handed down from generation to generation and is known for its superior quality compared to lacquer products from other Asian countries. The process of making lacquerware is arduous. It goes through 20 stages and takes over 100 days to complete. 
Lacquerware souvenir products are usually jewelry boxes, trays, plates, bowls, vases, and photograph albums. Be careful, though, to choose and find the best quality of products; some shops are selling mass-produced lacquer items that aren't as sturdy as the legit ones. 
Prices range from VND 180,000 to VND 1,250,000 per item.
Vietnamese monopoly boards
If you're into board games then you surely have played Monopoly before. Guess what, there's a Vietnamese version of the world's most popular board game.
Travel back in time to the Paris of the East (Hanoi) and the Pearl of the Orient (Ho Chi Minh City) as they stood in the 1880s. To complete the time travel experience, old photos and adorable pawns wearing ao dai and non la are also parts of the game.
Vietcetera has its own Saigonopoly where some famous places in Ho Chi Minh City such as Turtle Lake, Ben Thanh Market, Bui Vien Walking Street are seen. This modern version also features restaurants and bars in the city.
Sustainable brands 
Locally produced brands have a more sustainable impact on the environment and the community. In Vietnam — north, central, or south — you'll find countless options to choose from. From NGOs providing sustainable employment for underprivileged women to textiles made by Vietnam's ethnic minority groups, here are some feel-good souvenir ideas.
Mekong Quilts Shop
At Mekong Quilts, "Every item purchased is a gift that gives twice." Since 2001, this NGO has impacted the planet, on people, and on each person who got their products. Mekong Quilts is a social enterprise by Mekong Plus with branches in Vietnam and Cambodia. The NGO favors sustainable employment for women in the poor community by creating high-quality products that are respectful of the planet.
HO CHI MINH CITY
68 Le Loi, 1st floor, District 1
+84 (28) 2210 3110
9am – 6:30pm every day
hcm.shop@mekongquilts.com 
HANOI
13 Hang Bac Hoan Kiem
+84 (24) 3926 4831
Monday-Sunday: 11am – 6pm
hanoi.shop@mekongquilts.com 
Indigo Cat Ethnic Textiles
In 2012, the first 100% Hmong-owned shop in Sapa opened. Indigo Cat is authentic; all products are genuinely manufactured by hand. From homegrown hemp to traditional batik or handmade embroidery, they carefully choose their fabrics by visiting local families from all over the northern part of Vietnam. They also offer workshops where you can make your own 'batik' and own an extra-special souvenir. 
SA PA
034 Phan Xi Pang Fansipan Sapa, Sa Pa, Lào Cai
https://www.indigocat.shop/shopping/
Collective Memory Boutique
Founded by the duo of a Vietnamese travel writer and a photographer, Collective Memory's concept brings together authentic and high-quality brands under one roof. The boutique's centrally located in the heart of Hanoi' Parisian-style chic designer district — where it rightfully belongs. Collective Memory curates a selection of Vietnamese art, crafts and organic goods. As for art lovers, the boutique stocks contemporary art posters and original photo prints. 
HANOI
12 Nha Chung Street
Hoan Kiem District, Hanoi, Vietnam
Tel: (+84) 0986 474 243
contact@collectivememory.vn