Rising from a country with war-torn history, Vietnam has remarkably transformed itself into one of the most ideal destinations to visit in the world. According to the Institute for Economics and Peace, Vietnam is one of the top 10 Asian Paficic countries that is peaceful and free from conflict. With its marvelous landscapes, heroic history, fascinating culture, pulsating energy, and epic food ranging from North to South, Vietnam welcomes millions of new travelers every year and it's safe to say that every traveler who comes here once will always love to return. 
When choosing where to go in Vietnam, what you should realize is that the answer is pretty much everywhere. Vietnam is home to breathtaking scenery, from beautiful beaches to magnificent mountains and rice paddies. Many Vietnamese destinations have been proudly classified as UNESCO World Heritage Sites: Ha Long Bay, Phong Nha Ke Bang caves, Hoi An ancient towns, and Cham Islands — all are recognized for their intense beauty and history. 
However, the small fragments of the non-heritage sites will also make you amazed. Da Lat, for example, is too picturesque to miss. Saigon, "a city that never sleeps," will certainly leave a deep impression on visitors by its bustling way of life. Whether a must-see site or an off-the-beaten-path attraction, all of the attractions come with a variety of activities that not only suit leisure travelers but also adventure seekers. Nevertheless, wherever you go, you are surely welcomed by the hospitality of locals and the diversity of Vietnamese food. 
Vietnam is the perfect destination for anyone wanting to immerse themselves in nature, history, culture, and some of the best culinary feasts across the world. With so many places to visit in Vietnam, planning a travel itinerary as a first-timer can be quite challenging, thus, we've compiled a list of Vietnam's must-visit destinations. 
Northern Region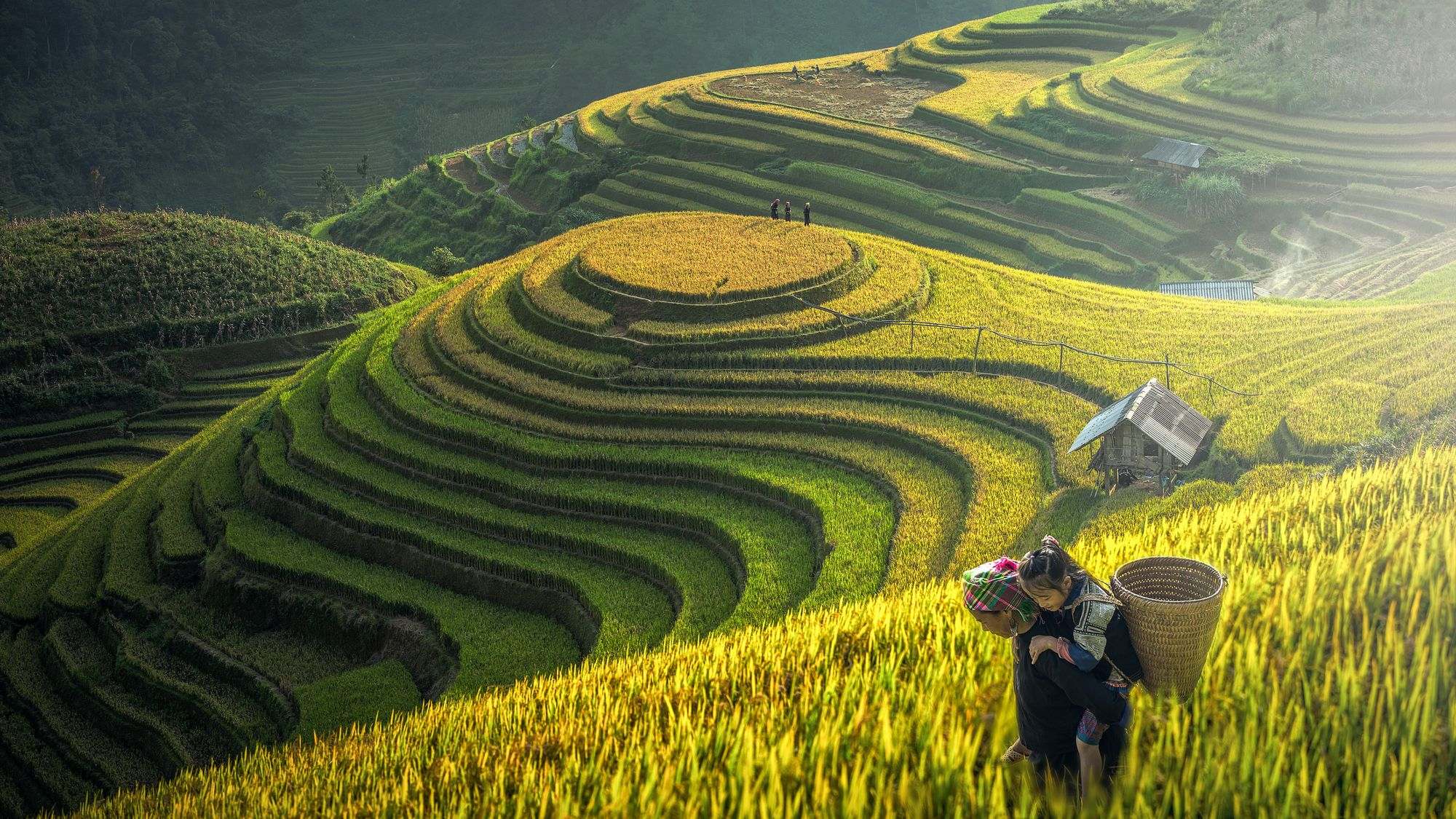 Sapa  
Walking in nature has become a new trend after the pandemic to reduce stress and boost mental health. Sapa — a small town in Lao Cai province located about 350 km northwest of Hanoi — is the perfect option for trekking and enjoying nature. Sapa, also referred to as where "the sky meets the lands," is well-known for its majestic mountainous landscape, with terraced fields and villages hidden on the mountainside. Countless trail systems connect to each other for travelers to enjoy the tranquillity and fresh air. This quiet Vietnamese town is also home to many ethnic tribal groups: the Hmong, Dao, Tay, Giay, and Xa Pho.
The prominent attractions in the area around Sapa include the Hoang Lien Son Mountain range, home of Fansipan — the highest mountain in Vietnam and O Quy Ho mountain pass — famously known for being the most difficult and winding passes for even the most adventurous travelers. On your way to O Quy Ho mountain pass, it's recommended to visit the beautiful Love waterfalls and Silver waterfalls where you can enjoy the soothing symphony of the rustling of trees in the wind and birdsongs. Travelers can also visit Cat Cat Village and Ta Phin Village, where small ethnic communities still live a traditional way of life of producing rice and crops.  After spending time discovering nature, make sure to try out some authentic local dishes such as black chicken, dried buffalo meat, thang co (horse stew), and salmon hot pot to regain energy. 
The best time to go is during the harvesting season (September to November), where rice in all terraced fields is ripe and turns a yellow color. During this time, the terraced rice fields look like golden silk scarves flying over in the wind above green mountain slopes, making the landscape amazingly beautiful.
Ha Long Bay
The discovery of Ha Long Bay is a must for any traveler who visits Vietnam for the first time. Ha Long Bay, located in the Gulf of Tonkin, within Quang Ninh Province, is 165 km from the capital Ha Noi. Historically, the name Ha Long represents a myth of a dragon that flew down from heaven to protect the Vietnamese people from invasion. The creature sprayed not only fires but also emeralds and Jade jewels that become the green archipelago as we see today. 
Ha Long Bay has more than 1,969 islands and islets, most of which are a result of dramatic limestone rock formations straight up from the water. Despite people having lived in this region for thousands of years, most of the forest islands remain uninhabited and unaffected by humans. These coves and natural towers are home to a broad spectrum of wildlife and boast high biodiversity. Having some of the most breathtaking scenery the world has to offer, Ha Long Bay was declared a UNESCO World Heritage Site in 2000. Aside from the natural scenery that commands Ha Long Bay, other great attractions include the floating fishing villages where children are taught to swim before they can walk and the local fishing people can be found going about their daily business. 
Going on a cruise ship is the best way to enjoy the intense beauty of Ha Long Bay. There is a range of tour boat services for travelers to choose depending on personal preferences. Most of the boats are extremely well equipped, well run and offer sumptuous accommodation and superb dining. Sitting on the deck, drinking a cocktail while the boat slips between the stunning rock karsts as the sun sets will be one of life's unforgettable memories. Travelers can participate in other activities such as kayaking, swimming around the bay, caving, or even riding a seaplane to experience the majesty of these enchanting tropical islands. 
Ninh Binh
It might come as a surprise for many people that the first capital of Vietnam was Ninh Binh instead of Ha Noi. During the 10th and 11th centuries, Ninh Binh (Hoa Lu at that time) was chosen to be the political, cultural, and economic center due to the epic towering mountains that were believed to protect the country from invaders. Ninh Binh encapsulates so many aspects of the beautiful Vietnamese scenery in one place: stunning karst peaks which rear up out of the land surrounded by flat, sprawling rice paddies and winding glassy rivers, which is why it is called "Ha Long Bay on land." Located a 3-hour drive away from Hanoi, the city is a perfect option for those who want to escape from the noise and distraction of the city. 
Enjoying the tranquillity of nature is by far the biggest appeal of visiting Ninh Binh. With three-fourths of the area being hilly and mountainous, diverse karst topography is a base for the development of a great wealth of flora and fauna, forming many tourist destinations with beautiful natural scenery that appeal to tourists, especially the cave complex such as Trang An, Tam Coc, Van Long Wetland Nature Reserve, Van Trinh Cave, and Thien Ha Cave. To enjoy most of the scenery, hop on a small rowing boat and the rower will take you on a two-hour journey through the magnificent caves and lakes. 
Besides the scenic places, Ninh Binh is also known for historical and cultural relics such as Hoa Lu Ancient Capital which were home to the Dinh, Early Le, and Ly Dynasty, and Bai Dinh Pagoda — the biggest pagoda in Vietnam. Although Ninh Binh can be enjoyed in any season, the best time to visit Ninh Binh is September where you can see the yellow rice paddies, while November to April tends to be the driest months. 
Ha Noi 
Ha Noi, also known as the capital and the heart of Vietnam, is the place that holds most of the country's history and culture. Located by the banks of the Red River in the northern half of the country, it is the second-largest city in Vietnam by population, behind only Saigon. Throughout its 1000-year history, Hanoi had served as the capital of Dai Viet since King Ly Thai To announced to relocate the imperial citadel from Hoa Lu (Ninh Binh today) to Thang Long (Ha Noi today), the capital of French Indochina and most recently, the capital of a proudly reunified Vietnam after the country regained independence in the US-Vietnam War. 
Representing a perfect blend of the old values and the dynamic growth of Vietnam, Ha Noi attracts not only international but also domestic tourists every year. Take a walk on the Hoan Kiem Lake in the morning, you will see some elders doing exercises and street vendors selling fruits and souvenirs, altogether creating a simple and rustic prospect to this prosperous urban city. At night, the Old Quarter and Dong Xuan market is the epicenter of tourism in the city, with market streets, buzzing nightlife, and some of the best Vietnamese food on the planet. Pho, bun cha (vermicelli with grilled pork), bun dau mam tom (vermicelli with fried tofu & shrimp paste), and nem chua be (crab rolls) are essential to try for newcomers. There's always a local coffee shop lurking around the corner, so make sure you hop in one and try out the signature egg coffee while enjoying stunning French architecture and bustling atmosphere visible in every inch of the city.
Travelers can also explore the depth of Vietnamese history and culture through the Imperial Citadel of Thang Long, Temple of Literature & National University, Ho Chi Minh Mausoleum — the resting place of Vietnam's greatest hero, Hoa Lo Prison, and Thang Long Puppet Centre. There is a range of galleries to visit according to your taste. 
If you have more time, visit Bat Trang Ceramic Village —  the house of the most skilled artisans who combine both traditional and modern techniques to create beautiful porcelain artworks. Not only are you able to purchase some of the finest handmade ceramic products in Vietnam, but you can also see them making the products right in front of you or even sign up for a workshop where you can do your own ceramic piece. 
Central Region
Hue
Being the capital of the nation in the 19th and early 20th centuries during the Nguyen dynasty, Hue is perhaps the easiest Vietnamese city to love and spend time in. Geographically, Hue is located right in the center of this S-shape country, perfectly situated in a mountainous valley that creates a natural barrier to enemy forces. Its situation on the banks of the Perfume River is sublime, its complex cuisine justifiably famous, and its streets are relatively traffic-free. And that's without mentioning Tu Cam Thanh (the Forbidden Purple City) — the majesty of the Imperial City, a citadel-within-a-citadel — housing the emperor's residence, temples, palaces, and the main buildings of state, within six-meter-high, 2.5km-long walls. The citadel system is an example of harmony between the quintessence of Western and Vietnamese architecture. The architecture seems to be mixed with wonderful nature, creating a charming picture.
With that being said, there are so many things to do in this city. The hills and mountains create the perfect spots for adventurous motorbike rides. A scenic walk along the Perfume River is extraordinary and provides great views of local fishing methods on traditional boats. A guided tour to Tu Cam Thanh will provide you with a comprehensive history of Vietnam while admiring the complex architecture of moats, carved gates, and royal pavilions. Finally, anyone with an interest in ancient architecture and history needs to visit the Thien Mu pagoda and the tombs of Emperor Minh Mang and Tu Duc. 
If you want to stay in Hue for much longer, ideally you can sign up for a countryside cycling tour, where you can visit rice paddies, small villages, and smaller temples and soak in the beautiful views at your own pace.
Home to the past emperors in Vietnam, Hue is well-known for its royal cuisine. While enjoying the scenery, make sure to try out the specialties such as banh beo (steamed rice cake), bun bo Hue (beef noodle soup), com hen (clam rice), and nem lui (lemongrass skewers). 
Hoi An
Hoi An, once a major Southeast Asian trading post in the 16th and 17th centuries, is a living museum that houses old-town architecture. Some notable heritage buildings include Chinese temples, a Japanese-designed bridge, pagodas, wooden shop-houses, French-colonial houses, and old canals. Hoi An has been successful in preserving and restoring more than 800 historic buildings and was declared a UNESCO World Heritage site in December 1999.
Large-scale trading and rice fields have been gradually replaced by tourist businesses. Lounge bars, boutique hotels, travel agents, a glut of tailor shops, and vast numbers of daily tourists are very much part of the scene here. Therefore, while making a Hoi An hotel booking, make sure you choose a hotel in the city center, then you are just one step to heaven!
On the way to discover the hidden charm of Hoi An, there are definitely so many activities to do. Do not miss out on a chance to visit a tailor or shoemaker shop because you can get tailor-made clothing at a very affordable price. Hoi An is also a paradise of handicrafts, ranging from silk clothes, feather bags, porcelain vases to bamboo lanterns — perfect options to be souvenirs. Walking around the Ancient Town, there are stunning locations to take photographs, cafes to linger in, or local street vendors to chat. As the pace of life here is more laid back, the people here are very friendly and talking with them will be one of the most memorable parts of your visit. 
Hoi An really comes alive at night, and a Hoi An must-see is the spectacular Lantern Market. Every evening, the 300-meter-long Nguyen Hoang Street is transformed into a sea of color, as vendors set up stalls selling everything from handmade jewelry and clothes to delicious snacks. 
Due to the city's diverse culture and tradition, Hoi An cuisine now is a combination of Chinese spirit and Vietnamese style. Found pretty much everywhere from street kitchens to luxury restaurants, local specialties include cao lau (pork rice noodles), com ga Hoi An (Hoi An chicken rice), mi Quang (Quang seafood noodles), and banh bao banh vac (white rose dumpling).
Nevertheless, Hoi An is also well known as a beautiful coast and hosts some gorgeous beaches. These are idyllic spots, with crystal clear waters and pristine stretches of sand. The most outstanding beach in this town is Cua Dai Beach which is just 5 km away from Hoi An's center. With the alluring combination of warm sun, cooling sea breeze, and endless coconut palms, Cua Dai Beach is where you can refresh and rejuvenate with no hassle. 
Da Lat
Once serving as the capital of the Federation of Indochina, Da Lat's permanent image nevertheless is as a holiday resort in Vietnam's Central Highlands. Da Lat, with its sheer beauty, was given many lovable nicknames, from the "Little Paris" in Vietnam, the city of eternal spring, to the city of flowers, and the city of love. The city's colorful flower carpets, fragrant pine forests, well-preserved French-style villas, and the sea of clouds have given Da Lat a romantic vibe that we could not resist.
In the past few years, Dalat has attracted more and more Vietnamese Millennials and Gen Z travelers thanks to its romantic scenery and expanding tourism services. One prominent factor of Dalat is the expansion of homestay and coffee shops, such as Doi Mot Nguoi, In The Forest, and The Married Beans, where travelers can have a sip of the best coffee in Vietnam while enjoying the cool fresh air and glorious scenery. The sea of clouds floating under the mountain top will surely be an overwhelmingly mesmerizing experience for anyone who witnesses this scene for the first time. 
Dalat is well-known for its diversity of colorful flowers, so make sure you visit some of them. Suggestions would include the Lavender field at Tuyen Lam Lake, Buckwheat field at Van Duc Temple, Trai Mat Hydrangea field, and F Flower Field Café. Moreover, Dalat is also home to a range of marvelous waterfalls. Located near the city center, Datanla Falls is a destination where you can try the alpine coaster, canyoning, kayaking, and cable car. 
A trip to Dalat would not be fulfilled without a visit to Bao Dai's Summer Palace - home of the last king in Vietnam; a walk around the signature Xuan Huong Lake to ride swan paddle boats; and Night Market where the air is filled with chatter and the smells of delicious snacks. Last but not least, travelers coming to Dalat should not forget to visit the Valley of Love because its romantic myths, beautiful valleys, and pine forests will surely make you satisfied. 
Southern Region
Ho Chi Minh City
No visit to Vietnam is ever complete without a visit to Ho Chi Minh City. Ho Chi Minh City, formerly known as Saigon, is the biggest city and the commercial and technology hub in Vietnam. It's also the old capital of the Republic of Vietnam. When the north and south reunified in 1975, Saigon was renamed HCMC, yet the former name is still used today, particularly when describing the beating heart of the city. Saigon is mostly known as a freewheeling, cosmopolitan metropolis, as can be observed through the cutting edge buildings and the exciting nightlife on offer here. 
Saigon has a bit of everything – temples, museums, parks, and tourist shopping. Whatever your interests, you'll find something to do here. To start the day, head to the city's top cafes to get your energy flowing. Walk down Dong Khoi street to acquaint yourself with the Notre Dame Cathedral, the city's Central Post Office, and the Saigon Opera House. On a more local level, Ben Thanh Market and the Jade Emperor Pagoda are worth a visit. 
For shopaholics, a range of old apartments and former office buildings in District 1 have been repurposed as shopping centers. Decades-old buildings such as 22 Ly Tu Trong and 42 Nguyen Hue are brimming with all kinds of local young clothing brands, cafes, and restaurants. At night, head to the top of Landmark 81 — the highest tower in Vietnam — for a delicious cocktail and an astonishing 360-degree view of the city, especially impressive at night when the lights twinkle on below. The Nguyen Hue walking street is also worth a visit at night if you want to see young groups gathering to interact and perform music or try various kinds of street food and bubble tea. 
The Independence Palace is also a fascinating place to go. It is a famous spot in Vietnam's history as it captures the time when Saigon fell as a tank broke through the gates of the palace. Travelers who want to learn more about the history of Vietnam can visit the War Remnants Museum and the Ho Chi Minh City Museum. Finally, just at the edge of Ho Chi Minh City is Cu Chi Tunnels where you can explore a network of underground tunnels that were used during the US-Vietnam war. 
The best period to visit Saigon is in the dry season —  the period from December to April next year. This is a great time to explore Saigon without having to worry about sudden rain that ruins your trip.
Can Tho 
Can Tho is the fourth largest city in Vietnam and the largest city in the Mekong Delta region. It is noted for floating markets, rice-paper making villages, fruit gardens, and crisscrossed picturesque rural canals. Being near the water, Can Tho is a tonic for travelers who are looking to reconnect themselves with nature, and Azerai Can Tho represents a perfect place to do so with someone special.
The best way to get a feel for Can Tho is to see it from the water. Jump on a boat to the symbolic Cai Rang floating market in the morning, you will see hundreds of boats selling fresh tropical fruits, vegetables, and breakfast like hu tieu noodles and iced coffee. 
Another great idea is to take a walk downtown to get a feel for the area's unique culture. Ninh Kieu Park is a picturesque spot to sit and watch the colorful boats passing by on the flat, glassy water. Hai Ba Trung Street follows the river south of the park and has a large ion of cafes, restaurants, and hotels. This area really comes to life at night with the beautiful lights reflecting off the river. If you are hungry, visit Ninh Kieu Night Market and you can enjoy the fineness of fresh grilled seafood and buy local handicrafts as souvenirs. The Can Tho Bridge casts some particularly beautiful light shows on the water with the colors rippling and merging with the gentle waves. 
Can Tho houses two of the most impressive architecture where you can come, admire and take some eye-popping photos, Ong Pagoda and Pitu Khosa Rangsay Pagoda. In addition, if you'd like to learn and see how to make traditional chocolate in Can Tho, don't miss your trip to Muoi Cuong Cocoa farm. 
Mealtimes are a highlight of any trip to Can Tho. Locals use freshwater fish and shrimp, just-picked vegetables, and Vietnamese cooking techniques to make mouthwatering dishes you won't forget. Some specialties include bun rieu, banh xeo (sizzling pancake), and lau mam (hot pot with fermented fish). 
The ideal time to make a holiday locally is between April and June when temperatures are moderate and the rainy season is not in full swing yet.
Phu Quoc
As the first city to reopen for international travelers under a trial vaccine passport program, Phu Quoc is definitely the first place to go on many travelers' bucket lists. Located in Kien Giang province, Phu Quoc is the largest island in Vietnam and has many beautiful beaches stretching from North to South. Historically, it houses one of the largest prisoner camps during the Indochina War built by the French colonialists to incarcerate Vietnamese soldiers. Today, Phu Quoc Island is harnessing its remarkable standing as one of the largest tourist destinations thanks to its pure beauty of a primitive island with interminable jungles and deep blue seas. 
Most things to do on Phu Quoc Island are based around rest and relaxation since Phu Quoc warm weather especially suits outdoor activities. A UNESCO-listed national park takes up more than half of Phu Quoc Island, offering recreational activities such as hiking, camping, wildlife, photography, and bird-watching. 
Phu Quoc beaches have so much to offer. Starfish Beach attracts thousands of tourists to see its amazing collection of sea stars. Seeing these magnificent creatures in their natural habitat is something you shouldn't miss. Ong Lang, Ganh Dau, and Khem beaches are just three of the most beautiful and untouched beaches where travelers can watch the gorgeous sunset/sunrise or snorkel in the crystal clear water. Meanwhile, Truong and Long beaches are a little bit different as it holds plenty of bars and restaurants along its shoreline. Come to Sunset Sanato Beach Club, Chuon Chuon Bistro & Sky Bar, or Ocvan Kitchen & Beach Bar to enjoy beach lounges, umbrellas, live music, massages, and take the best Instagram props. 
Along with the beaches, vibrant markets, traditional fishing villages, and pepper plantations are perfect for experiencing the local lifestyle, sampling authentic seafood, and nuoc mam (fish sauce).