As the world's largest and most populated continent, Asia is home to a vast array of food cultures. And while Japanese, Chinese, and Thai food have received long standing acclaim, Vietnamese food is just now getting the recognition it deserves. Indeed, Vietnamese food is enjoying a bit of a renaissance fueled by both young first-generation diaspora chefs and entrepreneurs as well as local-born Vietnamese culinary pioneers.
From West to East, Vietnamese food today is revered for its traditional balance of flavors and textures — packed full of herbs and greens that add crunch and freshness to more savory and tangy dishes. In history, Vietnamese chefs often incorporated the concept of yin and yang into their cooking for both health and harmony of flavors. And the most celebrated restaurants are those that preserve the integrity of the cuisine while trying to push it in new directions.
Much of this innovation is taking place in the West, where the best Vietnamese restaurants in the United States are converting new diners, appealing to modern sensibilities, and garnering lots of headlines for it. But it's also happening here in Asia. In fact, Vietnam was finally represented on the Asia's 50 Best Restaurants list this past year thanks to chef-owner Peter Cuong Franklin, who previously helmed Chom Chom in Hong Kong.
Unlike in the West, many big Asian cities are familiar with Vietnamese cuisine. In cities like Tokyo and Hong Kong, you'll find menus featuring fish sauce, hoisin sauce, lemongrass, lime leaves, bean sprouts, and more traditional Vietnamese ingredients. Whether you're in Singapore or Bangkok, find the best of Vietnamese cuisine in global dishes like pho, banh mi, and bun cha.
If you ever find yourself exploring your wanderlust in Asia, looking for a local take on Vietnamese cuisine, this guide will help you find just the right place to dine. Here are the 20 best Vietnamese restaurants to try in Asia, besides Vietnam (duh!).
Ăn Ði
Tokyo, Japan
Ăn Ði is a pioneering Vietnamese bistro owned by leading Japanese sommelier and wine taster Motohiro Ogoshi. The name translates to "enjoy your food" in Vietnamese, and the Ăn Ði is sure to make sure you do. The ambitious menu is a love letter to both Japanese and French cuisines, and is accompanied by a thoughtfully curated wine list. Pair one of Okoshi's choice natural wines with Ăn Ði's signature salad of fermented Fukuoka-sourced tea leaves layered with toasted coconut, tomatoes, cucumbers, kiwis, dried shrimps, and rice puffs. There are also riffs on classic Vietnamese staples, including a spring roll of conger eel, banh xeo with horsemeat, and a delicate, refined take on chicken pho. Make a reservation online to secure your spot.
Ăn Cơm
Tokyo, Japan
An offshoot of Motohiro Ogoshi's famous Gaienmae restaurant Ăn Ði, Ăn Cơm serves the same modern fusion ethos as the former but in a more relaxed setting. Here, the restaurant fuses organic Japanese ingredients with Vietnamese and Southeast Asian flavors and styles. Here, Ogoshi expands beyond wine to offer pairings of shochu and wine with sake. Don't miss the classic Vietnamese shrimp spring roll — made with shibazuke and served with 'Shottsuru' fish sauce from Akita.
Yoyonam
Tokyo, Japan
The Michelin guide describes Yoyonam as 'Vietnamese in Paris," but it's actually set on a quiet alley in Tokyo's Yoyogi District. The specialty here is home-style Vietnamese cooking with a hint of a French accent. Be sure to try the bánh xèo, a traditional dish made with rice flour dough topped with salted pork, shrimp and seasonal vegetables. The restaurant also serves other modern dishes like fried swordfish and seasonal vegetables with sweet vinegar, pho mushroom hotpot porridge, stir-fried shrimp and chicken minced spring, and more.
Tien An Huong Vietnam
Kyoto, Japan
Tien An Huong Vietnam is a cozy Vietnamese restaurant in Nakagyo-ku, Kyoto that specializes in affordable home-style fare. When you're craving a warm bowl of pho that reminds you of your grandma's cooking, Tien An Huong Vietnam is the place to be. The owner-chef of the restaurant fell in love with Vietnamese cuisine while traveling through the country and is now re-creating what he learned from a cooking course at Ho Chi Minh City for the Kyoto customers. In addition to the classic pho bowl, the green papaya salad and the soft shell crab deep-fried in rice flour batter can also bring you the unforgettable taste of Vietnam.
Mrs Pho
Singapore
The "Pholosophy" at Mrs. Pho is to feed you like family. With a name honoring all the Vietnamese mothers, grandmothers and aunties that are always the best cook in the house, Mrs. Pho serves traditional Vietnamese food that tells stories — every bite at Mrs. Pho is a genuine slice of Vietnamese culture that you will never forget. The restaurant makes it clear that they don't do 'fusion': only Vietnamese food like how mamma used to cook. If that's your vibe, Mrs. Pho has five branches in Singapore, each serving a unique take on pho based on the brand's culinary essence. Enjoy a bowl of premium short-rib pho with grilled beef short ribs and pho spices rubbed and sous vide for 36 hours, and order yourself a side of street snacks like tiger prawns in Vietnamese-style chili at affordable prices.
Fat Saigon Boy
Singapore
If Mrs. Pho serves the classic Vietnamese family recipes that can never go wrong, Fat Saigon Boy is like a funky Vietnamese cousin that likes to get a little adventurous with food. The restaurant proudly serves contemporary Aussie-Viet cuisine their own way. With a modern and innovative menu, Fat Saigon Boy never fails to impress its customers with a refreshing Western take of Vietnamese food. At Fat Saigon Boy, the "Flying Pig" (Spicy Pulled Pork) banh mi is a must-try. Despite looking like a traditional banh mi, the Flying Pig will surprise you with a satisfying punch of Australian-inspired flavors.
Le Garçon Saigon
Hong Kong
Le Garçon Saigon is a Saigonese grill house right in the heart of Hong Kong's busy commercial district Wan Chai. The restaurant serves Vietnamese food in a bright and welcoming space that reminds its customers of a chic Parisian brasserie. Having spent years exploring the Vietnamese neighborhoods in the suburbs of Sydney, head chef Theign has developed her understanding of Vietnamese cuisine and mastered the skills of woodfire grill. Whether it's the 333 Saigon beer can chicken seasoned with lemongrass, pickled onion and rau ram, or the slow-roasted lamb ribs drizzled with rau ram salsa and nước màu cam, Le Garçon Saigon will fix your cravings of Vietnamese grill in new and enticing ways.
The Brass Spoon
Hong Kong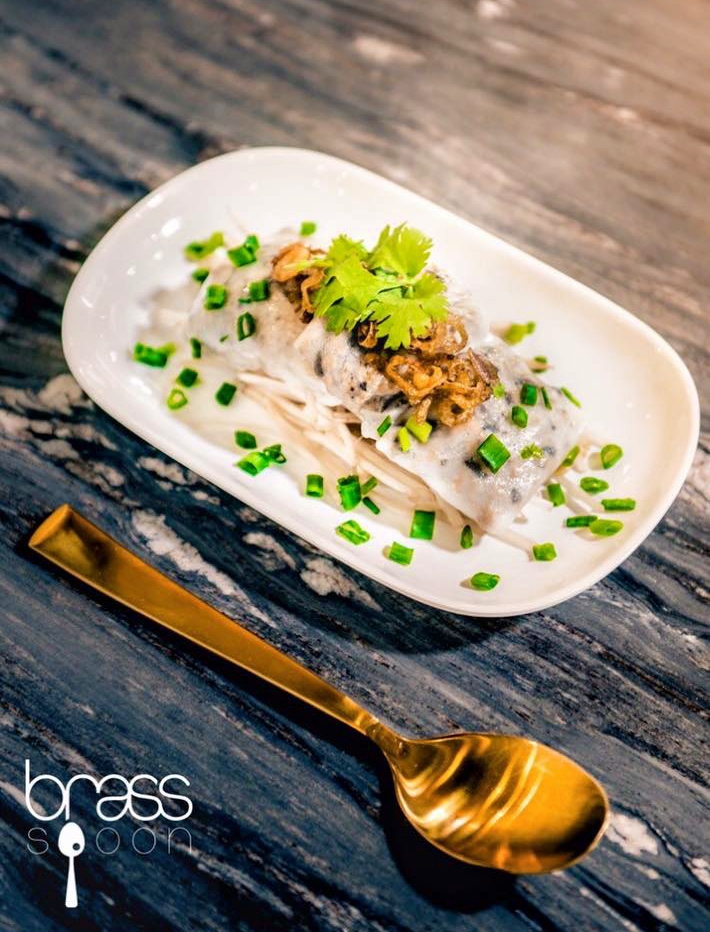 The Brass Spoon is a simple but iconic pho shop in Hong Kong with a lot to offer. Having learned to cook in France, where his family had a Vietnamese restaurant, the chef-owner of The Brass Spoon, Mr. Huang is famous for his stunning recipe of pho soup that he took ten years to perfect: rich, savory, and sweetly delightful. The restaurant currently has locations in three districts: Wan Chai, Central, and Quarry Bay. At The Brass Spoon, the premium beef pho with U.S. Angus beef and a soup base slow-cooked with beef shank bone for more than 16 hours will certainly hit the right spot for you.
Bun Cha Vietnamese Cafe
Hong Kong
Located in the heart of a busy metropolitan city like Hong Kong, Bun Cha Vietnamese Cafe is the perfect place to stop for a quick delicious lunch. The restaurant serves not only signature Vietnamese meatballs (bun cha), as the name suggests, but also other classic Vietnamese dishes like pho, banh mi, papaya salad and more. The restaurant has three locations in Hong Kong: SoHo, Central, and Kennytown, all residing in small home-like spaces that enhance the hole-in-wall dining experience even more.
Tonkin Annam
Bangkok, Thailand
Tonkin Annam is one of the most stylish dining spots in Bangkok. The ambiance at this two-story converted Tha Tien shophouse with a retro-minimalist interior perfectly matches the hipster Vietnamese cuisine it serves. Tonkin Annam takes a deep dive into authentic Vietnamese cuisine, serving the lesser-known regional dishes that you won't find anywhere else in Bangkok. The owners of the restaurant were especially inspired by the food from their grandparents' homeland, northern and central Vietnam. Come for traditional Vietnamese dishes like pho, nem spring rolls, and cha tom (grilled prawns on sugarcane skewers), as well as their special signature dishes like bánh bèo (steamed cups of rice flour topped with pork) and banh cuon (silky rice crepes stuffed with ground pork and chives).
Saigon Recipe
Bangkok, Thailand
With its colorful lanterns, wooden cabinets and canary-yellow walls decorated with vintage propaganda posters, Saigon Recipe is a place where you can dine like you are in Vietnam. The owner of the restaurant, Nguyen Thuy Tien, decided to create a space just like home when she moved from Vietnam to Thailand. The authenticity here applies to the amazing food as well — with rice wrappers and noodles carefully selected and imported from Vietnam, the restaurant offers flavourful rice and noodle dishes like bún bò huế (Hue style beef noodle soup) and bánh cuốn (steamed rice crepes stuffed with ground pork, minced shrimp and wood ear mushroom).
Little Saigon
Seoul, South Korea
Hands down, Little Saigon has the best pho in Seoul. Located at Gimpo Lotte Mall, the small eatery offers a variety of classic Vietnamese food like pho, rice vermicelli, spring rolls, deep-fried Vietnamese egg rolls, and more. At Little Saigon, you will find affordably priced dishes that come in big portions — all to satisfy your growing Vietnamese food addiction. The restaurant is known and loved by Seoul locals as the go-to place for a satisfying bowl of warm pho noodles.
Cyclo (Found 158)
Shanghai, China
Located in the flourishing city of Shanghai, Cyclo (Found 158) is the newest addition to the Cyclo Vietnamese dining franchise, following the original Cyclo and Mr. Banh Mi. The modern eatery expanded on its original menu, incorporating Laotian and Cambodian dishes to create a Southeast Asian fusion dining experience for locals and tourists alike. As a part of the famous Shanghainese nightlife, the restaurant offers a special night menu available from 11pm-4am and transforms into a clubby atmosphere later in the evening with its "Saigon By Night" theme. Cyclo (Found 158) can satisfy your Vietnamese food cravings with their signature banh mi heo nuong (BBQ pork sandwich), pho bo (beef noodle soup), and a variety of authentic Vietnamese beers.
Nho Saigon
Mumbai, India
If you have ever visited Ho Chi Minh City, formerly known as Saigon, and tasted its iconic food and drinks, you will find the flavors at Nho Saigon a familiar enjoyment. Nho Saigon, meaning "Memories of Saigon," is Mumbai's first-ever Vietnamese restaurant and India's first mead taproom. Having opened its doors in October 2021, the history-making restaurant is an ode to Vietnamese street food that amazes food lovers everywhere. Some must-tries at Nho Saigon include chao tom ga (Viet skewers), grilled chicken and egg banh rang (Vietnamese pizza), and banh bao Saigon dumplings served with chili oil.
Ba Noi's
Metro Manila, Philippines
Ba Noi's serves the most authentic Vietnamese cuisine in Metro Manila, bringing the dynamic Makati city a slice of Vietnam through their fresh flavors and cozy interior. The restaurant is famous for its Vietnamese drip coffee, the most popular Vietnamese beverage loved by Filipino residents as well. Other delightful dishes include suon nuong xa, pan-fried pork riblets flavored with lemongrass and served with soy-chili sauce, and bou lac lac, stir-fried beef served with fried basil.
Pho Fortune
Phnom Penh, Cambodia
Thanks to the shared land border between Cambodia and Vietnam, Cambodians are able to appreciate the delicacy of Vietnamese food as a cuisine similar to their own. In Phnom Penh, Pho Fortune is another restaurant that represents the globally celebrated pho culture of Vietnam. At Pho Fortune, you can find a bowl of flavorful beef pho soup for only $3, and a fresh coconut or a cup of Vietnamese coffee to go with your meal.
The Corner Hanoi Cafe and Restaurant
Vang Vieng, Laos
Neatly decorated and well priced, The Corner Hanoi Cafe and Restaurant is the go-to place for Vietnamese food in Vang Vieng. The eatery offers a pleasant atmosphere, friendly service, and a variety of delicious Vietnamese food. With an English-speaking owner and authentic Southeast Asian flavors, the restaurant is a popular dining spot for tourists in Laos. Some popular dishes at The Corner Hanoi include beef pho, spring rolls, sweet and sour pork ribs, and many more.
Pho Vietz
Kuala Lumpur, Malaysia
Pho Vietz is a must-go Vietnamese diner in Malaysia. With traditional Vietnamese dishes like banh mi, pho, banh cuan, and many other famous street foods, Pho Vietz brings the most authentic Vietnamese dining experience to Kuala Lumpur, the capital city and cultural hub of Malaysia. Their lead chef, Kenny Ton Ngoc Hiep, is a Vietnamese national with over 20 years of experience in regional Vietnamese cuisine. At Pho Vietz, customers can feel Chef Kenny Ton's passion for pho through his brilliant and widely reputable beef noodle soup.
Cali Deli & Madame Ching
Jakarta, Indonesia
Located in the heart of Jakarta's famous antique market, Cali Deli & Madame Ching is a Vietnamese restaurant like no other in Indonesia. With a cleanly decorated interior and a green outdoor dining space, the restaurant offers its patrons a lovely dining experience that transports you to Vietnam. At Cali Deli & Madame Ching, make sure to order the popular appetizer, wonton soup, and a warm plate of seafood fried rice as an entree. After that, don't forget to finish off your meal with a nostalgic dessert, ice grass jelly, sweet and icy like the taste of childhood.
Bo & Bun
Bali, Indonesia
Located in the bustling and vibey Seminyak area, Bo & Bun is a self-proclaimed "pho specialist." And they serve up Chinese and Thai flavors, too. Relax in the restaurant's chic, minimalist digs while perusing the menu — from the best-selling pork chop rice to the warm and soulful chicken pho. If you are a Southeast Asian food lover, go find your comfort in the incredible Thai-Vietnamese delicacies at Bo & Bun in Bali.