"From the very first minute that I came to this country, I knew my life had changed. My old life was suddenly never gonna be good enough. I needed a new one, where I could keep coming back here."
There's no denying that Anthony Bourdain's work meant a lot to people all over the world. But for the Vietnamese, or anyone who has a connection with Vietnam, his legacy resonates differently. Bourdain's love for the country was evident, returning time and again to shoot different series. Each episode is uniquely brilliant in its own right and worth watching every second. Of particular note are his beautiful quotes that very well summarize the country we know and love:
"Vietnam: It grabs you and doesn't let you go. Once you love it, you love it forever. I've been coming here since 2000. The first time I'd been in this part of the world, and it's held a special place in my heart and my imagination since. I keep coming back; I have to."
Here are the eight episodes he shot in Vietnam.
A Cook's Tour: Season 1, Episode 3 'Food That Makes You Manly' (2002)
This is Anthony's first time in Vietnam, where we have the privilege of watching him fall in love with the country. Wide-eyed, he visits the famous Cơm Niêu Sài Gòn — known for its 'flying rice' — with his fixer and new friend Linh, sampling homey southern dishes like braised pork and egg stew and stir-fried morning glory. A later scene shows Anthony tucking into a multi-course cobra meal at an exotic animal restaurant, which really shows his versatility when it comes to food. It no doubt forced the issue with plenty of cameras trained on him, but this is what made him such a joy to watch and what hooked his audience.
A Cook's Tour: Season 1, Episode 4 'Eating On The Mekong' (2002)
Anthony and Philippe Lajaunie set sail up the Mekong Delta, stopping for noodles and coffee from the floating vendors of Cai Rang river market. They hop off at a local home where the whole family is involved in preparing a feast of clay-baked duck. It's wonderful to see Anthony enjoying the social aspect of eating, an important part of Vietnamese life. Anyone who has spent time in Vietnam will know how it feels to be embraced and fed by a local family or group friends, so this episode is a particularly heartwarming one.
A Cook's Tour: Season 2, Episode 12 'My Friend Linh' (2003)
Anthony travels to Hanoi during Tet (Vietnamese Lunar New Year), visiting Linh's family home to celebrate with the whole extended family. Between dishes, Anthony talks about his love for Vietnamese food and how although the ingredients may be simple, it's all about how colours, flavours and textures come together. He tries bánh chưng, a sticky rice cake made with fatty pork and bean paste wrapped in leaves — a must have during Tet. Later, Anthony enjoys a cup of cà phê and mentions that "the best coffee in the world is made in Vietnam". This episode reveals a lot about Vietnamese food, culture and traditions, emphasising the importance of family and community.
No Reservations: Season 1, Episode 4 'The Island Of Mr Sang' (2005)
This episode is where the famous 'squeezel' (porcupine) scene plays out during a lunch stop on the way to the White Thai minority village of Mai Chau. After shooting rice liquor and engaging in traditional dancing with the villagers, Anthony and Linh sail to the 'Island of Mr Sang', a huge, upscale tourist complex in Ha Long Bay. The contrast between old traditions and shiny new developments is clear. There are many different Vietnams to explore and as a visitor, it's your choice where you go.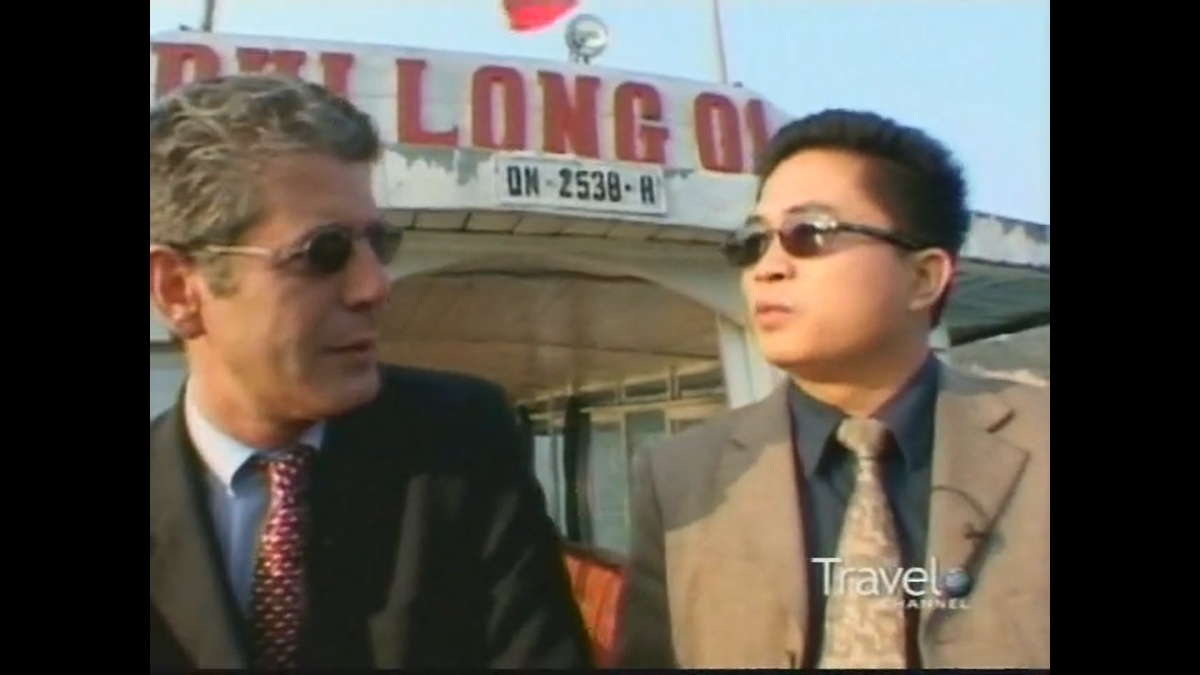 No Reservations: Season 5, Episode 10 'There's No Place Like Home' (2009)
Anthony heads back to Saigon with friend and former boss Philippe Lajaunie where they sample the delights of bún bò Huế at the famous Lunch Lady and pay their respects to the great Lê Thị Hồng Ngọc, late owner of Cơm Niêu Sài Gòn — the iconic eatery he visited in A Cook's Tour. The pair then explore the rural beauty of Hoi An, strolling through the market and trying Bánh mì from Bánh Mì Phượng. Anthony's love for Vietnam really shines in this episode and it's clear that he's having the time of his life, going as far as seriously exploring the option of living in the country permanently — a dream he carried for the rest of his life.
No Reservations: Season 6, Episode 10 'Central Highlands' (2010)
Anthony heads into the Central Highlands, to the city of Dalat where he visits the former summer palace of the last emperor. He has a vegetarian meal with nuns, which he makes up for the next day at a barbecue shack by Suối Vàng Lake, before visiting the homes of the M'Nông and Ede ethnic groups, discussing the dying culture and what the future might hold for them. This episode does well to tread off the beaten path and introduce us to a part of Vietnam that feels completely new — a piece of the country many don't know exists. Anthony's enthusiasm to change peoples' perceptions about food is evident as he tries the specialties at a bird and insect restaurant in Hanoi — a nod back to the nauseating cobra heart scene of years gone by.
Parts Unknown: Season 4, Episode 4 'Vietnam' (2014)
The theme of war is strong in this episode. Anthony heads to Hue, a city with an imperial past and turbulent twentieth century history. He meets with Vietnamese-American author Nguyễn Quí Đức, who narrates his experience as a child during the 1968 Tet Offensive. Anthony also visits the war-era tunnels of Vinh Moc. Despite the horrors that happened, the general tone that people have is hopeful — the Vietnam of today is youthful, optimistic and spirited. Like many of his audience, Anthony's perceptions and ideas about Vietnam were shaped by the American war. To see these shaken and discarded as he explores the country is enlightening and important.
Parts Unknown: Season 8, Episode 1 'Hanoi' (2016)
Known universally as the 'Obama' episode, this episode shows Bourdain sitting down with the president of the United States at Bún Chả Hương Liên to enjoy bún chả, a dish that is emblematic of the Vietnamese capital of Ha Noi. Enjoyed in traditional form — plastic chairs and all — the meal speaks to Bourdain's ability to connect with anyone. Whether it was a street vendor or the most powerful man in the world sitting across from him, Bourdain could engage them in genuine, interesting conversation, treating everyone with the same respect and humility.
"There is no better place to entertain the leader of the free world, in my opinion, than one of these classic, funky, family-run noodle shops you find all over Hanoi."